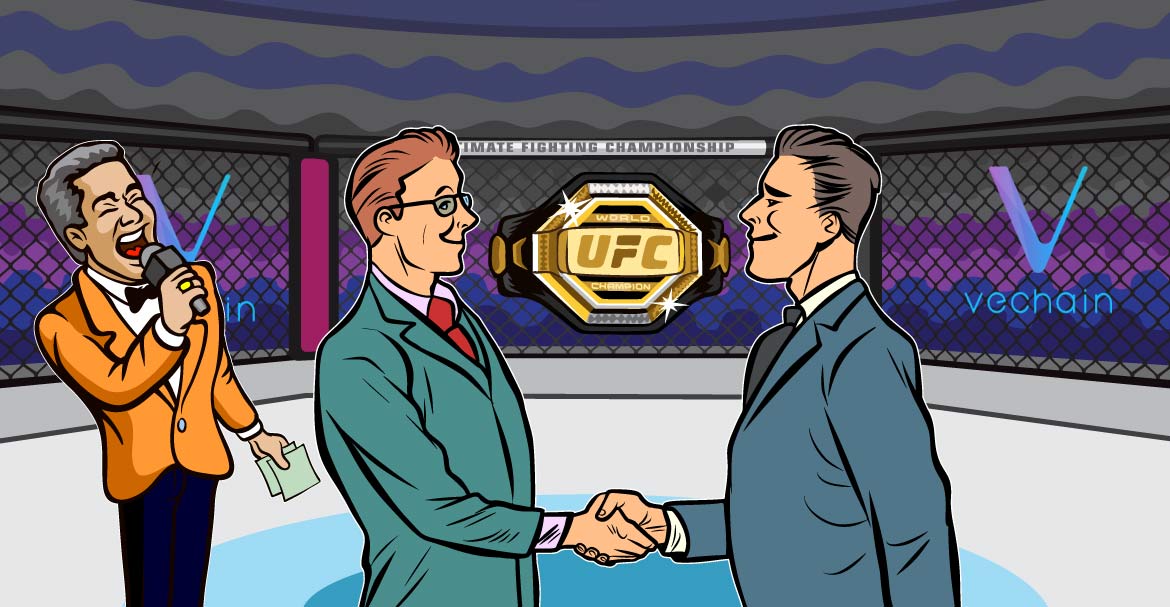 In the official press release shared on June 9, VeChain Foundation announced a global marketing partnership with UFC. This mutually beneficial partnership will give VeChain access to some of the exclusive events, features, and moments including the digital and social channels. VeChain confirmed that this would begin the multi-year partnership between the two brands. 
VeChain is a one-of-a-kind blockchain network working towards bringing a sustainable crypto ecosystem. The dual-token network has already announced several initiatives, including carbon emission management and SDGs, to create sustainable tools for industries worldwide. The network signed the strategic partnership to increase the visibility of these initiatives.
Named Official Layer 1 Blockchain Partnership, the deal offers a bunch of opportunities such as live events, on-stage promotion, live broadcast features, and access to the content published through the social and digital channels of UFC. VeChain will also be exposed to the 900 million households from more than 175 countries that subscribe to the UFC broadcasts.
As the first and Official Layer-1 Blockchain Partner, VeChain will receive several integrations and entitlements to premier assets from the MMA organization. First of all, VeChain will receive the titleship to UFC rankings, and it will henceforth be known as 'UFC Rankings Powered by VeChain.' Moreover, the integration will expose VeChain's brand among several broadcasters, along with the digital and social channels, during the pay-per-view events 
The VeChain brand will have a permanent place inside the Octagon for all the 42 annual UFC events and Dana White's Contender Series. Other visibility means for VeChain include the UFC Fight Deck, LED displays, and other ways of dynamic branding in and around the Octagon.
VeChain will work with UFC to bring out exclusive, original content related to UFC athletes and stars. The content will be published through social media channels with nearly 200 million followers. Other partnership features include access to the Performance Institute and APEX to bring lucrative promotions and VIP sweepstakes for the fans.
VeChain will offer an annual Brand Ambassador fund with attractive paid marketing opportunities for UFC athletes. The partnership will officially kick off during the UFC 275: TEIXEIRA vs. PROCHAZKA event at the Singapore Indoor Stadium on June 11.
According to VeChain CEO Sunny Lu, the partnership with this fastest-growing sport would be a historic moment. He further added that it would bring VeChain much-needed visibility to promote its products and goals of sustainability.
The VeChain network is already a trailblazer in finding real-world use cases for blockchain-based applications with international offices in Luxembourg, Japan, China, Singapore, France, Italy, Ireland, San Marino, and the United States. It also has strategic partnerships with leading brands such as Walmart, Bayer, BMW Group, BYD Auto, and LVMH.