Blockchain News
Torus becomes Official Wallet Partner of Ethereal Virtual Summit 2020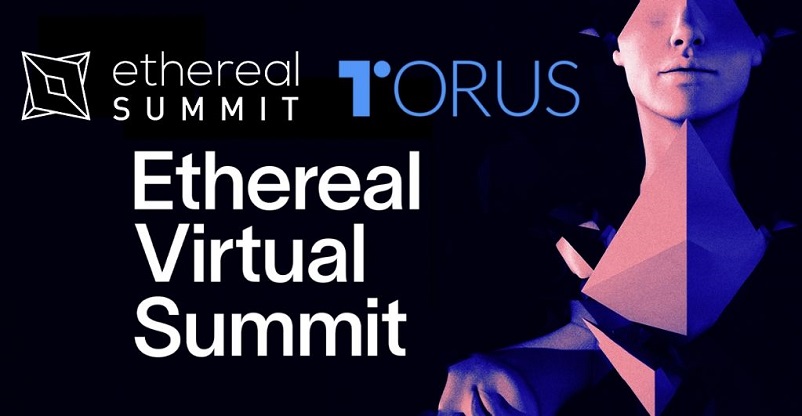 Torus has been selected as the official wallet partner of the upcoming Ethereal Summit 2020. Expressing the delight on this association, the official Twitter handle of the Torus wallet tweeted this news to the crypto universe.
We are thrilled to join @EtherealSummit as their Official Wallet Sponsor. Join us at one of Ethereum's biggest virtual event in 2020!https://t.co/EMguh5n3vN

— Torus (@TorusLabs) May 7, 2020
Blockchain enthusiasts are eagerly waiting for the summit, and in the backdrop of the Corona pandemic, the event will be hosted online.
Ethereal Summit 2020: Finer Details
The magnanimity of the event can be easily ascertained from the fact that in 2020 edition of the summit will see round about 130 speakers from the top 500 Fortune companies participating in the event. Some of the prominent names which will be addressing the blockchain technology developers and investors during the summit include Vitalk Buterin, Camila Russo, Jinglan Wang, and Joseph Lubin, among others.
Primary topics of the discussion will revolve around the emergence of blockchain technology in government projects with a special focus on emerging markets. Besides, analysts will also deliberate extensively on the application of the blockchain for the creative industry and how the open ledger technology can be used in order to make sure that the artists get their due of share without any trouble. The summit has already got an unprecedented response from the participants, and as of now, it already has an enrollment of 5,000 aspirants for the summit.
Torus Wallet Association
Aspirants who aspire to become part of the event can log in using the link of the Torus Wallet at https://ethereal.tor.us/. The login can be done using the existing Facebook, Google, Discord, or Twitch account, and one can easily claim their event token once logged in. These tokens can be used in order to win subscriptions from a large number of well-known brands, which include the lives of Netflix, Amazon Prime, Blinkist, and Zoom. The winners will get their prizes at the end of the event.
Conclusion
The co-founder and chief executive officer of the Torus, Zhen Yu, will also be speaking to the participants on 8th May at 3:55 EST on the topic of Web3 UX. Deliberations will be focused on the evolving nature of the distributed applications (Apps) and how they are used in order to promote holistic growth and development of the ecosystem for the industry. In sum, the association is going to help Torus on expanding its base among prospective customers.