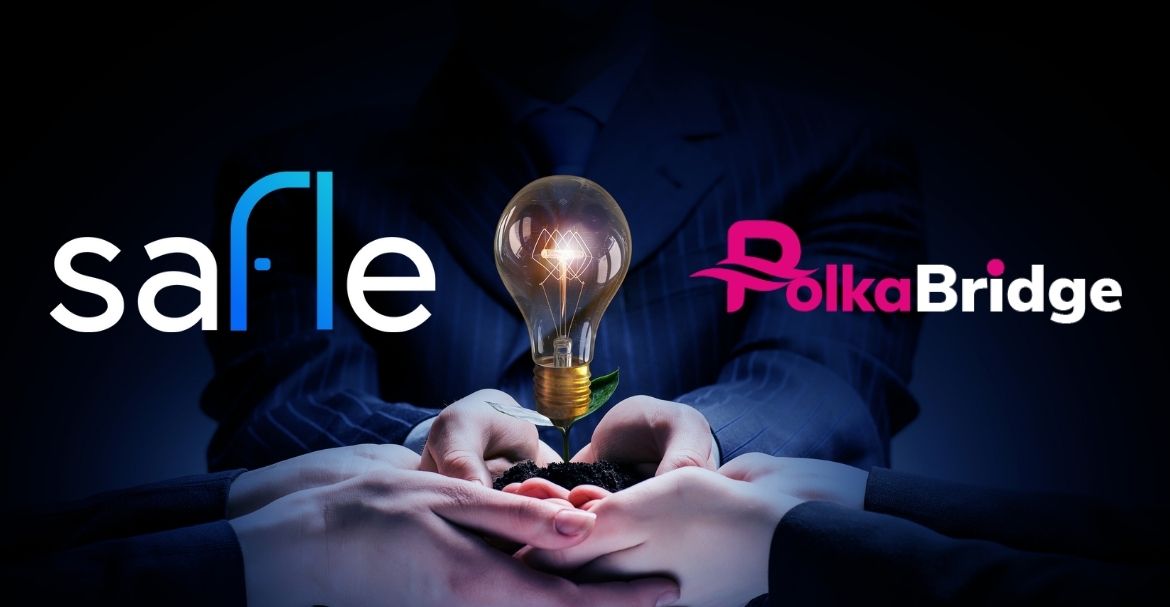 Safle and PolkaBridge have entered into a partnership by agreeing to terms that mutually benefit the communities of both networks. The aim iPolkadot is a decentralized protocol and a token that can be traded on an exchange platform. Polkadot has been designed to fasten communication with different blockchains, which was previously not possible. The solution is scalable as data can flow from one blockchain to another without the involvement of any intermediary.
As a native token, DOT acts as a governance token and enables staking for the community members.
Background
PolkaBridge has been architected around Polkadot to act as an all-in-one platform for all financial applications.
The future roadmap for PolkaBridge includes coming up with Farming, Cross-Chain AMM, Fundraising Platform, Lending, and NFT Marketplace, among many others.
Safle is a decentralized blockchain identity wallet that is non-custodial, and the community governs Safle. The wallet provides better management of secure private keys and a seamless experience for Decentralized Finance, Decentralized Applications, and Non-Fungible Tokens.
$SAFLE, the native token of Safle, allows holders to propose and participate in the voting process to influence the changes in functions & features. Community members get a say to ensure that a self-sustaining token-based economy model is created where the value is generated by offering access to finance and identity.
Safle x PolkaBridge
Safle to ensure simplicity in the network, enhance interoperability, and boost the growth of multi-chain asset management.
The growth of the Web3 ecosystem is the ultimate target for Safle and PolkaBridge entering into the partnership. Both will be eyeing to create multiple synergies to bring a balance in their partnership and achieve true interoperability.
Safle brings to the table its proprietary technology-based wallet infrastructure that assists in creating the foundational layer to bring compatibility to cross-chain operations.
PolkaBridge users greatly benefit from its partnership with Safle. Users gain access to DeFi protocols, Decentralized Apps, and NFT Marketplace on multiple blockchains, including Ethereum, Polkadot, Polygon, Velas, and Tezos.
Users of PolkaBridge additionally get access to the launches by Safle that are scheduled for the second quarter of 2022. These include Safle's web application, browser extension, and mobile application.
Safle's APIs and SDKs also become available to the users of PolkaBridge, enabling them to #buidl without any friction.
Safle broke the news related to the partnership through its official blog post. Safle highlighted that PolkaBirdge aims to integrate financial applications like Farming, Lending, Swapping, Initial NFT Offerings, and Initial DEX Offerings.
PolkaBridge looks to bring decentralized P2P and other financial services under the one umbrella of a single integrated platform.
Safle laid out in the blog post that it intends to develop an infrastructure for a wallet that is entirely non-custodial. For this, Safle will deploy its Open Governance Mechanism via the SafleDAO.