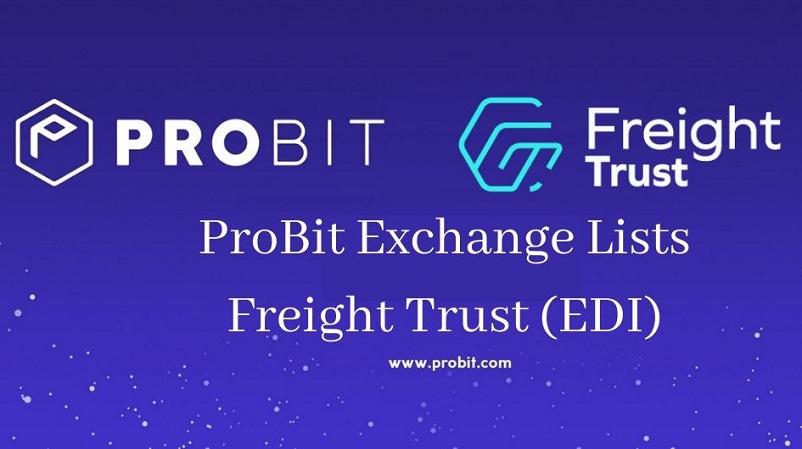 South Korea based cryptocurrency exchange, ProBit has announced the news about the listing of a new crypto project, Freight Trust (EDI), on its ecosystem. The exchange aims to expand its operational capacities by bringing in support from some of the most potential crypto projects present in the market.
The deposit for the newly-added cryptocurrency EDI shall begin from April 20, 2020, at 16:00 KST, while the trading will get initiated at 17:00 KST on the same day. As part of the collaboration, the global customer base of the ProBit exchange shall be allowed to access two new trading pairs, namely EDI/USDT and EDI/BTC.
To encourage more and more participation from the crypto lovers, the exchange has organized a trading competition that will enrich the investors with a golden chance to earn lucrative profits from a prize pool of 5,900 EDI. The prize pool will be distributed to the Top 10 volume traders of EDI/USDT and EDI/BTC trading pairs. The details regarding the event are mentioned below:
Duration- April 20, 2020 (Monday), 17:00 KST – May 5, 2020 (Tuesday) 23:00 KST
Prizes shall be given in the described order-
| | |
| --- | --- |
| Position | Prize |
| 1st | 1,327.50 EDI |
| 2nd | 1,180 EDI |
| 3rd | 1,032.50 EDI |
| 4th | 737.50 EDI |
| 5th | 590 EDI |
| 6th | 442.50 EDI |
| 7th | 295 EDI |
| 8th | 147.50 EDI |
| 9th | 88.50 EDI |
| 10th | 59 EDI |
Another interesting trading event initiated by ProBit will allow investors to earn lower trading fees by staking their PROB assets. The trading fee will depend on the membership level of the investor, which is decided by your staking volume. Higher PROB staking amounts shall receive the lowest trading fee benefit. The terms for the staking event are discussed below:
An investor needs to stake a minimum of 100 PROB to join all trading competitions. The staked volume cannot be reduced during the event period.
The ranking will be based according to the USDT converted trading volume.
In the case of a tie, the PROB holding amount will be used to decide the winner.
The exchange has the full right to alter or cancel the rules at sole discretion.
About Freight Trust
Freight Trust Network is a globally-acclaimed protocol, contract, and governance solution which aims to streamline and improve the supply chain system as well as the digital freight management arena. It uses world-class technologies such as "Parametric Forward Contracts" and "Embedded Volumetric Options" to channelize the physically-settled commodity network while eliminating counterparty default risk and assuring physical delivery through an economical interface.