Cryptocurrency Exchange
OKLink And Prime Trust In Collaboration Develops a Stablecoin 'USDK; OKEx Releases the Stablecoin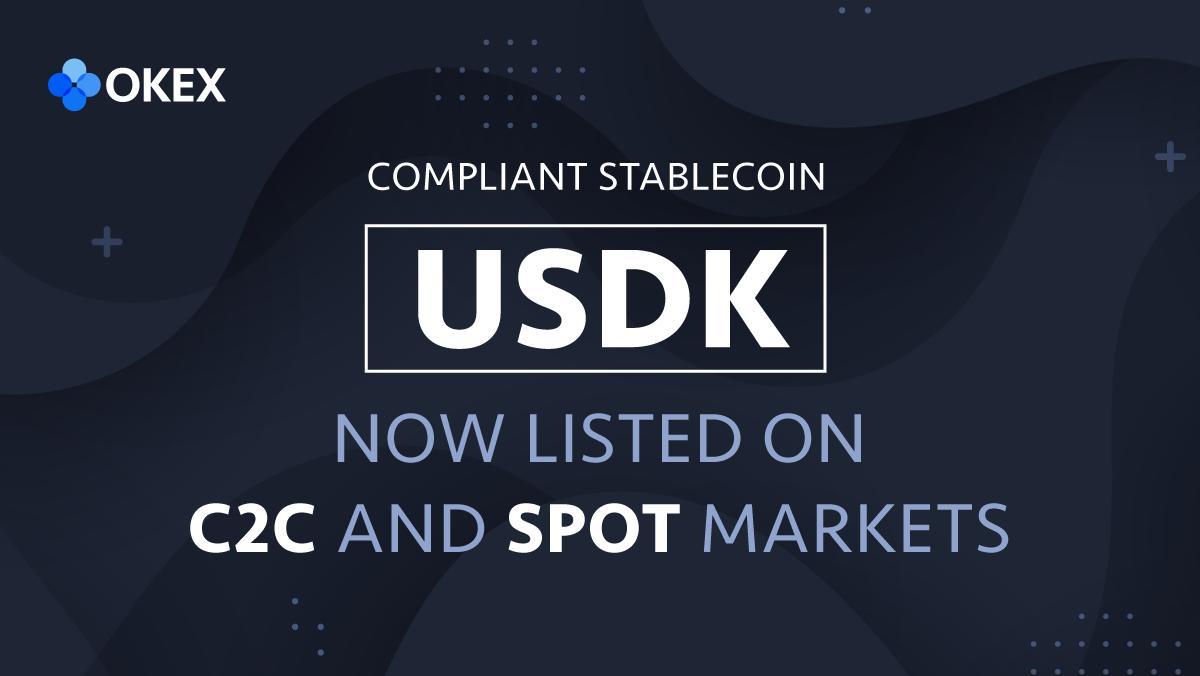 Now a day's, most of the cryptocurrency exchanges throughout the world are trying to develop its own stablecoin. Earlier, crypto exchanges such as Circle and Gemini had launched their stablecoin and OKEx currently set to release its digital coin.
OKLink- Hong Kong-based Global settlement firm and a subsidiary of leading cryptocurrency exchange OKEx are releasing its stablecoin on June 3rd, 2019, the development news was announced to a crypto source by the representative of OKEx.
The stablecoin of OKEx is named as 'USDK'; the coin is based on Ethereum technology and an ERC-20 digital coin. The launch of USDK will take place in collaboration with the Prime Trust.
OKLink offers data services and blockchain information services, while Prime Trust is a US-based firm that offers a wide range of blockchain and cryptocurrency services to its customers. Some of the services it provides to its customers are funding processing, escrow, and custody and Anti Money Laundering (AML) compliance services. Prime Trust allows fiat based trading on Huobi a Singapore cryptocurrency exchange.
Just before OKEx could launch its new stablecoin, on June 2nd, 2019, the major crypto exchange confirmed it by posting the scanned document of the agreement over Twitter. The technology service document was of Prime Trust LLC and OKEx with regards to the release of USDK digital token.
OKLink Twitter Post reads:
"Leap Holdings Group Limited officially announced today it's subsidiary company OKLink Fintech Limited had signed an agreement with Prime Trust, LLC (Prime Trust) to launch the USDK business."
One important point to note about Prime Trust is one of the trust companies that control the escrow accounts holding security assets for another stablecoin TrueUSD.
OKEx and Prime Trust Partnership months old:
The founder of OKEx and OKCoin the leading exchange service provider has officially revealed about its partnership with the Prime Trust in March late. They had even announced about the launch of stablecoin.
Star Xu, posted on Twitter welcoming the collaboration and stated very happy over the strategic collaboration of OKEx with Prime Trust. We will try to develop a strong and in-depth partnership and provide various services, secure and regulatory compliant services along with Prime Trust. I anticipate to leveraging our synergies.
Prime Trust also posted on Twitter over its partnership investment agreement.
OKEx exchange mentioned that its stablecoin USDK would start operating in the C2C market of the exchange from June 3rd, 2019, at 7.00, and the opening orders and transaction charges will be zero.
Eleven trading pairs will be launched for the new USDK stablecoin. The trading pairs are:
ETH/USDK
BTC/USDK
OKB/USDK
BCH/USDK
XRP/USDK
LTC/USDK
TRX/USDK
USDT/USDK
BSV/USDK
ETC/USDK
EOS/USDK
OKEx crypto exchange ranked as the second largest crypto exchange of the world, with a daily trading volume of $1.8 billion in traders within 24 hours of last press time.
Other Initiative of OKEx:
According to the March report, OKEx was in the process of designing a decentralized exchange by using its blockchain, to be dubbed as OKChain. Testnet of OKChain is expected to release within June 2019.
OKEx is not the only crypto exchange working towards releasing its decentralized exchange. The leading cryptocurrency exchange Binance is also in the process of designing a decentralized system of its own.  On June 2nd, it was announced that Binance would ban users across 29 countries from accessing their exchange.