Blockchain News
Morpheus.Network and Dynamic Custom Brokers Inc. Join Forces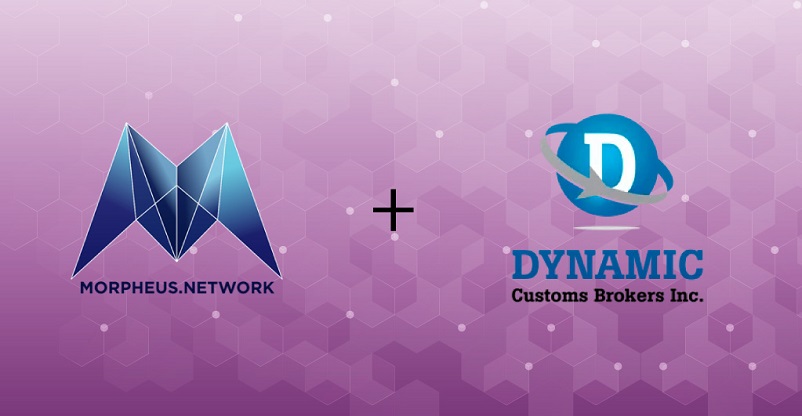 Emerging SaaS middleware developer, Morpheus.Network has entered into a partnership with international trade brokers – Dynamic Customs Brokers Inc. for streamlining their business operations and bringing down the complexities of conducting trades in global markets. Morpheus.Network needs assistance with international trade as it is working actively on data deals from around the world. Dynamic Customs Brokers fit the bill of global trade expertise and can help the tech company with smooth sailing of their business transactions.
According to their announcement, the Morpheus.Network – Dynamic Customs Brokers partnership will solve the difficulties of the middleware developer in offering voluminous data services to supply chain players from different parts of the world. The company mainly deals with business-sensitive data and builds middleware services that provide this data to the right people at the right time for making the supply chain logistics seamless.
Morpheus.Network Seeking Support for International Trade
Over the past few years, Morpheus.Network has gained its recognition as a leading SaaS middleware service provider. The platform built by Morpheus.Network simplifies logistics-related compliance for supply chain participants. The company gives technology-driven automation with the generation of logistics documents and transport approvals. The business value of Morpheus.Network is that its middleware platform offers a service that reduces the burden on logistics companies and also enhances their supply chain workflow.
The dynamics of the supply chain industry are changing, and all logistics processes are getting accurately documented. Electronic technologies are enhancing the supply chain processes by making the data available at fingertips. Logistics companies involved in cross-country and international trade need to improve their service capacity, up to their security, and optimize their business strategies while dealing with multiple regional borders. The Morpheus.Network platform aims to enable these companies with such improvements by partnering with an expert in international trade.
Dan Weinberger, the CEO of Morpheus.Network, is looking forward to this partnership with Dynamic Customs Brokers and views it as great value addition. According to him, this tie-up will help Morpheus.Network procure all the necessary shipping information for initiating its Canadian Customs release process. Their relevant shipping data can be relayed to Dynamic Customs Brokers, who would execute the importation process with the Canadian customs department – the Canada Border Services Agency (CBSA). With this collaboration, Morpheus.Network can continue providing high visibility to its international supply chain clientele.