Blockchain News
Blockchain Foundry Enters Into Partnership With Matic Network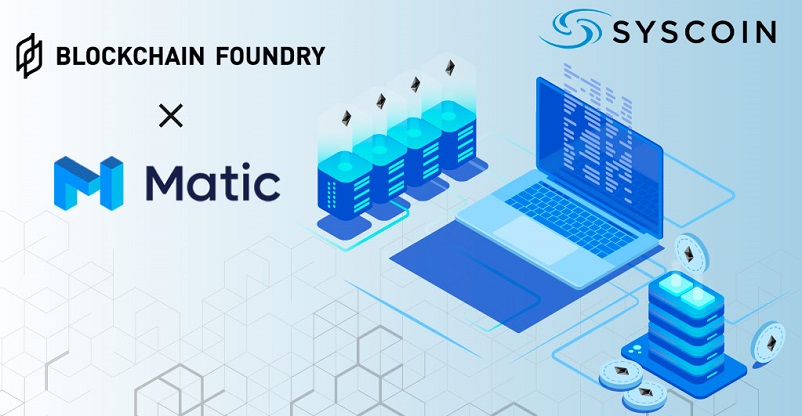 Shining as one of the most trusted and dynamic global blockchain consulting and development firm, Blockchain Foundry Inc. has announced its strategic partnership news with another industry-leading firm, Matic Network. The collaboration between the two platforms will help in strengthening the interoperability functions between the Syscoin and Matic Network. The news was circulated in the sector via an official Twitter post by the Matic Network team which stated:
According to the blog post, the experts of the Syscoin platform and Matic Network will lay joint efforts to offer a fully-scalable solution designed to serve the potential projects on the Ethereum blockchain. Both the participating firms presently offer scalability solutions for Ethereum-powered tokens and DApp projects. Matic is a decentralized scalability solution that enriches Ethereum developers with speedy and economic transactions over the network. The platform uses sidechains compatible with EVM and ensures seamless movement between the Ethereum mainchain and the Matic sidechain for the users.
Sandeep Nailwal stated, COO, Matic Network,
On the other hand, Syscoin is a merge-mined blockchain which uses Blockchain Foundry's patent-pending technology ZDAG or Zero Confirmation Directed Acyclic Graph. The Syscoin, Decentralized Finance network, offers the best-in-class infrastructure and tools for the DeFi community. They enjoy speedy, low cost, and scalable transactions seamlessly. Syscoin allows ERC-20 and Syscoin Platform Tokens to work as Point of Sale solutions. An audit report revealed that Syscoin's network can offer a 140k TPS value to the investors. The recently launched Syscoin Ethereum bridge allows Ethereum-based solutions to easily move their native ERC20 tokens freely between the Syscoin and Ethereum systems.
Dan Wasyluk quoted, CEO, Blockchain Foundry,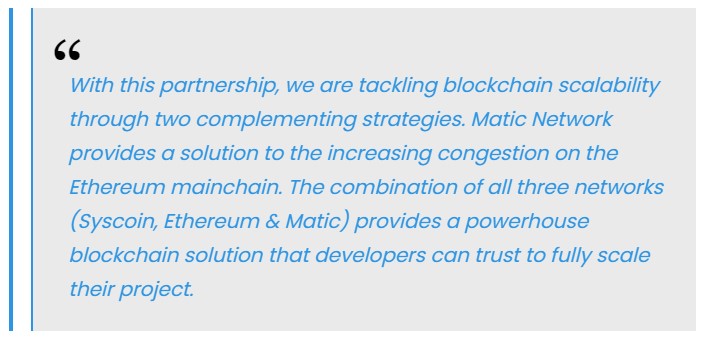 The firms will work together to leverage support for all core aspects, including research initiatives, joint venture programs, marketing realms, and business development modules.