Blockchain News
IDall Joins Hands With Coinkeeper to Launch the PASSCON Technology Module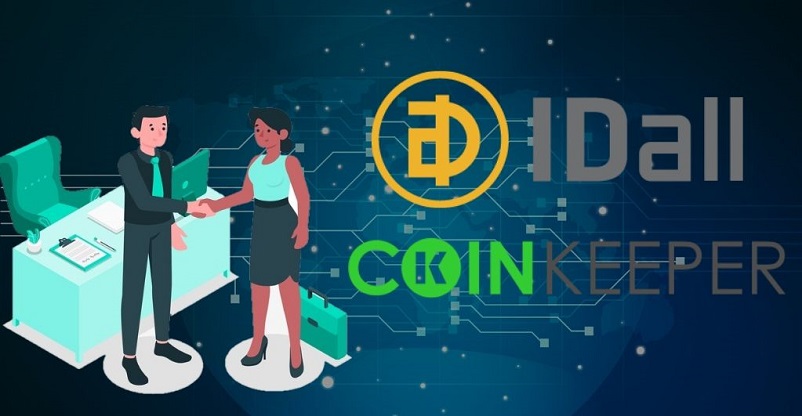 Working as a highly secured, innovative, and globally trusted decentralized wallet service providing firm, IDall has announced the news about its strategic collaboration with a global cryptocurrency exchange platform, CoinKeeper. The two leading firms have teamed up to lay the foundation of a robust security ecosystem by unveiling their highly-anticipated PASSCON technology module.
With a view to celebrating the collaboration with CoinKeeper, IDall has organized a giveaway event for its customers. The event will give the investors a fair chance to earn rewards from a prize pool of a whopping 2000 IDALL tokens. The news about the partnership was made official by IDall through a post in its Twitter handle, which highlighted the purpose of the deal. The post read:
🛡IDall and CoinKeeper form a mutual partnership to revolutionize the concept of security.🧰⚙🛡

Partnership Details: https://t.co/TnBtjUZvx2

FW: @IDall2 & https://t.co/UfTefnUjHZ
RT & Like this post.
2000 $IDALL Giveaway.@cctip_io draw 2000 IDall 2000@Coinkeeperworld pic.twitter.com/EkoiHykGEO

— IDall one ID all Pass (@IDall2) April 24, 2020
According to the reports, the elite team members of IDall and CoinKeeper will strive to enhance the experience of the users by eliminating the hassles associated with password maintenance. The core objective of the IDall platform is to reduce the burden of passwords from the internet and blockchain networks intended to allow the users to enjoy more simplified access. The implementation of the PASSCON technology, IDall strives to render to the constant issue of using several or the same password for securing assets and personal information, which often troubles the users.
The IDall team has teamed up with CoinKeeper exchange as it has a high opinion that the latter could act as a triggering base for channelizing the mass adoption objective of the IDall PASSCON technology. As part of the partnership, both the firms will put in their excellence to revolutionize the blockchain technology arena by carving out new innovative product offerings and services for the benefit of the decentralized community as a whole. This integration is likely to bring in success for both the participating firms and will also play a significant role in expanding the operational capacities for them as well.