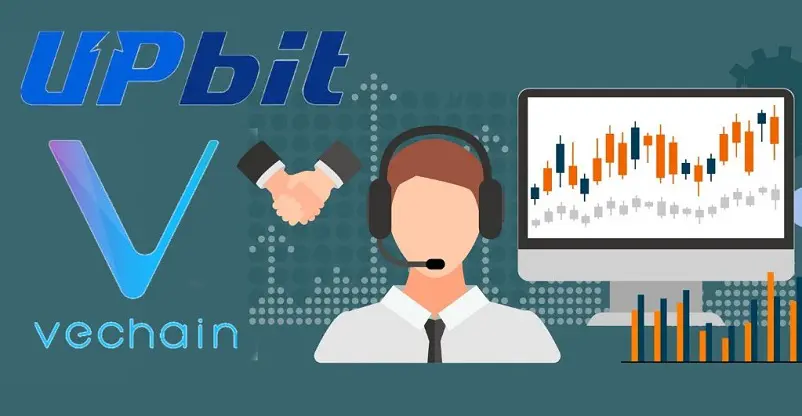 South Korea-based globally acclaimed cryptocurrency exchange, Upbit has announced the news about the addition of a new high potential cryptocurrency, VET, in its prestigious ecosystem. Launched in August 2017 when cryptocurrencies were on a booming phase, VET is the native coin of renowned enterprise-based DApp and ICO platform, VeChain.
The news was made official in the crypto community through a tweet on the social media handles of the participating entities.
$VET is now listed on Korean cryptocurrency Upbit! Furthermore, $VTHO will also be distributed weekly to $VET holders on Upbit. Thank you for the support and welcome to all our new Korean community members!
Read more: https://t.co/kXsiN5u6AA

— VeChain Foundation (@vechainofficial) March 27, 2020
According to the reports, the deposit period for VET will begin in the next thirty minutes of the release of the official announcement. The exchange will distribute VTHO to all the VET token owners on a weekly basis. The owners need to deposit a minimum amount of 5 VET, or else the deposit shall not be reflected on their respective accounts.
With a view to ensuring the highest standards of security and transparency for the customers, the following conditions shall be applicable:
In case of the addition of a new cryptocurrency on the BTC market, the purchase orders shall be limited for the first five minutes.
The sell orders are restrained to prices falling below -10% depending on the closing price of the coin market cap the preceding day.
Upbit is a revolutionary cryptocurrency exchange that strives to offer the best trading and exchange services to its wide customer base. The core team working behind the exchange has been keen to bring the best products to the investors through strategic collaborations and partnerships. On the other hand, VeChain works as a non-profit organization hailing from Singapore. The entity has shown a great deed of concern for the current global crisis of COVID-19. The VeChain community has actively supported the relief operations carried upon across the globe by organizations worldwide, against the pandemic.