Dogecoin News
Dogecoin's Intraday Plunge Takes the Price to $0.0024 Mark
Dogecoin is among the popular coins of the market. It is many times seen handling the heavy pressure of the market pretty decently. However, there are some days when the coin falls due to the pullback pressure.
Today, Dogecoin's price is currently trading downwards and the same is due to the plunge in top trending coins like Bitcoin, Ethereum, and Ripple. It is anticipated to be lifted soon.
Dogecoin Price Analysis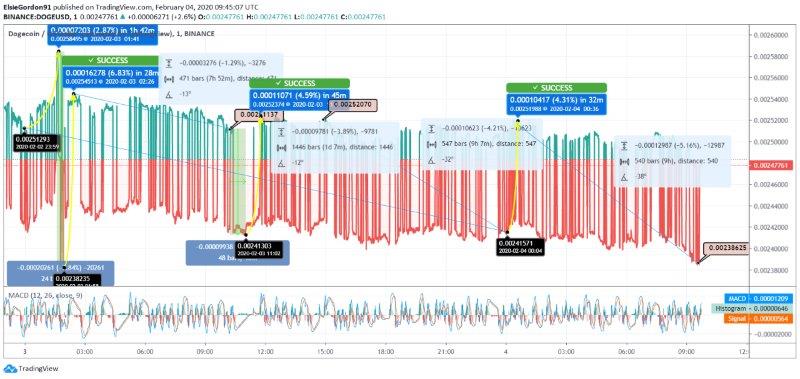 Yesterday, Dogecoin started trading at $0.00251, and then, it escalated to $0.00258 in the next 1 hour and 42 minutes. The coin couldn't hold itself at this level and fell to $0.00238 by a huge fall of 7.84% at 04:58 UTC. Further, the price recovered and escalated to $0.00254 by 6.83%. Then again, the currency started falling and touched $0.00251.
The downside movement continued, and the coin reached $0.00241. Later, Dogecoin marked moderate recovery and reached $0.00252 by 4.59%. Further, the currency dropped to $0.00241 during the closing hour. The intraday movement in the DOGE reflected a 3.89% fall.
Today, Dogecoin began with an escalation. The price counter moved from $0.00241 to $0.00251 by 4.31%. The currency started dropping and touched $0.00238, and then again, it marked recovery. As per the MACD indicator, the MACD line overpowers the signal line and hence, the improvement in the coin is likely to take place.
Dogecoin has breached the immediate support level at $0.00240. The coin is quite near the next support level at $0.00237. It is likely to violate the next support level in the coming hours. However, as per the technicals, the coin may reflect a strong recovery in the near-term.
R1: $0.002496, R2: $0.002551 and R3: $0.002586
S1: $0.002406, S2: $0.002371 and S3: $0.002316