Dogecoin News
Dogecoin (DOGE) Lacks Traction, Yet the Bears Have Not Yet Overpowered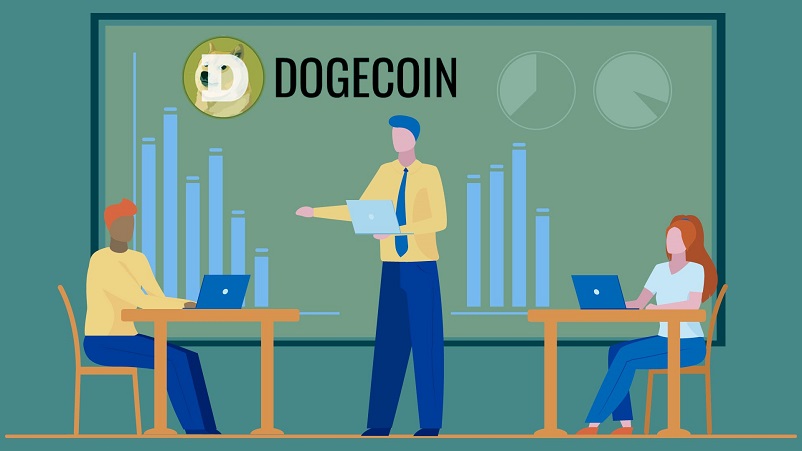 Dogecoin, mostly known as a meme digital currency, is quite prominent and was altogether even more elevated when Tesla CEO Elon Musk declared his admiration and favoritism for the digital currency. Moreover, Dogecoin is believed to have a concurrent motion with Bitcoin, and with the growing popularity of Bitcoin and cryptocurrencies, the adoption and investment in these digital assets have been on a roar.
With this, in one of the Binance Researches about Dogecoin, they claimed that DOGE, as a matter of fact, was held for more than one year by 75% of the investors. Additionally, more than half of total on-chain transactions occur during the US business hours. And with the growing acceptance of the crypto space, Bitcoin and altcoins are just acing the amount of cryptocurrency investments in investor portfolios.
Dogecoin Price Analysis
On the 12-hourly chart, Dogecoin is trading with a flattish momentum and retains steady support from 200-day MA, while retains slight support from 50-day MA. After marking a 30-day high at $0.00272, the price trend of DOGE/USD is consolidating in a narrow trading range, yet above 61.80% Fib Retracement level.
Important to note that over the past two months, Dogecoin's price is trading above 38.20% to a major extent after a YTD low at $0.00110. With the given YTD high and low, the current trading price is just trading right at $0.00252 yet lacks momentum. The majority of the altcoins and moreover, the entire market is facing a dearth of momentum due to fewer buyers' demand.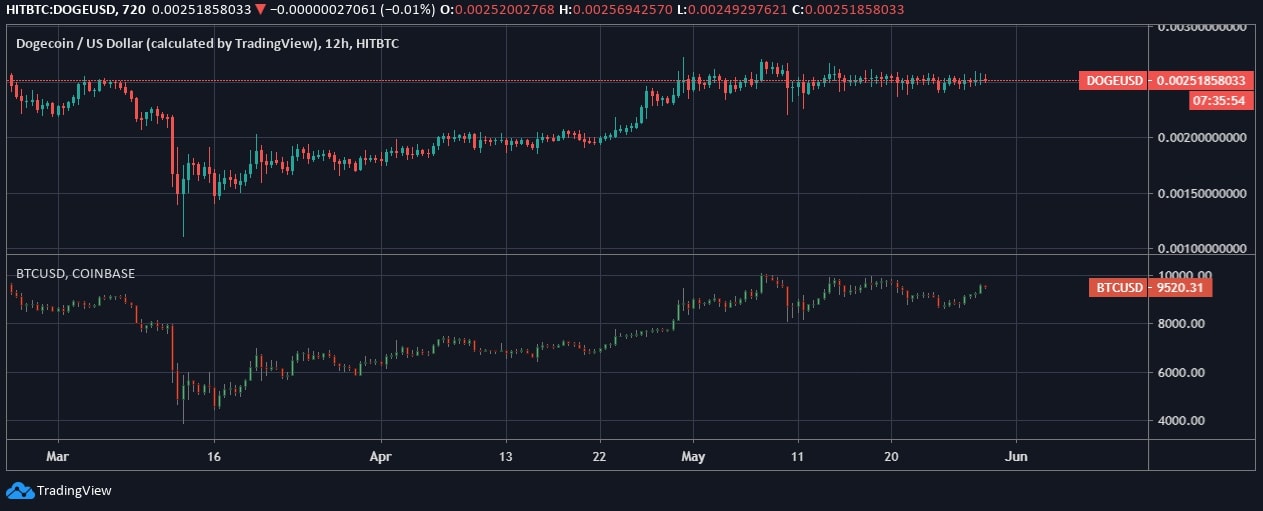 Just when the majority of the adopters and investors draw an intersection of momentum and concurrent trend between Bitcoin and Dogecoin, both have almost a similar trend. Yet BTC is believed to comparatively more volatile than DOGE, as seen by the above chart.
The technicals of Dogecoin are drawing negative sentiments due to the current lack of momentum, and the MACD is holding a bearish divergence while the RSI of the coin us at 51.68 and holds no trading extremities at present.