Cardano News
Cardano Price Correction Faces Setback Due to Market Pressure
Cardano was spotted reflecting a massive price improvement in yesterday's trading market which would have spiked hope amongst the traders. However, the day opened with a massive price plunge, today. The same experienced improvement but couldn't hang for long and fell under the pressure of the market.
The brains behind the coin are making efforts to improve the reputation in the market and the future looks brighter for the coin. The interested traders in Cardano can opt for the long-term investment which would bring the desired return in the coin. Today, Cardano is dealing with a market cap of $1,264,324,389 with a 24-hour volume of $114,107,973.
Cardano Price Analysis: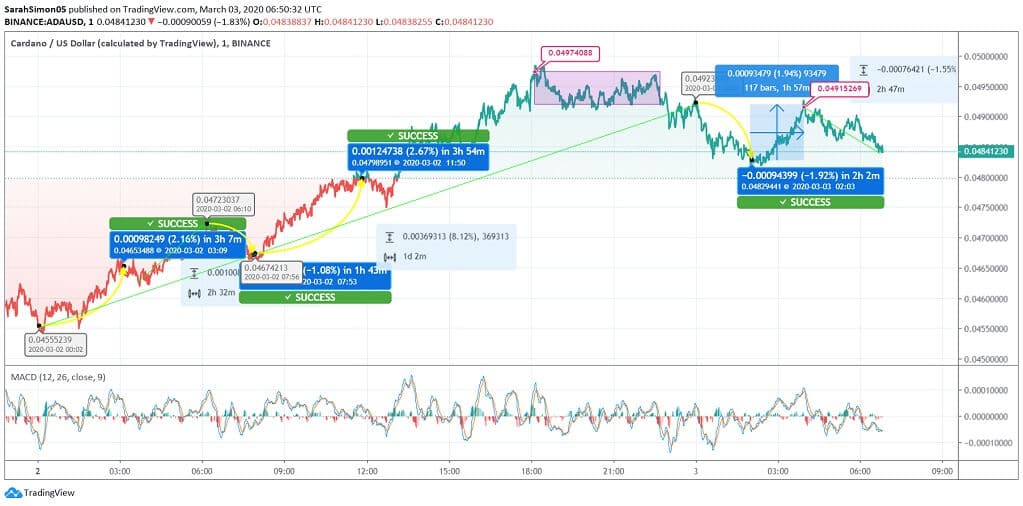 On March 02, 2020, the coin was trading around $0.0455 when the price escalated to $0.0465 by 2.16% within the first three hours. With a moderate setback, the coin escalated to $0.0472 by 2.18% in two hours. ADA coin plunged to $0.0467 by 1.08%, but later escalated to $0.0479 by 2.67%. The coin kept upsurge intact and was trading at $0.0497 and kept hovering at the same level till 22:42 UTC. The day closed at $0.0492. The intraday movement in the coin reflects 8.12% progression.
Today, Cardano dropped to $0.0482 in the first few hours of opening when the price escalated to $0.0491 by 1.94%. Recently, Cardano dropped to $0.0484.
The MACD line and the signal line are currently intertwined on the MACD chart. The lines move below the zero line and the signal line of ADA has crossed above the MACD line showing bearish divergence.
The coin is currently at $0.0484. The immediate support level is formed at $0.0464. The coin seems to violate the same if it experiences a steep fall.