Cardano News
Cardano Breaches 2-Year Long Resistance and Hits Above $0.11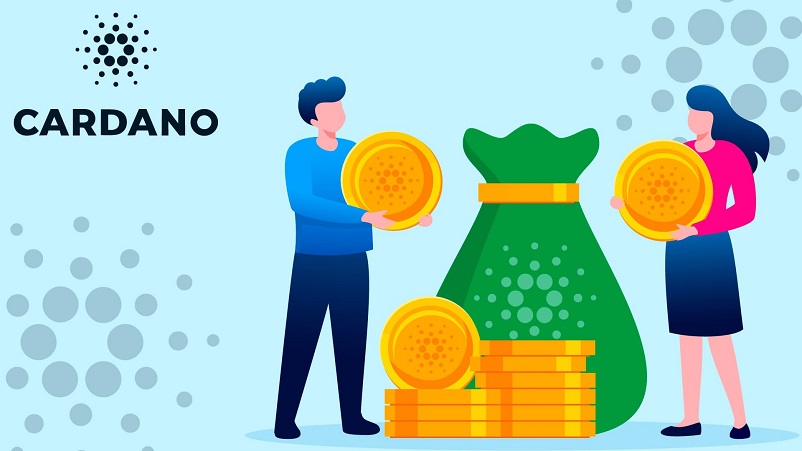 Cardano is one of those altcoins that has been experiencing a stupefying price momentum in the intraday along with altcoins like VeChain, Chainlink, Dogecoin. And, most interestingly, Cardano in the wee hours of the trading session today has breached a 2-year long resistance at $0.1397. Also, the smart contract-based platforms and their native tokens have gained amazing traction in the recent altcoin Bull Run, which otherwise was trading sideways.
Moreover, just as ADA gains impetus, Charles Hoskinson, in his recent tweet, extended his wish to come together with Litecoin's CEO, Charlie Lee. Wherein he also mentioned that he would be glad to test cross-chain communication between Litecoin and Cardano. This will eventually lead to an even enhanced experience for networkers when the two platforms whose cryptos are ranked amongst the top 10 cryptocurrencies of the global market.
Additionally, when we talk about Cardano ranked amongst the top 10 cryptocurrencies, it is due to the recent price action that has now taken over Litecoin at 7th position in the market. Moreover, it is one of the cryptos amongst the top 10 that has gained massively in the past 24 hours.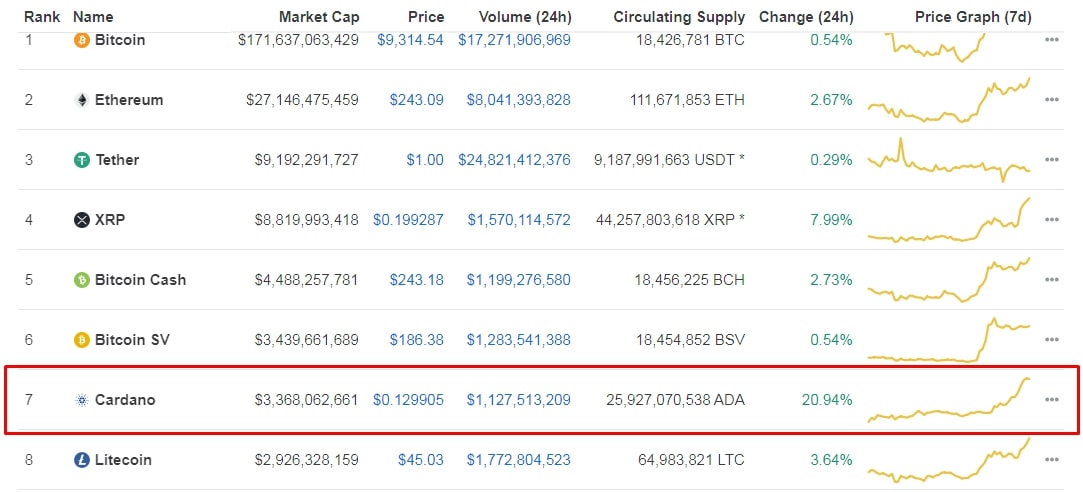 With an increase in the price and an elevation of rank in the market, Cardano has lured massive social media presence due to the recent social activities which are nearing an All-Time High as per LunarCRUSH Social Listening for Cryptocurrencies.
Cardano Price Analysis
On the 3-day Chart of Cardano on Binance, we see that the coin was on a continual uptrend straight after the market crash in March 2020 against the US Dollar. With intermittent dips in the previous month, ADA coin had lost track of uptrend, which is now continuing with a complete bullish candlestick.
The price rally is mostly embraced due to Cardano's efforts to develop the platform and branch out in every possible direction and sector as a smart contract-based platform. Therefore, with the recent high, ADA/USD has breached the 2-year long resistance at $0.139 and has successfully breached $0.11, which is a 52-week resistance. The 20-day Bollinger Bands are seen widening on the above 3-day chart as the increasing price welcomes massive volatility.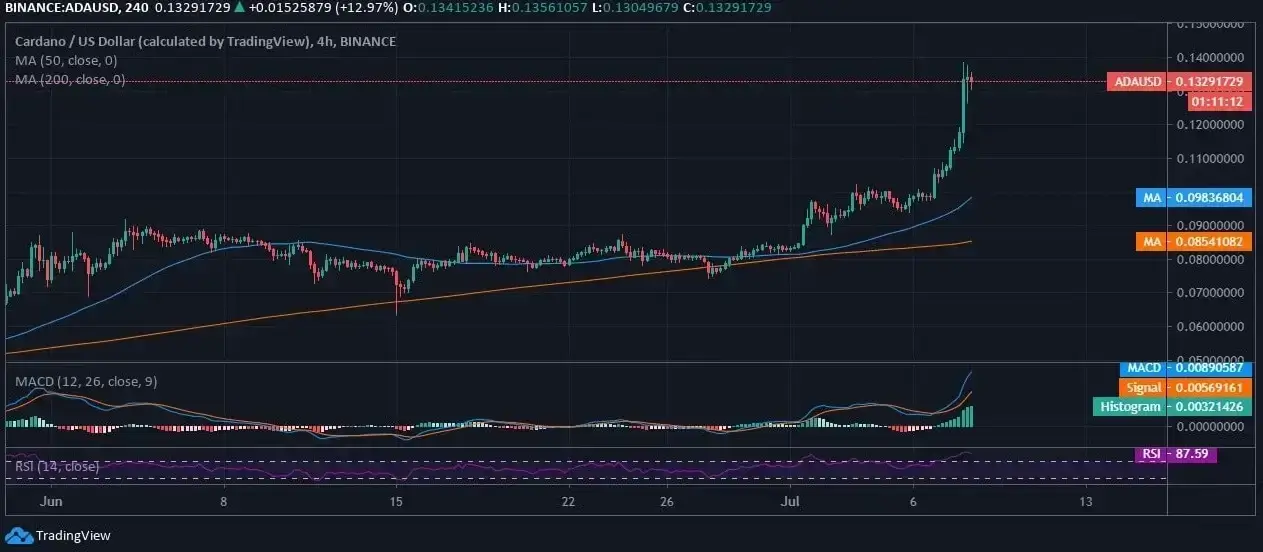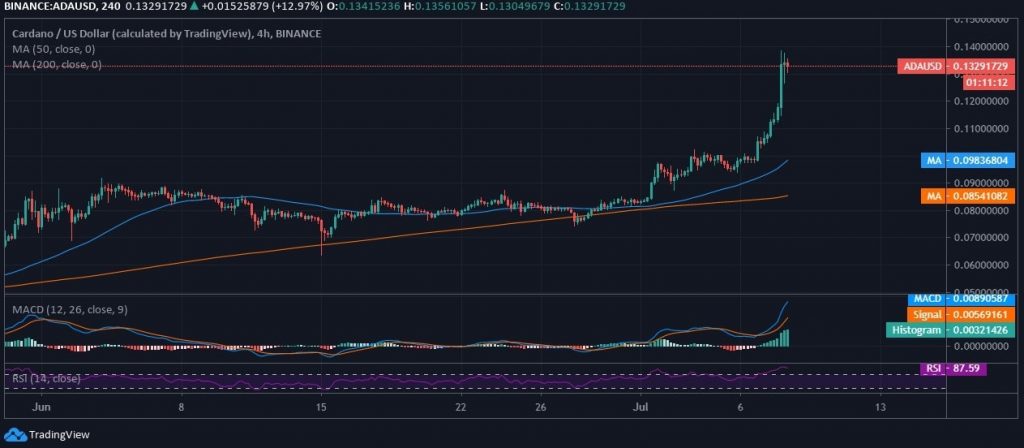 However, on the 4-hourly chart, ADA coin is holding a steady and steep momentum since the start of the ongoing month. The coin is retaining complete support from 50- & 200-days MAs at $0.098 and $0.085. With this, the major support lies at $0.11, $0.10, and $0.095, and the major resistance is $0.20 if the Cardano continues to move with the same momentum.
The technical indicators are bullish than ever as the MACD indicator reflects bullish crossover. Similarly, the RSI of the ADA coin is reflecting the increased demand of the coin at 87.59, way ahead of 70.