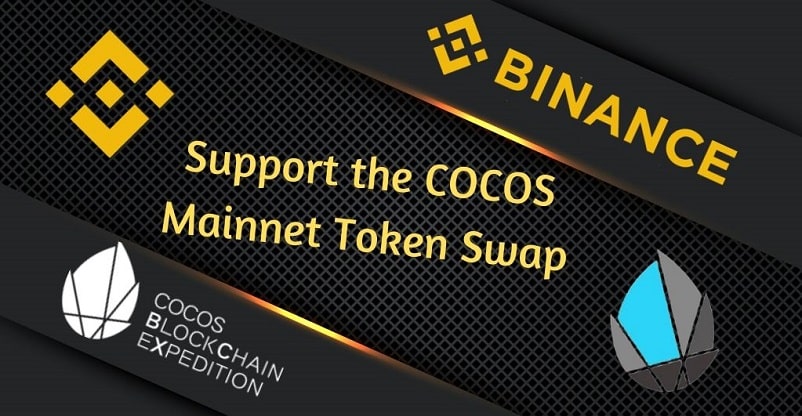 Binance has announced the news about the network supporting the COCOS Mainnet token swap event. The globally acclaimed crypto exchange took to its official Twitter handle to inform its wide customer base about the strategic step. The post read:
#Binance Will Support the @CocosBCX $COCOS Mainnet Token Swaphttps://t.co/JWtOpstMLC pic.twitter.com/n5hYnbuYm8

— Binance (@binance) March 20, 2020
According to official reports, Binance will halt withdrawal activities on its platform for COCOS at 2:00 AM (UTC) on March 23, 2020. The exchange has promised to manage all the technical requirements involved for all the users owing to COCOS in their exchange accounts.
In the post, Binance has clarified that it shall continue to process the token swap for the investors even after the users choose to deposit ERC20 COCOS tokens in their Binance accounts after the COCOS mainnet goes online. The users, however, shall not be allowed to make withdrawals for their ERC20 COCOS tokens after the mainnet swap. Binance will further make an announcement giving details about the completion of the mainnet swap along with the dates for the start of the withdrawal process for COCOS token.
Based in Malta, Binance is one of the most reputed and popular cryptocurrency exchanges in the world. It takes pride in being the largest cryptocurrency exchange in terms of the daily trading volume. The exchange has been putting in serious efforts and initiatives to promote crypto mass adoption. The revolutionary tools and services offered by the exchange to its wide customer base place it a notch higher in comparison to its customers.