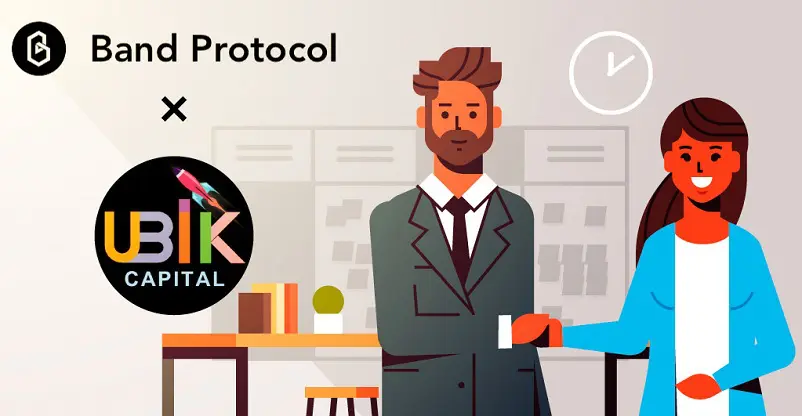 Working as one of the most trusted cross-chain data oracle solutions, Band Protocol has announced the news about its strategic collaboration with Ubik Capital, the firm that shines as the fourth biggest public representative of ICON Network. The partnering teams will put in their joint efforts to leverage the expertise of their revolutionary tools and services for supporting decentralized products and blockchain technology.
1/ 🚀 $BAND has strategically partnered with leading @helloiconworld P-Rep and award-winning DApp developers @UbikCapital who have over 14.5+ million $ICX staked to them from 3800 unique delegators.
https://t.co/INlKu6YJWl

— Band Protocol (@BandProtocol) August 7, 2020
On July 22, Band Protocol joined hands with the ICON Network, which is one of the biggest and most diversified blockchain networks across the globe. The partnership was framed to aid the integration of customized BAND oracles for several DApps operating in the ICON network. Now, with Ubik Capital coming on board, BandChain users will be enriched with the former's enterprise-grade validator infrastructure and tools. Ubik will emphasize boosting the adoption rate of Band oracles across the ICON ecosystem and community events like workshops and meetups of developers. Ubik is the 12th validator firm out of the total of more than twenty platforms that will be supporting the BandChain mainnet launch scheduled shortly. This will strengthen the overall Band Protocol functioning by offering high-end security and ease.
Marius Andrei stated, co-founder of Ubik Capital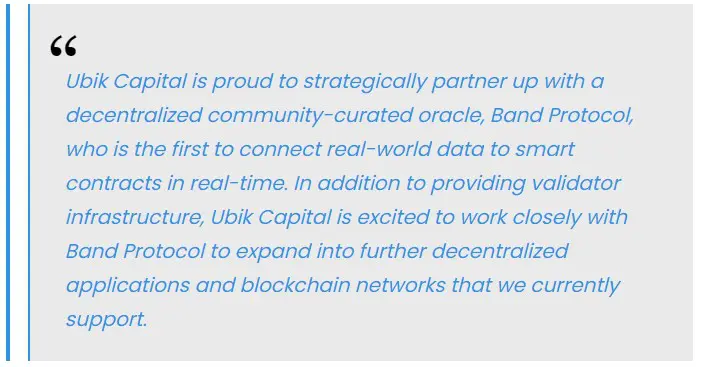 Ubik Capital is a team of expert ICONists who strive to become the pillar support, the voice for the ICON community. They give their best efforts to expand the ICON network, increase its brand value in the market, and establish it as a people's favorite blockchain system. The forum aims to expand the business via technical collaborations, community, business expansion, and a dedication to Governance. The firm has more than 14.5 million ICX staked in its control and 3800 unique delegators. It offers validator infrastructure to renowned blockchain entities like Terra, IRIS, Cosmos, as well as testnet nodes for Regent Network, Althea, Sentinel, and more.
In ICON's Got Talent contest, Ubik Capital's 'Breadcrmb' decentralized application became the final winner beating all its competitors. The platform has a long experience of over 40 years in software development, program management, and other vital operations.
Soravis Srinawakoon quoted, CEO and co-founder, band Protocol

Band Protocol connects real-world data and APIs to smart contracts for the streamlined working of decentralized firms. It helps them to access crucial data that is available outside the blockchain ecosystem. The oracle system aids the smart contract applications like DeFi, market spaces, and games to be built on-chain without depending on a single point failure. Its stakeholders include Binance, Sequoia Capital, etc. making it a trustable name in the stratum.