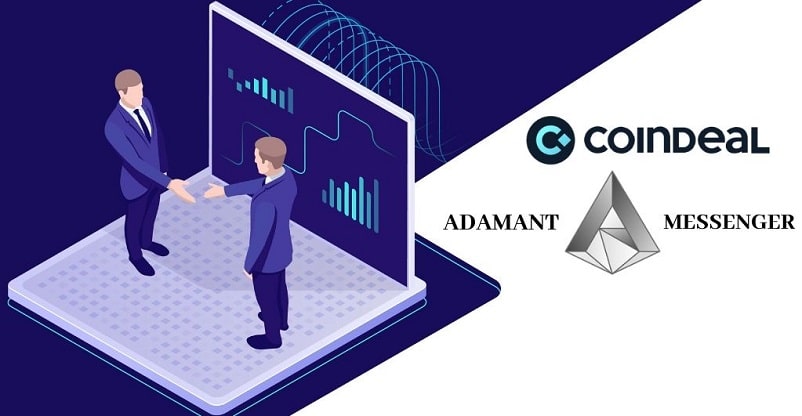 ADAMANT (ADM)messenger, one of the most secure blockchain-based anonymous messenger has made an announcement on February 27, regarding its partnership with the leading cryptocurrency exchange CoinDeal Global. The news of this strategic partnership followed the win of ADAMANT in CoinDeal's 19th vote, after which CoinDeal integrated ADM wallets and listed ADM / BTC as trading pair. ADAMANT also announced that from now onwards, the ADM currency can be traded with Bitcoin or BTC. ADAMANT and CoinDeal will now cooperatively share various marketing and bounty campaigns.
Decentralized blockchain messenger like ADAMANT that came into existence in 2017, has myriads of advantages over P2P messengers. Moreover, with blockchain messengers, clients' applications can work in synchronization with the API. With ADAMANT apps, creation of accounts is very easy; there are no direct connections required, all data are recorded through the distributed nodes, with no access to the users' IP addresses. Also, all the messages are encrypted end-to-end by using curve25519xsalsa20poly1305. Therefore, ADAMANT has advantages over open-source code.
With this partnership with CoinDeal, ADAMANT will get myriads of benefits as to secure their clients' assets in the best possible ways. Again, with the CDL (CoinDeal) token offered by CoinDeal, transaction fees can be lowered, buying a Premium account and various other services will become easier. CDL token holders will also be able to vote for new cryptocurrencies on the CoinDeal exchange.
After the partnership, ADAMANT's trading with CoinDeal will become more secure because CoinDeal itself is impeccably secure being licensed by 3 leading regulatory bodies, namely, FinCEN Registration (USA), MFSA License (Malta) and VQF License (Switzerland).