Forex News
Why do people go to Dubai for forex trading?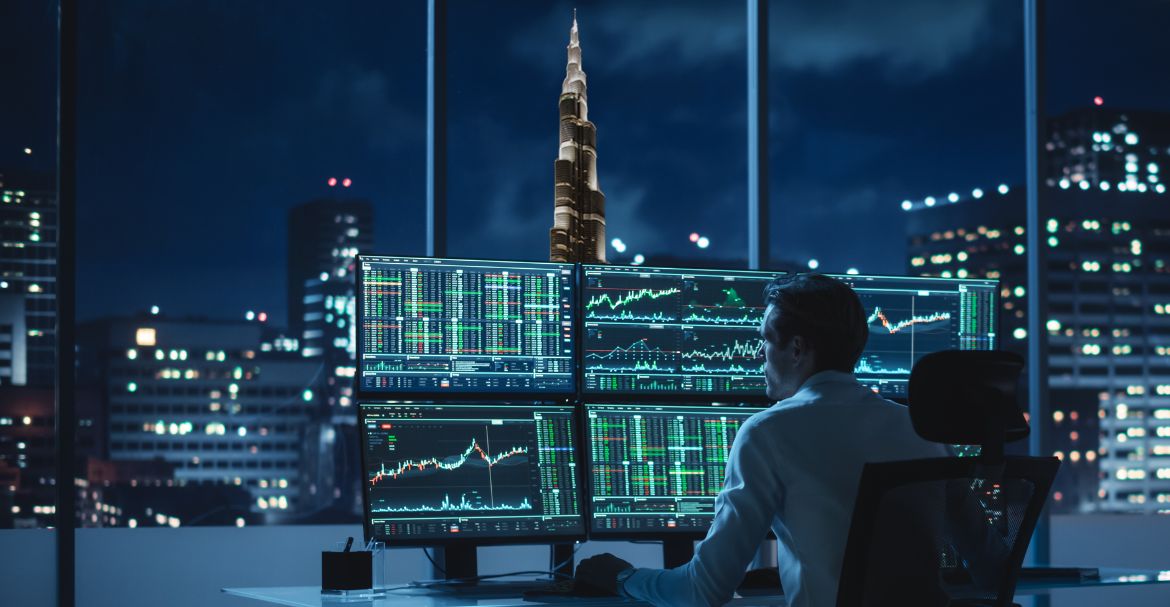 Forex or foreign exchange refers to a global digital marketplace for trading foreign currencies without a physical location. It is the largest financial market in the world, with more than $6 billion being traded daily. Traditionally, forex trading was mainly dominated by large banks and institutional organizations that acted on behalf of the traders. However, in the modern day, forex trading has become a retail-oriented activity, and traders of various size holdings have started participating. The forex market is opaque compared to other financial trade markets. 
Now coming to forex trading in Dubai, let's start by saying that the Middle East possesses a strong presence in the world with its massive reserves of commodities and crude oil. Compared to other local currencies, the USD's strength in the forex market strongly affects various Middle Eastern countries, including Dubai. Dubai has become one of the most significant concentrations of local and international forex brokerages. 
Every forex broker in Dubai is regulated by the Central Bank of the United Arab Emirates (UAE) and is licensed by the Securities and Commodities Authority (SCA). With the most business-friendly forex trading environment, world-class infrastructure, and mature regulatory and legal system, Dubai has attracted many foreign investors to establish branches or companies in Dubai. 
Let us look into why people from different countries come to Dubai for forex trading and find out the current regulatory framework surrounding forex trading.
Favorable Business Environment
Dubai has provided a strong proposition for traders and forex brokers through corporate governance, robust legal structure, and pro-business policies. The rules and regulations surrounding the financial market are agile, transparent, and created to preserve the rights of individual traders and organizations. Dubai has over 30 free trade zones for almost $150 billion. The trade-friendly environment offered by Dubai has pioneered free zones with 100% tax-free policies, renewal structures, and low-cost setups. This has attracted companies of all sizes to capitalize on the strategic position of Dubai and provide forex trading services to local traders. 
Dubai's free trade zones and tax-free policies cater to every need of forex traders and brokers, making it one of the world's most attractive and technologically advanced countries. DIFC (Dubai International Financial Centre) operates under an autonomous regulatory system as a free zone. It aims to provide an efficient and secure forex trading platform, allowing brokerages to develop and expand. It provides:
Benefits like access to the Middle Eastern financial markets.

0% taxation on corporate and personal income.

Other free trade zone advantages.
The 0% corporate tax and a comprehensive double tax policy attract many well-known forex brokers to enter Dubai and establish their headquarters. However, the free trade zone has only one limitation: prohibiting trading directly with the local market. Dubai's free trade zones and tax policies have their practices, regimes, procedures, and regulatory bodies for forex service providers and traders. Hence, individual traders, investors, and forex trading companies must be aware of the policies and regulations in their area. 
Advanced Technological Infrastructure
The exponential growth of the forex market in Dubai is because of not only the favorable business environment, such as free trade zones and tax-free policies but also the advanced technological infrastructure that is equally responsible for attracting thousands of forex brokers to Dubai. There has been a rapid growth of high-speed internet infrastructure in Dubai in the last decade, including the development of the world-class IX or Internet Exchange powered by DE-CIX. This has improved the performance of forex trading online to meet international standards. 
Tech transformation, including numerous digital initiatives in Dubai, has led to the establishment of thousands of state-of-the-art trading platforms with unmatched features and functions, providing an exceptional quality trading experience. These platforms offer a wide range of trading accounts, including forex trading, demo accounts, CFD trading, and Islamic accounts. Traders must remember that traders cannot use all international forex trading platforms in the UAE. 
The top forex platforms provide a potent mix of market news, updates, forex signals, and analytics, offering a new level of trading experience. With the advancement of technology in the forex market in Dubai, traders can use unique specialist analysis and data with an exclusive set of content, such as reports from CS FX Daily, FX Emerging Markets Weekly, and Strategic Technical Themes that provide intelligence to make market moves with forex trading.
Strategic Location
Keeping state-of-the-art trading platforms and advanced technological infrastructure aside, Dubai has geographical advantages over other regions regarding forex trading. The UAE city lies at the center of eastern and western countries. It is the major strategic point for forex trading with areas in Asia, India, the Middle East, Europe, and Africa. Dubai has a well-earned reputation, reliability, and low-risk environment, making it one of the top regions with a robust strategic location for any forex broker looking to international markets for growth. 
It is one of the leading financial hubs in the world, with the most business-friendly mindset in a preferred location for regional and global headquarters of the largest corporations. Social and economic resilience, a strong regulatory framework, and a consistent focus on technology and innovation drive human well-being and productivity through Dubai, the leading hub of evolving global forex brokers and brokerage companies.
Another advantage of Dubai forex trading is easy to access to convenient time zones. Major forex centers in London, Tokyo, Sydney, and New York operate in different locations, but the forex market is open 24 hours. It is an OTC (over-the-counter) market with no centralized forex exchange. This means traders in Dubai never miss an opportunity to trade foreign currencies and can hedge their weekend trade positions with weekend trades on the same financial market.
Multicultural and Multilingual Community
Another significant reason people go to Dubai for forex trading is the diversity of Dubai's population. The country has people from South Asia, western world countries, and other parts of the UAE, making Dubai a multilingual and multicultural community. The labor force and talent pool are also worth mentioning, as Dubai has the world's most skillful and experienced workforce. The multicultural population further enhances workforce creativity and productivity. 
The country's official language is Arabic, with other major languages like English being widely used on foreign exchange platforms. Moreover, strategic location, strong financial reserves, healthy international relations, and significant sovereign wealth funds make Dubai economically stable, attracting large brokerage companies to establish their units in the country. Multi-specialty free zones and progressive policies of economic diversification also provide a push to the rapid growth of forex trading in Dubai. In addition, Dubai presents the most favorable business environment with excellent infrastructural facilities, professional expertise, and customized services, giving Dubai an edge over other regions.
Regulatory Framework
Regulation is something that every trader in Dubai and every part of the world must consider while choosing a reliable forex broker. Dubai has the most significant concentrations of forex brokerages in the Middle East, both locally and internationally. UAE's Central Bank regulates the local trading platforms, and the licenses are issued by SCA (Securities and Commodities Authority). A forex broker in Dubai's financial free zones in the Dubai International Financial Centre (DIFC) is monitored by the Dubai Financial Services Authority (DFSC). It hosts multiple forex brokers offering Islamic accounts with no overnight swap fees. 
The essential advantage for traders using a forex broker in Dubai is that they have a much easier legal recourse if the brokerage platform fails since local regulators oversee them, like UAE Central Bank, SCA, and DFSC. Legal recourse is significant when traders spend vast amounts of funds since it ensures that the brokers are regulated locally, assuring the traders that the products offered align with the regulatory body's rules and regulations. 
All organizations in UAE and Dubai must ensure that they comply with the regulations that fall under the UAE standards and regulations. DIFC compliance involves multiple steps, from the complete overhauling of a management infrastructure to the identification of critical assets. With proper consultation and guidance, forex brokers comply with security standards and other regulatory requirements to provide their customers with safe and secure forex trading. Moreover, the National Electronic Security Authority focuses on combating different forms of cyber threats by providing guidance that is mandatory compliance for all forex trading entities in UAE and Dubai. It has four different levels of monitoring compliance of forex brokers across the country. The regulators become more stringent with the monitoring and regulation policies as risks rise with a particular organization.
Conclusion
Forex trading in Dubai involves finding a licensed, regulated, and reliable forex broker, depending on the needs, especially if the traders have little or no experience in the activity. Dubai provides foreign traders with multiple options to choose from and decide on a suitable structure based on their trading requirements. Favorable economic conditions like zero personal and corporate tax system, a comprehensive double tax policy, world-class economic and financial infrastructure, strategic location, multicultural and multilingual community, and business-friendly environment have made Dubai one of the most attractive destinations for famous forex firms to come and establish their headquarters or offices in the country. Despite economic differences and religious laws, Dubai has consistently implemented westernized business models that welcome foreign investors and traders and help diversify their investing routes.