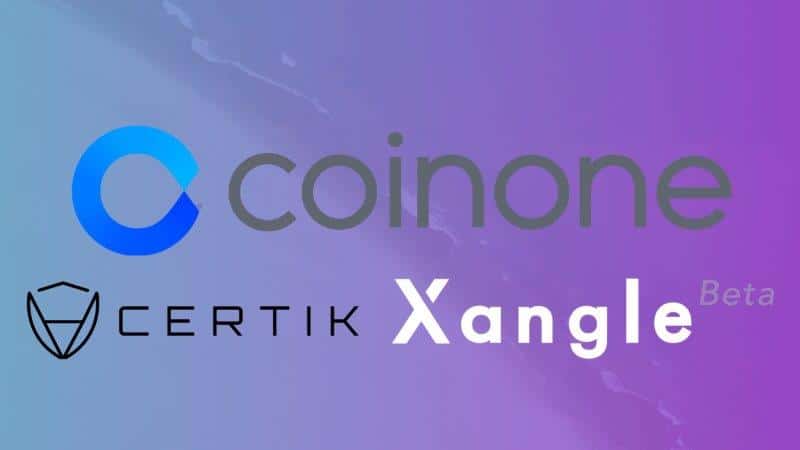 The leading crypto exchange firm of South Korea, Coinone has teamed up with two companies, namely, CertiK-a cybersecurity audit company and Xangle – a disclosures firm to improve security and transparency attributes.
As per the Coinone announcement on August 7, the company has inked a deal on white paper with CertiK and Xangle. Both the companies will offer 'public disclosure information' and 'smart contract audit information' for digital currencies registered on Coinone.
As part of the collaboration, Xangle will function on project transparency and investor protection, and CertiK will monitor the security of the program, project information security, technology validation, screening process, and other.
The report for Xangle mentions that the company will offer security for crypto traders and also enhance the transparency of the projects. The disclosures might contain information about new tokens, investment stocks volatility, modifications in a project's business framework, and token governance.
CertiK will examine projects at the code level and will carry audits of project registered on Coinone, according to the company announcement.
South Korea's no.3 cryptocurrency exchange mentioned,
Coinone strives to establish a listing system and strengthen the public function of the exchange (market surveillance, disclosure, and internal listing) in order to harmonize the two goals of actively listing cryptocurrency and securing investor confidence.
The move comes after three major cryptocurrency firms. Namely, Bithumb, Upbit, and Korbit, along with Coinone, are facing difficulties in updating their bank accounts in the country.  The South Korean banking organizations are now requesting for a demand standards from crypto exchanges, following the new guidelines of Financial Action Task Force (FATF). According to new FATF guidelines, it makes crypto exchanges officially responsible for any identified money laundering operations. The limitations are so strong that small scale crypto exchange firms might find it difficult to stand.
Recently, it was reported that the South Korean Financial Intelligence Unit of Financial Services Commission is considering monitoring of the crypto exchanges directly.
Coinone other Developments
Earlier, it was reported by a source, Coinone had revealed its plan to grow its business across Indonesia, in April 2018. The crypto exchange outlined to back six digital currencies in June after launches such as Bitcoin, Ether, Bitcoin Cash, Litecoin, Ethereum Classic, and Quantum.
On the other side, payment business of Coinone and Coinone Transfer- subsidiary cryptocurrency exchange has collaborated with SBI Ripple Asia to simplify blockchain remittance in the country. The new platform is named as 'Cross' that will enable customers to send remittances across 8 nations also in Thailand, the Philippines, and China.
According to the information, in the local South Korea press mentions that the main issue for Coinone is the risk that the coins would launch viruses by itself in the crypto exchange and enable to hack it.
About CertiK
CertiK – a US-based company, established in 2017. The company has two members and a co-founder, Ronghui Gu. The blockchain-based cybersecurity startup firm has received investment from Binance Labs and Consensus Labs. CertiK is already operating in South Korea. Back in June 2019, the firm reached a deal with the local blockchain platform, FLETA in order to improve the systems of the company and help protect other components of its system.
Apart from partnering with Coinone, CertiK also introduced a native blockchain on 22nd July.
About Xangle
Xangle is cryptocurrency disclosure firm, headquartered at Seoul. The company offers 'tear-sheet-style' details of tokens structure and fundamentals such as formal name, important people, registered address, pricing, and important events.