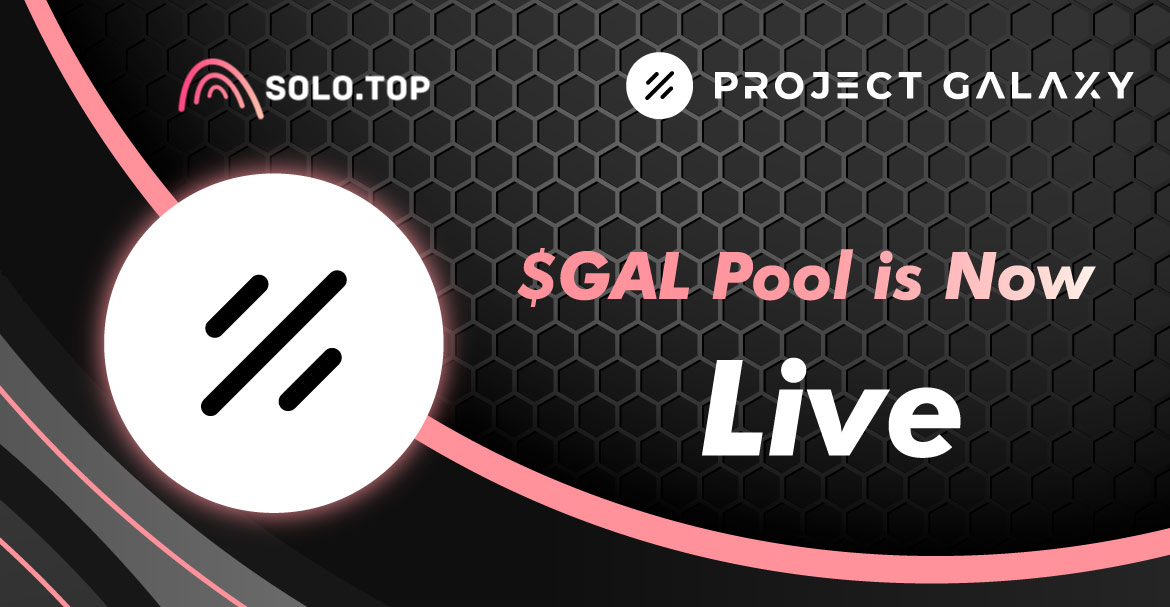 Solo.Top has launched a single-asset mining pool for GAL tokens from Project Galaxy. Built on the BNB Chain, the GAL is reported to offer an annual percentage yield (APY) of up to 50%. The secure pool allows investors to earn a yield by holding Solo's GAL tokens.Top.
The DeFi space has become competitive recently, and investors are no longer ready to wait for years for a market fluctuation to get the values up. So there is a need to find new ways to earn profit from the cryptocurrency holdings. Yield farming is one of the popular ways to earn passive income on your crypto holdings.
However, yield farming is a high-risk option, and the likelihood of losing your assets is comparatively large. But GAL holders will no longer have to worry about the risks of yield farming thanks to the new single-asset mining pool launched by Solo.Top. The yield optimizer has found a solution to help users avoid impermanent losses in the pool.
The GAL tokens one puts in the pool will be paired with $BNB. Moreover, the LP token will be staked to help you earn up to 50% APY in the Biswap GAL-BNB Farm. The important thing about the pool is that investors can be relieved of any impermanent loss on your GAL holdings in the pool.
Solo.Top has an automated hedge process that has already been running for more than a year. The process has been optimized several times to help over this period to avoid any significant loss in the pool. Investors can rest assured that their GAL investment will be protected from price volatility.
The pool offers single-asset support, which means only GAL can be invested. However, the earnings from the pool can be received in USDT and BSW. The pool is free to access, and one can withdraw their holdings without penalties or other charges.
Project Galaxy is probably the most sought-after data credential network in web3. Being one of the most accessible projects, Project Galaxy is built on an open network collaborating with multiple entities. Developers and projects from across web3 can leverage the data credential services from Project Galaxy to build products, communities, and many more.
The Solo.Top mining pool could fortify the practical side of Project Galaxy in the future. Moreover, as one of the most innovative projects in DeFi, GAL's value is likely to skyrocket shortly. In that case, yield farming options on GAL seem to be a proactive idea to keep your holdings.