Forex News
LDV Bank Now Offers RON/ERD and EUR/ERD Pairs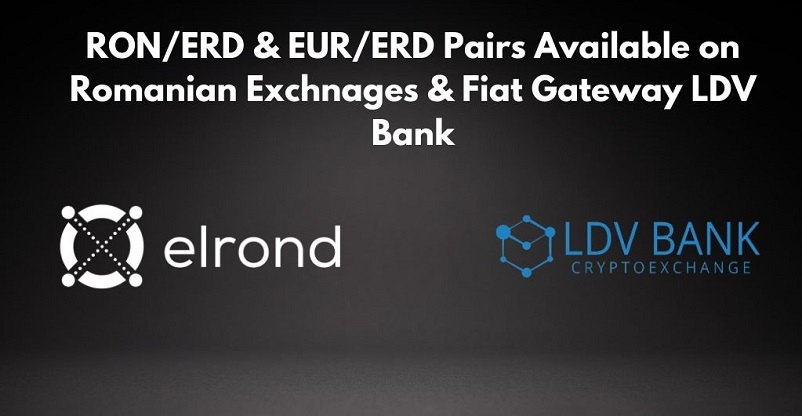 In an important development, $ERD can now be exchanged on LDV Bank against fiat currencies. This has been made possible as both ERD/EUR and ERD/RON pairs have been made available on the cryptocurrency Gateway of Romania. Just so you know, LDV is a Romanian bank that allows the purchase of cryptocurrencies such as Bitcoin and Ethereum with local fiat currencies, i.e., EUR and RON. The bank has been in operation for more than two years now and in terms of cryptocurrency points, it has four counters where physical money can be exchanged for cryptocurrency.
Finer Details
This development is significant in the wake of Elrond's strategy to become a household name in Romania. Elrond also sees this foray important from its global strategy perspective. Cryptocurrency experts and analysts see this association important as it gives Elrond an opportunity to dig its heels in the local Romanian market. Elrond has also got big plans to venture into several other individual countries in order to get its local hold strong.
It is important to note that two primary innovations – secure proof-of-stake and adaptive state sharding mechanics – attached with blockchain architecture Elrond are helping the organization to achieve fast, secure and scalable transactions. One can easily estimate the speed of the network with the fact that Elrond can process more than 1000 transactions per second at almost negligible cost. LDV bank, on the other hand, was set up in 2018 with the sole objective of bridging the gap between fiat currency and cryptocurrencies.

Conclusion

Some of the contentious issues associated with the adoption of cryptocurrency and blockchain technology are low awareness and scalability issues. People in many developing and underdeveloped nations are not aware of digital coins while in the case of blockchain technology, the issue related to scalability is the most impeding one. However, with this new association, one can assume that we are moving in the right direction of embracing both these new-age technologies. This new coming together will prove beneficial for both Elrond and LDV bank as it will help them to achieve their long-term strategic goals while increasing their individual customer base.