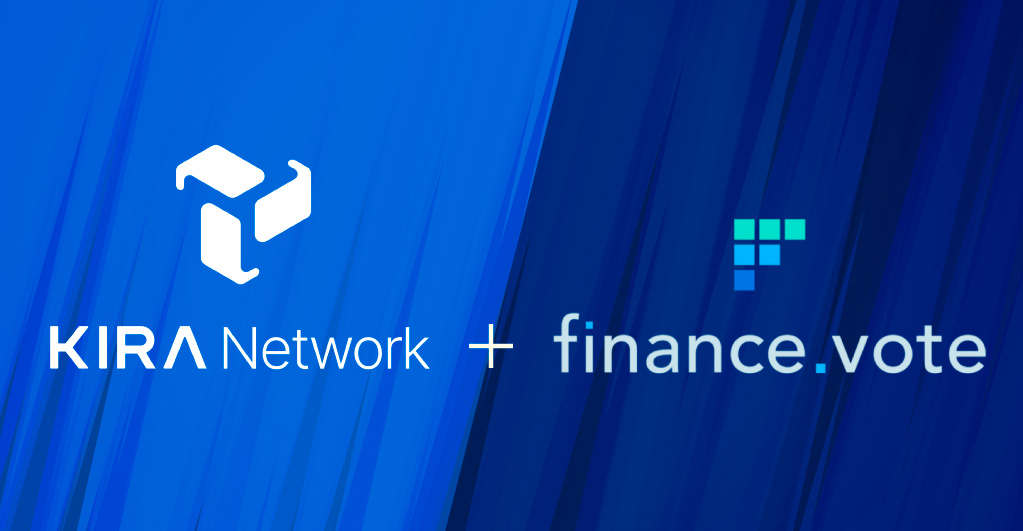 In an important strategic partnership, Kira network and Finance.vote have come together to provide access to liquid staking to investors on Finance.vote's social trading layer. The convenience will not only provide investors voting rights on the trading portfolios' composition but also allow them to yield farm in addition to realizing their trading gains.
It is important to note that the development team at Kira network is building a multi-bonded Proof-of-Stake that is one of a kind in the industry. Using this consensus mechanism, any digital asset can be staked even as investors maintain their liquidity and access to the market. Whether it is a cryptocurrency, digital Fiat currency, NFTs, or stablecoins – each of these assets can be staked with this new consensus mechanism.
The consensus layer in decentralized finance is represented by Finance.vote, which is specifically useful in staking bets in the market based on votes. The Finance.vote's aim is to take the governance concept to an altogether new level through this association, and this is exactly where this new partnership with Kira Network will come handy.
Benefits to Investors
The benefit will manifest in the real-time response that investors will exhibit in the backdrop of ever-changing market situations. It will also help yield an optimum profit to the investors besides strengthening the concept of the vote-based governance structure. Besides, users of Finance.vote will also get access to the Ethereum's decentralized exchange and get access to the interchain ecosystem of Polkadot and Cosmos.
Conclusion
The integration of the social consensus and cryptocurrency consensus will be a game-changer in the digital currency space. Experts and analysts are betting that this will change the cryptocurrency's face and revolutionize the way we deal with digital assets. Especially in the category of decentralized finance, investors will be empowered thanks to the concept of liquid staking coming into the picture.