Chiliz has been a profitable coin for the bulls until November, after which the coin started to decline towards its lows. In a period of three months, the coin has declined 275%. The CHZ coin moved below the downtrend line and reached its support zone. 
Recently, the coin has begun to uplift from the bottom horizontal line of $0.16 and got tested at the top horizontal line of $0.24 but couldn't close above it. In the 4-hour chart, Chiliz begins to descend from its resistance, and the bearish engulfing pattern is being formed. The volume bar favored bulls, but still, the price couldn't uplift.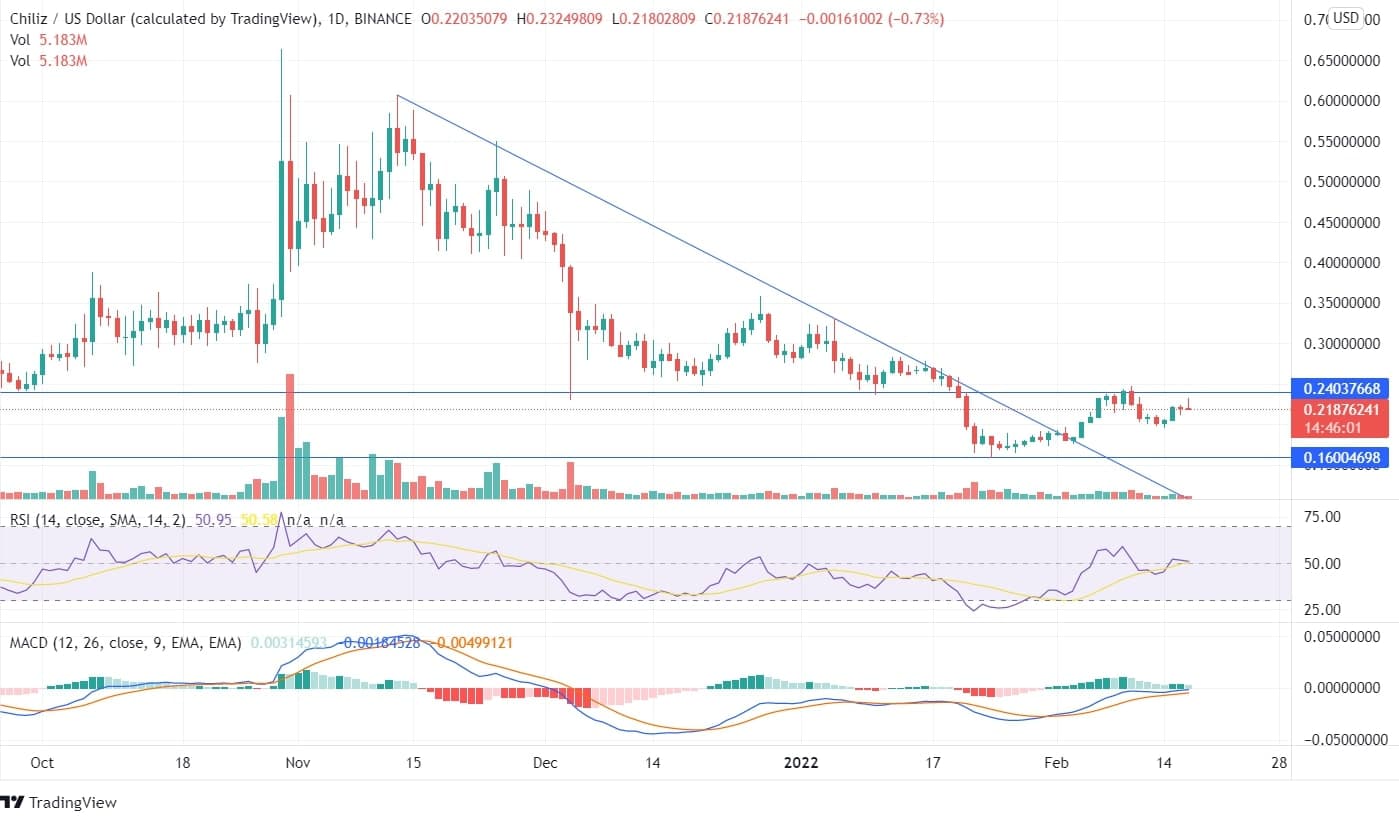 On the above chart, the MACD line is above the signal line, denoting a buy signal. The coin had ascended 37% from when the indicators gave a bullish signal. The price has been moving in between the sideways channel for the past month and hasn't crossed the top or bottom horizontal line. The volume bar shows relative movement, thus indicating a mixed trend in the upcoming price movement.
On the weekly time frame, the previous week's candle shows a price move of 25% downwards, and the forming bullish candle shows a considerable upliftment. Based on Chiliz price prediction, once the CHZ price closes above the top horizontal line, a strong bullish momentum can be expected, however, if the CHZ price closes below the bottom horizontal line, a bearish momentum can be expected in the long run. Investors should wait for the forming candles before investing.
The price getting rejected at $0.24 can be a vital point for the growth of coin as during September end the coin took significant support here for reaching its highs. If the coin takes a U-turn from here, it may reach its lows in the long run. The coin needs to form higher high peaks for an uptrend pattern.