Cryptocurrency News
Crypto and Cannabis Markets: How Are the Two Hot Industries Coexisting Today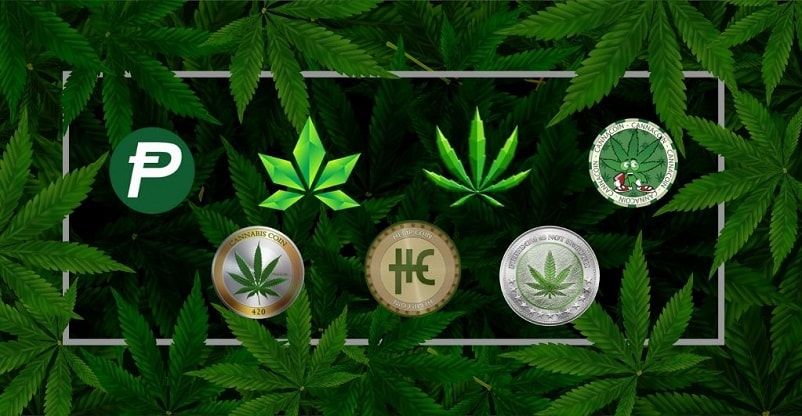 Both the crypto and legal cannabis industries have a lot in common such as from operating in proverbial gray areas to facing the same political, regulatory, and financial challenges. Their consumer bases even overlap at times since they are both quite popular among younger demographics.
Cannabis companies' shares spiked in 2019 and experts predict that the industries are a potential goldmine as cannabis legalization expands. Given are some of the cannabis-related cryptocurrencies and their worth today.
PotCoin
Released in January 2014, PotCoin is the first marijuana-specific cryptocurrency. Its primary objective was to resolve banking-related and other types of P2P transaction issues. A well-established cannabis currency with around 420 million in circulation, PotCoin's market cap was around $80 million, with each coin worth nearly $0.40 in January 2018. Currently, it is floating at $0.0109 and is predicted to reach $0.60 by 2022 end.
DOPECoin
Also launched in 2014, DOPECoin's current market cap is $1.5 million and priced at $0.00113. It functions mirror that of a privacy coin since all exchanges are quick, void of fees, and anonymous. The system works on the proof-of-stake (POS) consensus algorithm and stakers receive an annual interest of 5%. And, DOPECoin is traded only on Mercatox exchange.
CannaCoin (CCN)
Introduced in March 2014, this so-called "dead currency" works similar to bitcoin. It also uses P2P technology and runs on a decentralized blockchain system. CCN had hopes of performing better than other cannabis coins owing to the fact that a majority of Californian dispensaries already accepted and were familiar with CCN. Still, unfortunately, it did not go beyond $0.50. In January 2018, it had a circulation of around 4.7 million and a market cap of $2.14 million, with each coin priced at $0.46. By 2018 end, CannaCoin floated at a worthless $0.00003 and is not actively traded anymore.
CannabisCoin
Launched few months after PotCoin, CannabisCoin (CANN) is a proof-of-work (POW) P2P digital currency that performed the same function as its predecessor: facilitate transactions between medical marijuana dispensaries. For certain cannabis and marijuana strains, called CANNdy, CANN be exchanged at the rate of 1 gram of meds for 1 CannabisCoin. Dispensaries can also accept CANN for full payment of medications at CANN's currency exchange rate. CANN holders can also exchange the coins for licensed cannabis-made products, such as CBD oils, cosmetics, and certain variants of marijuana seeds.
CANN's market cap is $22.8 million, with each coin valued at $0.011, and there are 106 million in circulation. The coin currently trades on YoBit exchange.
HempCoin
Another 2014 release, HempCoin(THC), was developed to help in facilitating safe transactional relationships among cultivators, distributors, and consumers(marijuana dispensaries). THC was more farming-focused rather than population. It had a market cap of $122.8 million, with each coin priced at $0.53 in January 2018. THC was expected to reach $11.44 by 2022 end, but its price dropped to a paltry $0.04 in the last few months and is currently worthless at $0.003. Its total circulation is 253 million.
KushCoin
KushCoin was first announced in January 2017 by a European and North American entrepreneur team. It is a multinational project aiming to execute blockchain innovation in the budding and an incompetent, vertically integrated medical cannabis logistics network (supply chains). It offers a completely decentralized banking solution that allows consumers to transfer cash fast and secure, and with zero transaction cost.
Its market cap is worth $150.51K, with a circulation of 5.63 million. Its last known price was $0.027.
Paragon Coin
A relatively young cannabis coin, Paragon (PRG), was introduced in July 2017. It was launched to deploy a set of blockchain-enabled products to organize and systemize the business workflow and resolve the critical issues of the cannabis industry, thereby bringing stability to the legal marijuana market.
It initially circulated at 100 million with a price tag of $0.75 per coin and was projected to touch $4.07 by 2022 end. Unfortunately, PRG collapsed midway, partly owing to too much hype that led to an overinflated value, and a single coin is only worth $0.09 today. Its market cap stands at a woeful $608,000, with $22.8 million in circulation.
Growing up Hand-in-Hand
Both crypto and cannabis markets are brand new and complement each other well in the legal arena. Cryptocurrency provide accountability and transparency to cannabis operators, while the latter creates a stable customer base for the former. Overall, both industries present a distinctive perception of the future financial world.