It is relatively new but fast-rising crypto to become the first interplanetary cryptocurrency. It is named after the Tesla and SpaceX icon Elon Musk and his support of Dogecoin cryptocurrency. It is based on the Ethereum blockchain with a 50% supply locked on the Uniswap liquidity pool. The rest has been rewarded to Vitalik Buterin, the creator of the Ethereum blockchain.  
The massive increase in the price makes a rank below SHIBE and DOGE. It has a massive community of Telegram and Twitter. It is a fork of Dogecoin, but it has a larger maximum supply than its original coin. ELON started trading in 2021 but quickly provided a huge profit to its investors.
The founder's identity remains unknown, but the coin gained popularity because of his name related to a famous personality. It is a community-based token to become an acceptable universal currency of the people. The project is "rug proof,' and investors will not be victims of rug-pull schemes.  
ELON has three unique features
If you are in the crypto market, you know that a single tweet from Elon Musk can disrupt the technical analysis of the crypto experts. The code name of this coin is ELON. It is a powerful name, and the project will go further. 

Half of the coin is gifted to Ethereum CEO, and it reflects a fair gesture from the authority. 

50% of the token is locked in Uniswap ETH until further notice, which avoids the initial liquidity drawdown. 
Before you invest, it is essential to know that investors treat it as an asset and not as a fee payment method for tangible goods and services like Bitcoin or Ethereum. It is available on most trading platforms.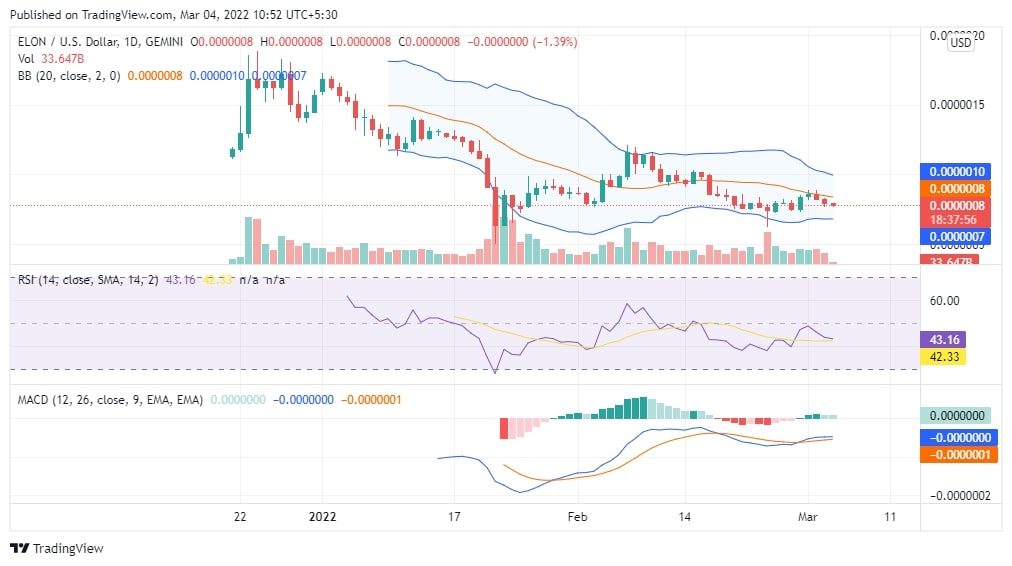 At the time of writing, ELONUSD is trading at $0.0000008. The chart looks like in a downtrend, but we need to analyze the technical indicators for long-term and short-term views. After taking support at $0.0000008, it has faced resistance at $0.0000009, and now it is coming back to the support level. On the daily chart, the MACD is bearish, and RSI is 43, which shows positive momentum in the short term.  
Based on Dogelon Mars price prediction, candlesticks are in the lower half of the Bollinger Band and find resistance around the baseline, which reflects a bearish momentum. 
We would not recommend you to invest in this coin because it is a community-based coin, and the price will be volatile based on the news in the market. If you are stuck at the upper level, you should hold the coin, but we would not recommend new investors jump into it. You should only invest when it crosses the strong resistance of 0.0000011 level. For more updates and price analysis, please follow our website.