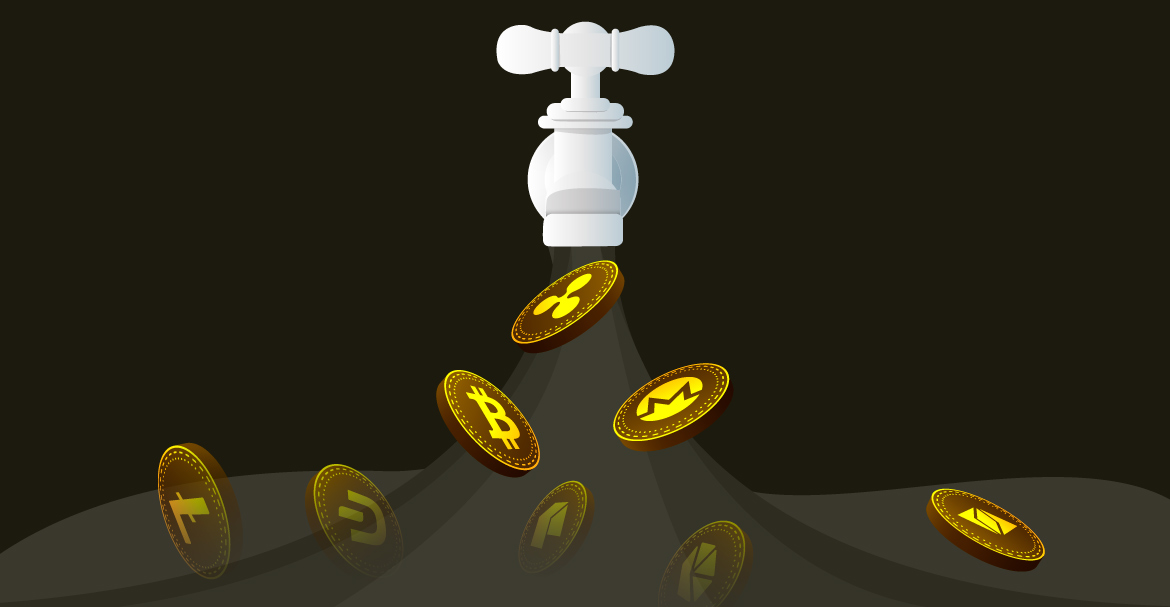 What is Crypto Faucet?
A crypto faucet is an interesting way to earn free cryptocurrencies that too without mining, buying, staking, or trading it, isn't that amazing? A crypto faucet is a crypto reward system where crypto users are rewarded with a small number of cryptocurrencies for free on completing some simple tasks on the website or mobile applications. The tasks are as simple as viewing ads, sharing content, completing some captcha tasks, etc that do not need the users to waste their productive time; these tasks can be done in any free time and the plus is to get some crypto coins, absolutely free.
Though the number of cryptocurrencies given out by faucets is small, they are free, and with cryptocurrencies becoming so mainstream nowadays, getting some free crypto coins matter the most. Any crypto coins earned by the users from the crypto faucet are directly sent to the user's crypto wallet. However, the reward value depends on the complexity of the tasks performed by the users; the more complex the task, the more would be the value of the reward. Watching a blog video gives out more rewards than simply clicking on a link or completing a captcha code.
However, this has to be remembered that earning free crypto coins from a faucet is not a one-day affair, the users need to be associated with the faucets for at least a week and wait till they can accumulate the minimum threshold of coins before they can withdraw them to their crypto wallet.
How does a Crypto Faucet work?
Crypto faucets require users to accomplish some simple tasks like watching the video, clicking on ads, completing captcha, or attempting quizzes, etc. The mobile applications and websites that run crypto faucets configure the cryptocurrency threshold that is to be allocated to the crypto faucet pool. They also configure the minimum amount of crypto coins that users should accumulate before they can claim a withdrawal of their coins. There is also a maximum locking period set by the websites within which the users need to accomplish their tasks, accumulate the required number of crypto coins, and claim for a withdrawal.
To earn free crypto coins from a crypto faucet, users first need to sign up with a cryptocurrency faucet by providing some basic details along with their wallet address where they want to receive their crypto rewards. As soon as the registration process is complete, the websites unleash the list of tasks where they have set the faucet rewards and users can choose any of their preferred tasks, complete them within the set time frame and keep earning rewards in their micro wallets. As soon as the micro wallets reach the minimum threshold, the coins automatically get transferred into the main wallet of the users.
Some prominent examples
Some of the prominent examples of crypto faucets are listed below:
Ethereum Faucets
Ethereum faucets give out Ether tokens to users on accomplishing certain tasks. Some popular Ethereum faucets are:
Ethereum-faucet.org offers Ether tokens

for completing captchas. The website also allows users to participate in its lottery system if they contribute.

Dutchy CORP rewards users with ETH tokens for solving captchas and for playing games.
Allcoins. pw offers auto-faucet features to users along with a few games. Though the faucets are free to earn ETH, the users need to pay for the games that they want to play.

Fire Faucet

awards ETH tokens to users for completing captchas and for browser mining.
Ethereum faucets are a viable approach to earning cryptocurrency without having to invest any of your cash. Read more to know how it works and how beneficial it is when it comes to earning free crypto coins.
Litecoin Faucets
Some of the popular Litecoin faucets that reward Litecoin to users are:
Moon Litecoin offers free Litecoins for accomplishing multiple tasks.

Fire Faucet is an auto faucet that rewards LTC tokens along with BTC or other crypto coins to users as long as they have ACP or Auto Claim Points.
Monero Faucets
Some of the popular Monero faucets include:
Monerofaucet.info rewards users with Monero tokens within a range of 0.000005 to 0.025 Monero (XMR) per reward with a locking period of 1 hour.

Express faucet rewards users with 0.00042754 XMR every 4 hours. There is also a lottery game that users can play with the Monero tokens that they have earned and win some extra XMR tokens.
Bitcoin Cash Faucets
Faucet Crypto offers

Bitcoin Cash

to users for using their various services

Konstantinova allows users to generate free BCH tokens and a reward of .00000121 BCH can be claimed by users every 5 minutes for a maximum of 50 times daily.
Conclusion
Crypto faucets were developed with the prime objective of promoting crypto coins among the users so that they can realize the benefits of cryptocurrencies. Giving out some free crypto coins to users instils crypto awareness among them and in this process, they gradually get involved with the crypto world and ultimately start investing in them.