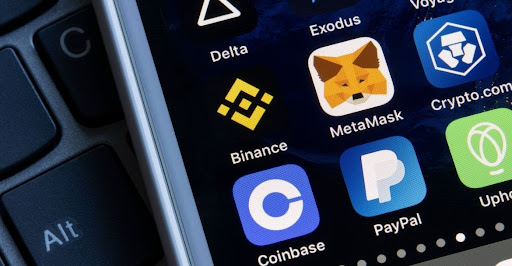 In the last few quarters, the digital world has witnessed massive growth, especially in Decentralized Finance (DeFi). The steep rise of inventions and enhancements in several decentralized applications has played a significant role in bringing about this growth. Many crypto DeFi wallets have been advanced during this span, out of which two notable cryptocurrency wallets are – MetaMask and Coinbase.
For starters, the MetaMask crypto wallet began as a simple plug & play wallet, becoming one of the most popular and successful crypto apps operating on the Ethereum (ETH) blockchain ecosystem. MetaMask is one of the few wallets working to help web 3.0 come into being. 
On the other hand, Coinbase has made substantial leaps and bounds worldwide by targeting the user base and focusing on their safety and privacy with an attractive mainstream design. Coinbase has integrated into a leading crypto wallet as more and more users are getting familiar with the platform's user interface, making it a great option in the DeFi industry. 
There has been a long debate on MetaMask vs Coinbase Wallet for quite some time now, and the time has arrived to put an end to this fight.
Overview of Metamask's Features
MetaMask is a simple and easy-to-use cryptocurrency wallet that operates on Ethereum Blockchain. It was developed in 2016 by ConsenSys as a simple desktop extension, which has now grown to provide seamless experiences in a mobile app. 
Users looking for the best crypto wallet can download MetaMask and use the mobile app on any Android and iOS device. The wallet is also available on various browsers, including Microsoft Edge, Google Chrome, Mozilla Firefox, and Brave browsers. Highlighting the features of MetaMask, it is justified when people admit that the wallet adds convenience while dealing with digital currencies. 
Recently the wallet integrated a swap feature that allows users to swap ETH coins on the mobile app instead of connecting it to other crypto exchanges like Uniswap. This has enabled people to swap coins without any third-party application or exchange. It functions well via any DeFi landscape, offering the traders one of the best deals at the lowest possible rates.
Crypto users using MetaMask wallets experience easier interacting through the ETH blockchain, although it is not a hot crypto wallet. It offers the integration of the wallet with other hardware wallets like Ledger Nano and boosts security for storing funds in the wallet. 
Overview of Coinbase's Features
Another popular decentralized app, Coinbase, has made crypto payments easily accessible from various device browsers and apps. The wallet allows users to send, receive and store Ethereum and other ERC 20 crypto tokens. It functions as a decentralized finance (DeFi) wallet without owning any private keys in the platform. That means if any user loses their funds, there is no way of storing lost funds on the platform. 
Coinbase uses a standard client-side data encryption where users' private keys are encrypted on computer systems. Coinbase requires access to the user's account to decrypt any particular wallet. 
Coinbase was initially known as Toshi and was coined as Coinbase 2018. It was designed to look after the storage of cryptocurrencies amid the expanding DeFi landscape. Coinbase hot wallet also comes with a mobile app that supports many digital coins such as Bitcoin, Ethereum, Litecoin, and Bitcoin Cash. It also supports Ethereum Classic, Dogecoin, Ripple's XRP, and Stellar Lumens. 
MetaMask vs. Coinbase
Coinbase can smoothly and effortlessly integrate with the main wallet app. This implies that Coinbase can provide a quick and easy transition for its users to self-custody within a few seconds. Compared to this, MetaMask contains the most active users on the Ethereum app, owing to the overall simple and easy transaction process.
Coinbase is ideal for users who employ a wide range of digital assets, whereas MetaMask only supports digital assets and tokens within the ETH ecosystem. This makes Coinbase a more reliable option when it comes to flexibility and diversity. 
Although both Coinbase and MetaMask offer similar features and functionality, there are subtle distinctions between them that users must consider. For instance, Coinbase operates on the web platform without any intermediary to run and operate dApps easily, whereas MetaMask integrates with other hardware wallets instead of operating independently. 
Though Coinbase is integrated with a few other blockchains, it still does not match the capacity of MetaMask to integrate with all dApps on the ETH ecosystem, the biggest decentralized finance system, at present. This puts an end to the ongoing debate on the comparison between MetaMask and Coinbase, and users can easily pick the best option that fits them perfectly.