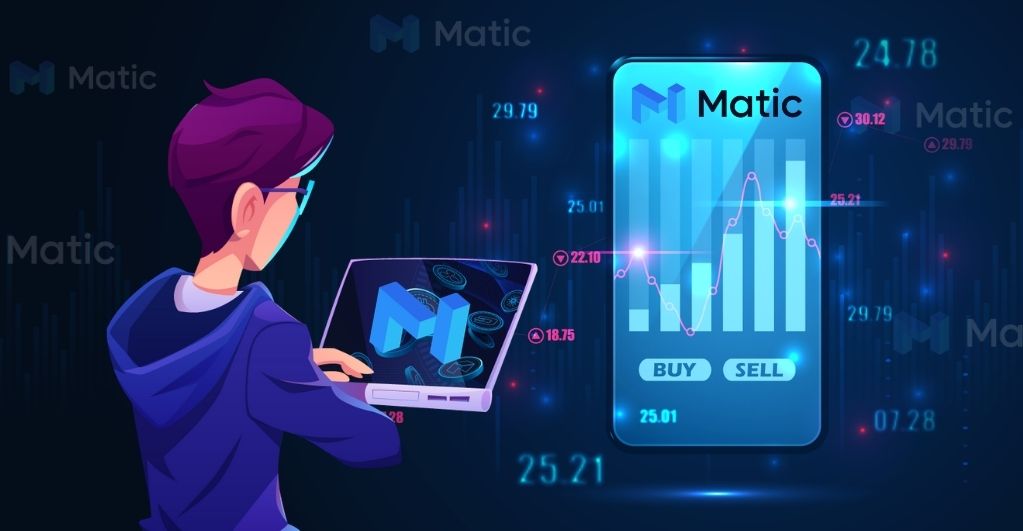 Overview
Matic is a well-known cryptocurrency, which uses the Matic network. This network offers secure and instant transactions, smooth daily payments, and low fees. The recent price boom had made the Matic coin move up among the top hundred cryptos. It had made headlines to offer simple interactions between decentralized financial applications and the users through its ecosystem. Besides, the Matic network resolves scalability issues in blockchain transactions using plasma-based side-chains using the ethereum network. Matic has shown significant growth this year (between January 2021 and April 2021), 0and according to Matic price prediction, Matic is expected to grow considerably provided it gets good user engagements.
What is Matic Coin?
Matic tokens are also known as Matic coins, a currency issued by the Matic network, which are released monthly. It has a cap of 10000000000 Matic tokens. The validators can use the token to associate themselves with the network through proof-of-stake for securing the chain. Moreover, transaction fees on the Matic network can be paid through Matic tokens. The Matic network solves the scalability issues, and it also helps in improving usability without losing the decentralization factor. Besides, it leverages the existing developer community to provide improved user experience and functionalities.
Price History of Matic Coin
Matic network was

launched

in the cryptocurrency space in April 2019, with an initial price of $0.004. The token value gradually started to increase, and with certain ups and downs, the price rose to $0.03 by May end, but then declined by $0.01 in June. Till at the end of July, the coin remained stable at $0.02.

In early August, the token dropped to $0.01 and showed slight variations till November. In early December, Matic's price increased to $0.04, and it started gaining the users' attention. However, by mid-December, the token's price declined to $0.01, and it was trading at $0.014 by the end of 2019.

On continuing with a bearish note, Matic was traded at $0.014 in January 2020, and due to few variations by February, it reached $0.02 and went down to $0.006 because of the covid outbreak.

By the end of May, the price started to increase and maintained the stability of $0.025; by mid-august, the token hit a price of $0.031 and increased to $0.012 at the beginning of November. By the end of the year, Matic was trading at $0.017.

It remained almost stagnant the rest of the year but started increasing dramatically at the beginning of 2021.
Matic Price Prediction for 2021
At the beginning of January 2021, Matic was traded at $0.0018, and its price increased to $0.043 by January end, followed by a further increase to $0.5089 in March. Experts predict that Matic can be more profitable if it concentrates on getting more investors and users. A few collaborations can enhance its protocol and platform. If it fails to get more customers, its price might go as low as $0.0002 and might be traded at $2 by the end of 2021. Recently MATIC price crossed an all-time high of $0.809334.
Matic Price Prediction for Upcoming Years
According to experts, Matic could be a profitable investment in 2021, and they predict that this token can double its price and might go up considerably by the end of 2021; it might increase to $1.1 by 2025, and in 2028, it might reach $1.64. Matic is a good investment option in 2021 and beyond, and it offers excellent potential. For more details on Matic price prediction, visit https://www.cryptonewsz.com/forecast/matic-price-prediction/.
Benefits of Buying Matic Coins
Here are a few benefits of buying Matic Coins –
Matic coins can be used as a utility token and unit of payment on the Matic network.

Matic coins can be used as a form of settlement among users who participate in the Matic ecosystem. 

This token can also be used as a medium of financial incentive for the users who would like to contribute to the Matic ecosystem.
Bottom Line
To summarise, Matic is one of Binance's launchpad projects that uses blockchain technology. Matic was created to solve blockchain problems, like lack of scalability, high fees, slow transactions, and complicated user interface. Its community backs up the Matic coin, and it has performed well in recent months. If this network offers faster and better solutions for the problems, it will become one of the best crypto assets for users to have in their portfolio.