Forex News
How to become a successful forex trader in Malaysia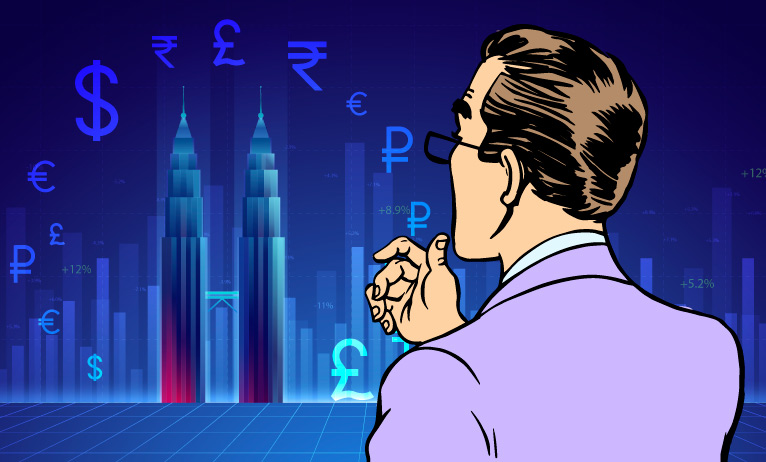 Introduction
The spread of COVID-19 has taken a toll on every economy, including Malaysia. Several citizens received pay cuts and lost jobs due to the global lockdown. As the world moves towards its biggest contraction and recession in the last year, trading may appear risky as the market has become too unpredictable. Conversely, the volatility in the forex market may spur better opportunity and experience. After all, Warren Buffett, a multi-billionaire investor, once said that market fluctuations should be considered a friend rather than an enemy; traders must gain from folly instead of just participating in it. Forex trading is not difficult, but it does require tremendous dedication and hard work. 
A few well-known forex traders include Paul Tudor Jones and George Soros, known for successful trades in foreign currencies and other trading instruments. Successful forex trader in Malaysia require skills, discipline, and knowledge. Let us now explore the top 7 tips for becoming a successful Malaysian forex trader.
7 Tips To Become A Successful Forex Trader in Malaysia
Here are 7 tips that may help you become a successful forex trader in Malaysia:
1. Try to gain knowledge about forex
Success comes with proper knowledge and experience. Trading can be learned for free by reading articles, watching videos, and attending webinars. It is essential to have a crystal clear knowledge of Malaysia's forex market and study the factors that affect currency prices. It is also important to follow up on current affairs and find updates on the major currency pairs and trading recommendations. New traders must also start learning about both fundamental and technical analysis and be familiar with the various forex trading strategies that can be used to maximize profit. 
2. Make a robust trading plan
Although this may sound simple, the next thing that every new trader must do is set a list of realistic goals. Several beginners in the forex trading arena fall prey to the notion of instant profits and enrichment. However, the harsh truth is that to make a profit through forex trading requires a lot of patience, learning, experience, and, most importantly, a robust trading plan. A well-designed plan will include a set of guidelines and rules to follow while making currency trades. Ideally, a trading plan should include well-laid-out goals, a risk management strategy, and the type of trades to be placed. It is recommended to start with simple goals, including learning how to place a trade and profit from it. Having a consistent step-by-step approach will lead to less disappointing results.
3. Wisely choose a forex broker practice account with virtual money
The retail forex trading market involves cutthroat competition, and the prospects of going through hundreds of forex brokers in Malaysia may become overwhelming, especially for new traders. While forex trading is possible because of the network of Malaysian forex brokers available, they may resemble each other in terms of their functions but often differ when it comes to their conditions. Choosing a reputable forex broker to trade foreign currencies may be challenging, especially if the traders are new in the market and do not know what they are looking for. It is important to choose a forex broker that offers a demo account with which new traders can practice foreign trading currencies with digital money before they put in real money. This is an important factor, as beginners can learn the ropes and get hands-on experience in the forex market. In addition, it is also important to evaluate the regulations, commissions, fees, platforms, and minimum and maximum limits offered by the chosen forex broker, among other things.
4. Define/Manage your risk Per Trade
Before making commitments in any trading market, it is a good idea to familiarize yourself with the fundamentals of the trading market. Examine the funds available, conduct thorough research into the different markets and currency pairs, and go through several trader testimonials that offer reasonable expectations of the possible returns from forex trading. It is recommended not to invest in trading if the dynamics are uncomfortable, even though they appear lucrative. Conversely, if the investment strategy is compatible with the forex trading market, one can start their trading journey. Nevertheless, it should be noted that trading comes with risk, as the forex market in Malaysia is extremely unpredictable and volatile. Use position sizing and stop-loss orders in order to limit potential losses from forex trading.
5. Be well-informed about the latest happenings
Malaysia's forex market is growing in popularity and size, with several major economic events taking place in the country and worldwide. Before stepping into the forex trading world, beginners should keep up with the latest happenings and be well-informed about the events that can potentially affect currency prices in Malaysia. Knowing the surroundings can help traders make informed decisions while trading foreign currencies.
6. Don't over-leverage your trading account
Leverage trading involves using borrowed funds to increase the trading position of the traders beyond what is available from their cash balance. The concept of leverage trading is common in the foreign currency market. While leverage trading can be tempting for those who wish to increase their potential profits, it may also increase the risk of losing funds. It is recommended to seek financial advice for new traders in the forex market. A financial advisor can help traders understand the potential rewards and risks involved in forex trading and help build a trading plan suitable for their requirements.
7. Try forex signals
Forex signals are special alerts sent to investors and traders to help them make important trading decisions. The signals are generated by automated software, human experts, or analysts. Forex signals include market information about trade entry and exit points and take-profit and stop-loss levels, and there are many other best ways to use forex signals. There are many providers in the market to offer free/paid forex trade signals. The accuracy and quality of the signals may vary significantly depending on the providers. Hence, it is recommended to conduct extensive research to compare the popular signal providers before starting to trade in foreign currencies.
Conclusion
Understanding indices, ratios, and charts while forex trading is a few essential abilities that every forex trader will require while trading in foreign currencies. To become a successful forex trader in Malaysia, it is important to gather enough knowledge about the forex market and build strong trading strategies to manage risks and stay on track. Note that forex trading comes with a high level of risk and uncertainty; hence, it is not suitable for all traders. Consider investment objectives, financial situation, and risk tolerance before trading in foreign currencies. Most traders in the forex market are fortunate to have robust development potential and lifestyle; hence, trading becomes enjoyable for them. Seek adequate financial advice, if necessary, to educate about the different aspects and risks of forex trading.