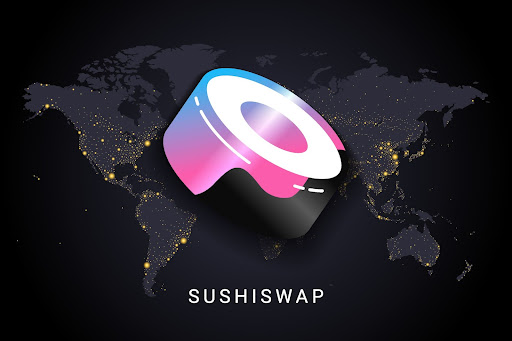 The world is en route towards digitization, and the path involves several key stepping stones like DeFi. Decentralized Finance or DeFi lies amidst the list of techs that hold the potency to disrupt economies.
As the masses are opening up to the idea of DeFi, the market is experiencing unprecedented growth. Uniswap has been a major player in the DeFi sector for a long time, but the platform is now getting close competition in the form of SushiSwap.
What is SushiSwap (SUSHI)?
SushiSwap is a DEX (decentralized exchange) with personalized AMM (automated market maker) smart contracts. Chef Nomi initially developed the platform while it operates on the ETH network.
It creates an ecosystem where P2P (peer-to-peer) crypto transactions can be facilitated securely and without intermediary interference. Possessing personalized AMM means the platform uses a pricing algorithm to value assets, unlike an order book used by standard exchanges.
The DeFi project is run by its community, with features like a community-centric approach and revenue-sharing to streamline its proceedings.
While the Uniswap fork project helped it gain massive popularity, its token named SUSHI played a crucial role in its initial and existing success. SUSHI, a crypto token offered by SushiSwap, allows token holders with two functions; a) it provides them governance rights, and b) it acts as the fees the holders had to pay to the protocol. In simple terms, owning SUSHI makes you an owner in the SushiSwap ecosystem. 
With crypto generating a buzz in the industry, many investors use Cryptocurrency forecast to make high revenue. 
Brief History of SushiSwap and SUSHI
In its initial stage in the second half of 2020, SushiSwap used a questionable procedure called vampire attack, resulting in 90% of Uniswap pools' liquidity being transferred to SushiSwap. Later, Chef Nomi apologized for the same and was disassociated from the project.
SUSHI, on the other hand, came out with a price of 3.44 dollars without such gimmicks. The crypto faced a shrewd decrease in price but got back up and did not look back ever since.
SUSHI Price Prediction 2021 & Beyond by Experts
If experts' SushiSwap prediction is to be believed, the crypto will reach the value of 40.19 dollars (36.18$ low and 44.96$ high) before 2021 ends. While some put the crypto valued between 25-30 dollars, which look more attainable.
Here is an expectation chart for the coming years:
2022 End – 40 dollars

2023 End – 65 to 70 dollars

2024-25 – 100 dollars

2026 End – 130 dollars
Future and Scope of SUSHI
SUSHI appears to be cruising at the moment. The crypto has not been in the market for even a year, but its performance is remarkable. Given its growth rate, it will surely cross the 20 dollars value mark in 2021 alone. With the demand for crypto and DeFi increasing, its growth rate can pick up even more speed.
It is safe to state that the cryptocurrency will become a major player in the industry in no time.
In Conclusion
While SushiSwap is a comparatively new entry in the DeFi market, it has stirred an enormous commotion from the get-go. Its crypto SUSHI has already reached the 20 dollars value mark within seven months, showcasing its prominence. That is why investors are foraging the market for SushiSwap to make a huge profit through the crypto.