Bitcoin News
Everything You Need to Know About Gold and Bitcoin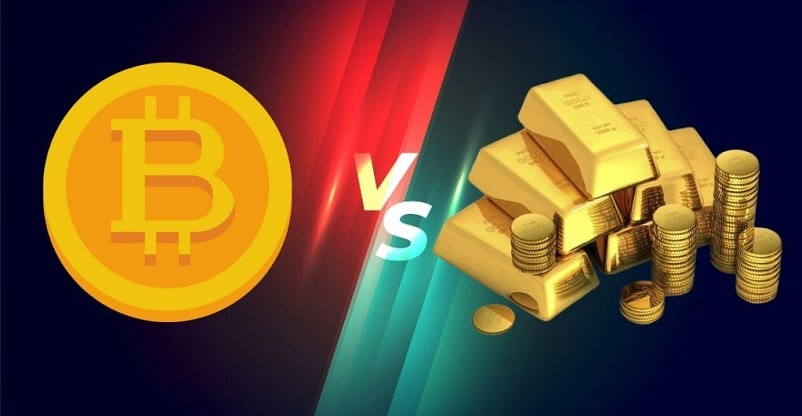 The traders find gold and Bitcoin as the two diverse markets to lay their focus. Bitcoin can be described as the peer-to-peer decentralized digital currency. It was first mined in 2009. Meanwhile, the yellow metal is a tangible asset that has been valued by investors all across the globe for ages. It is important to understand BTC and gold effectively as it will help investors to make informed decisions and seek benefit on price movements.
Many traders invest in gold when they fear that bad times may knock their doors in the future. Traders feel that gold may rise in value and therefore, it has become a highly famous speculative asset. Very few people will buy gold, thinking that its price would tumble in the future. However, the precious metal could not live up to the expectations of the scores of investors as it could not appreciate sharply.
Gold emerged a safe haven and enjoyed a return of 6.3 percent till a few days back.
Today's 4% drop in gold is a very rare move in a single day. But it does happen occasionally. However a 4% drop in @Bitcoin is quite common, which often posts daily declines much larger. Today's move doesn't invalidate gold's safe haven or long-term store of value status.

— Peter Schiff (@PeterSchiff) February 28, 2020
But last week, the global financial market suffered a major jolt. Most of the leading markets remained in the red. It also included Bitcoin as per the BTC price update. During this bear phase, gold for some time performed well. And, gold along with some metals remained in green for a long period. But after sustaining the rising trend, it also joined the drop and witnessed one of its worst days ever since 2013.
Despite today's decline, the price of #gold is still up over 6.5% so far this year. Yet the GDX, an index of gold mining stocks is down almost 10%. Traders still don't get it. Gold is headed much higher, as are the earnings & reserve values of companies that mine it. Buy the dip!

— Peter Schiff (@PeterSchiff) February 28, 2020
But, the recent crash of gold has questioned the narrative that it is a safe haven. The recent market crash was caused by the global fears of coronavirus. The epidemic that has now spread in most parts of the world has hit the global financial market. It has also disrupted the world's leading economies, USA and China.
Meanwhile, we witnessed the volatility in Bitcoin in the year 2017. It first rose from $1,151 to a whopping $19,783 in 2017. However, it plunged soon after the rise in the year 2018, wherein it fell to $5,951 in the month of February.
Does mining gold take more time or mining Bitcoin?
According to a research study, it takes more energy to mine Bitcoin or digital gold than that of physical gold. The research paper claimed that the cost to mine $1 worth of BTC is more than three times the rate to mine $1 worth of yellow metal, including some other precious metals.
From the period of January 2016 to June 2018, it was discovered that it cost approximately 17 megajoules to mine $1 worth of BTC. It is worth noting that the rise in mining cost is because of the surging hash rate, which is a measure to assess miner's performance. When there is a higher hash rate, it will raise the chance that a computer has to resolve the mathematical quiz needed to earn cryptocurrency. However, in doing so, the amount of energy needed will also rise.
Meanwhile, mining Bitcoin has also caused environmental worries as mining virtual coins need energy-intensive computer calculations.
Bitcoin casino:
Some online casinos have begun to transact only in Bitcoins. Meanwhile, some other casinos like Zamsino offer BTC as an additional currency of transaction apart from allowing transactions in conventional currencies such as USD.
Which is more promising?
Both gold and Bitcoin have their own advantages and disadvantages. Bitcoin has emerged to be more dynamic and promising but high on volatility. It has a long way to go and has plenty to prove prior to being accepted all across the world. Meanwhile, gold has already proved itself.
Conclusion:
Therefore, we can conclude here that gold has become vulnerable to the social-political atmosphere and regulations. You may find it difficult to move around with gold, specifically while crossing borders. You may not lawfully purchase anything with it and it is also difficult to liquidate. A wise investor understands that he will have to diversify his assets. Therefore, he may retain both gold and BTC in his portfolio.