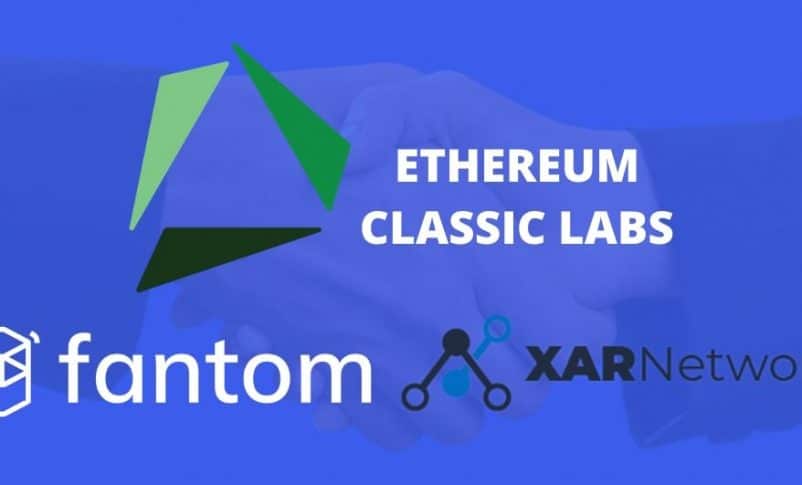 Ethereum Classic Labs (ETC Labs) announced its partnership with the non-profit The Fantom Foundation. This collaboration will ensure that the crypto-agnostic DeFi features get added to the Fantom ecosystem.
CMO of The Fantom Foundation, Michael Chen made the announcement,

To be precise, Fantom will make use of Xar Network. Xar is a DeFi-oriented open blockchain network built with Fantom's Lachesis and TxFlow consensus. Fantom will be using Xar Network as a more extensible equivalent of Ethereum lending platform MakerDAO.
Ethereum Classic Labs is the force behind the development of Ethereum Classic; along with this it also supports blockchain startups. The Fantom Foundation is the non-profit organization behind Fantom, the open-source, flexible platform for DLT products.
This collaboration gives users the power to utilize Ethereum Classic token (ETC) as surety to develop a stablecoin on the Fantom platform like that of MakerDAO's Dai on the Ethereum. However, the design of Xar Network allows agnostic issuance of stablecoins outside of ETC, which includes any Collateralized Stable Currency Tokens (CSCTs) supported by the network.
ETC will act as the guarantee for tailored CSCT issuance by organizations, central banks, and any financial establishments on Xar Network. Issuing entities have the liberty to retain full control over the collateral (ETC), they can even stake the equivalent CSCT to generate rewards in the form of stablecoin as per the fee pool from Xar Network.
Xar's DeFi capability is directly linked to the open-source consensus modules — Lachesis and TxFlow of Fantom. Fantom is at present focusing on getting DLT-related products launched as soon as possible using its secure and provably efficient consensus mechanism that is being used by Xar for decentralized validation of transactions.
The association of Fantom with the ETC Labs will broaden the scope and utility for ETC token in the Xar Network and in the Fantom ecosystem on a broader level. The toolkit developed by Fantom gives developers the power to deploy and customize blockchain networks with the feature of interoperability amid each other and other networks like Cosmos. Such collaboration will help ETC expand the token's liquidity and usability in DeFi products over a wide spectrum of networks.