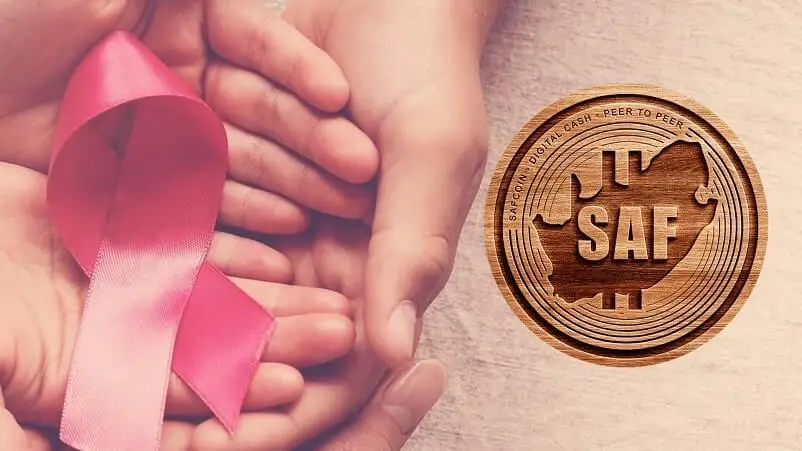 CANSA has released its very first CRYPTO PINK FRIDAY in collaboration with Safcoin. This was done with a motive to raise awareness about breast cancer. CANSA motivates women to get tested for both of these cancers.
Breast cancer is reported to be the most prevalent in South Africa, with every one out of 27 women being a victim. This number has been given by the National Cancer Registry (NCR) of the year 2014.
Safcoin is the regional cryptocurrency giant that has recently gained a lot of limelight in the face of this noble initiative.
No wonder it is the first time a player from the crypto world has come about to promote cancer risk-reduction educative sessions. Crypto savvy people will have all the offerings at half the price from which a portion will be dedicated to CANSA.
Funds can be deposited on Safcoin's official website by 30th August to avail the discount. Female co-founder and Chief Communications Officer, Michela Ferreira explains that,

An airdrop is giving away of cryptocurrency tokens free of cost, to a number of different wallet addresses. Airdrops are particularly employed as a means of luring new audiences and followers, ultimately creating a larger customer base and a prominent disbursement of the currency. Hence the officials from SAFCOIN chose the PINK Friday to make something that has profound importance for its users.
Michela added,

Safcoin already brags a minimum of 100 pool plans to be given on the PINK FRIDAY to the South African citizens at 50% less. Safcoin crypto offers are designated exclusively for the members of the pool.
Cervical cancer has been a major reason for fatalities in women and second in the list of most frequently found cancer in women. The projected risk in South African women is 1:42. Studies have proven that any new symptoms ignored or stereotypes and shame for cancer and getting tested, mainly cervical, have been major reasons in prolonged disease and hence the death.
SAFCOIN plans to channel as many ways as it can to bring a change in the country. Ferreira says that they have no intentions of uprooting the financial framework but instead want to make available the enormous uses of crypto to Africans by creating a way for all to gain an edge with the virtual money. All while keeping up with the finest levels of trading principles.