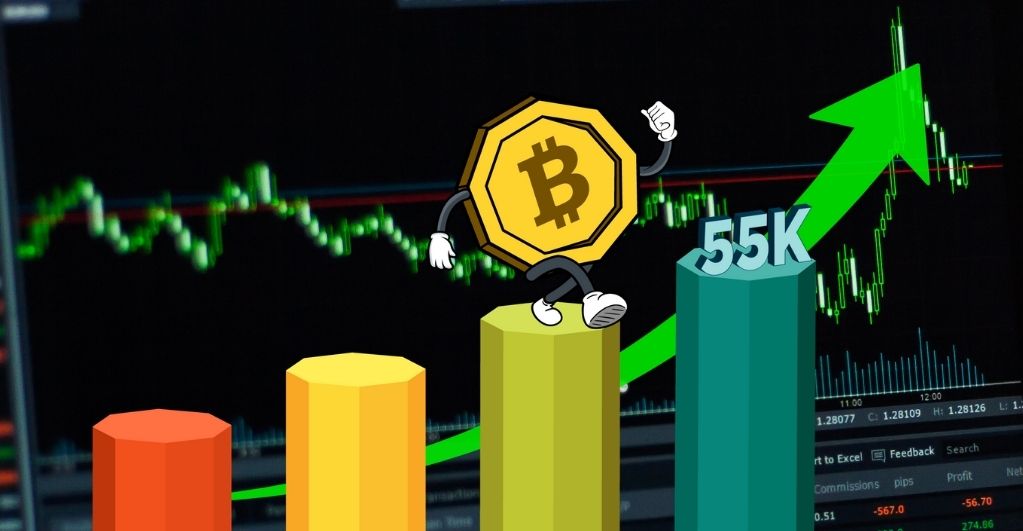 The Bitcoin market experienced a major rally beginning January this year as its price rose to $40000 from $24000 last year. This surge in price rose further to touch the $41,528 mark on January 8, which later nosedived to $30,525 by January 11. This price caught up momentum by February 7 and once again touched $46000 with the announcement of the biggest news in the Crypto Town of Tesla investing in BTC with $1.5 billion.
As per the new media and financial reports, this episode led to the skyrocketing prices of Bitcoin. By February 13, the price was as high as $48652, which further accelerated to $52154 by February 16. This price further fluctuated between $48000 to $54000 until March 8, and on March 10, the price finally crossed the $55000 mark as it touched $55,549, which happens to be the much-speculated price of this year for that period. According to Bitcoin price prediction, the price will likely touch the $60,000 mark this month. Another speculator, DailyForex, suggests that the price will fluctuate between $31,360 to 65000.
MicroStrategy took the lead among the institutional clients to invest in Bitcoin, which now owns as many as 71,079 Bitcoins. Tesla followed in the suit with a $1.5 billion investment in Bitcoin, and with this move, the electric car giant encouraged many businesses to follow in its footsteps, as per the Bitcoinkurs.co. Galaxy Digital Holding is a leading bank dedicated to cryptocurrency, which dived in the crypto market as it purchased 16,402 BTC priced at $770 million.
News reports mention that this led many other players to flock together towards the Bitcoin market to gain from its highly lucrative market. Out of many other enterprises that invested in BTC, Grayscale Bitcoin Trust made noise with the biggest deal of $30+ billion. The other institutions that jumped the BTC bandwagon are CoinShares, Ruffer Investment Company, 3iQ The Bitcoin Fund, Square Inc, Hut8, and many more.
At the time of writing, BTC is valued at 55709, and speculations of it reaching the $60000 mark are rife among its crypto enthusiasts. This year has certainly witnessed rallies and lows in the Bitcoin price; however, according to the crypto analysts, even as the rise and fall in price are inevitable, it would mostly range between 52000 and 55000 or higher. This means that the bullish market is on the cards for the Bitcoin market, and even if the price fell, it would not decrease exponentially.