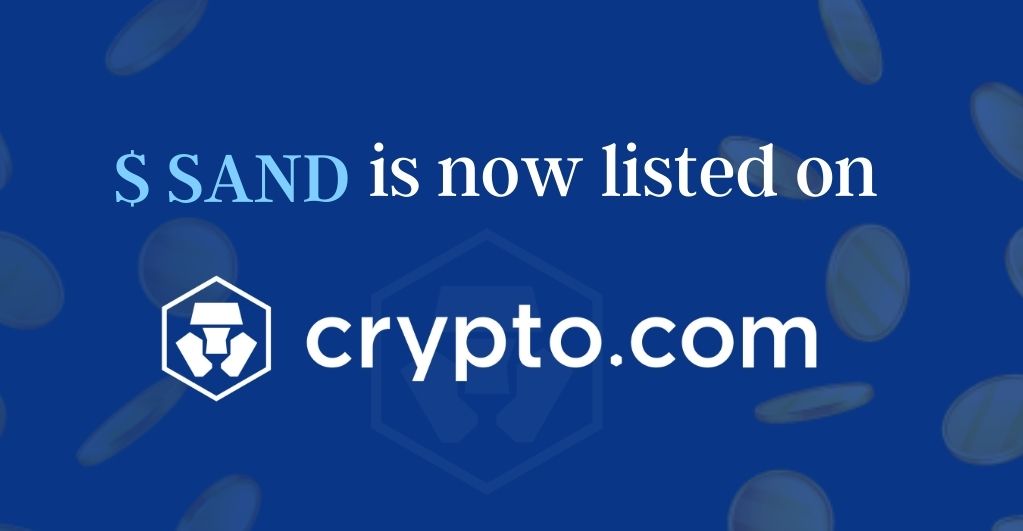 In an important development, the $SAND Token is now available on the Crypto.com app. This is sure to imply the token's affordability as users can now directly buy the token without incurring any additional fees. Users can purchase either with a credit card or bank transfer, as the app accepts both of these alternatives.
It is important to note that one can avail the Visa Card facility on Crypto.com, which means various cryptocurrencies, including the $SAND Token, can be easily converted into Fiat currency and used at a global network of more than 60 million merchants.
Finer Details
Crypto.com is a cryptocurrency platform offering a variety of products and services to customers. It is in the process of creation of a constellation of services that will allow the customer to have a one-stop solution for all their crypto needs. One of the most popular services offered by Crypto.com is the cryptocurrency exchange, which provides the facility of trading in different cryptocurrencies.
The app launched by the platform is available for both Android and iOS customers. It is a very convenient way of getting access to the World of Crypto, and all you need to do is open an account with the platform. You can avail of a range of promotional offers from the cryptocurrency exchange, including "The Syndicate" offer.
Crypto.com offers a platform that complies with stringent levels of safety and security regulations. This also explains its policy of storing 100% of cryptocurrency assets offline using cold storage.
Sandbox and its Token
The idea behind the $SAND Token is to provide a decentralized ecosystem to the gamers. For your better understanding, Sandbox is quite a popular name in the gaming industry. Its two games, The Sandbox, and The Sandbox Evolution, launched in 2011 and 2016, respectively, and their popularity can be estimated from 40 million downloads these have on both Android and iOS platforms. Now to make the ecosystem more decentralized and popular, Sandbox comes up with an idea of its native token $SAND.
Conclusion
The availability of the $SAND Token on the Crypto.com app will help increase the both organizations' popularity. More importantly, this will give impetus to the process of decentralization while bringing benefits to both cryptocurrency and blockchain technology domains.