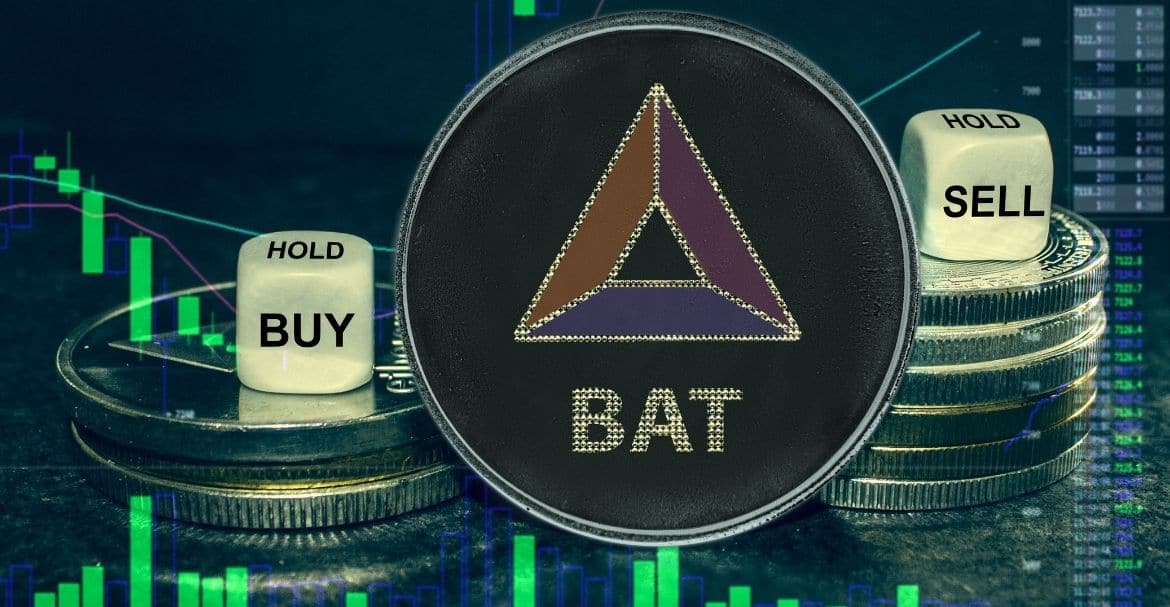 From November end to 24th January, the coin price has constantly declined and has reduced significantly. The coin is moving within the limits of the downtrend line, and in the past 2 months, the coin has not even once suppressed the downtrend line. The coin began to rise in December but couldn't cross the high of $1.47 and sloped down.
There was a formation of bullish candles in the previous week, and the coin raised significantly. There have been slight price movements in the current scenario, and the candles are moving sideways. The coin is about to reach the downtrend line from where it may fall, forming a lower peak, or it may suppress the downtrend line and close above, thus providing an opportunity for the bulls.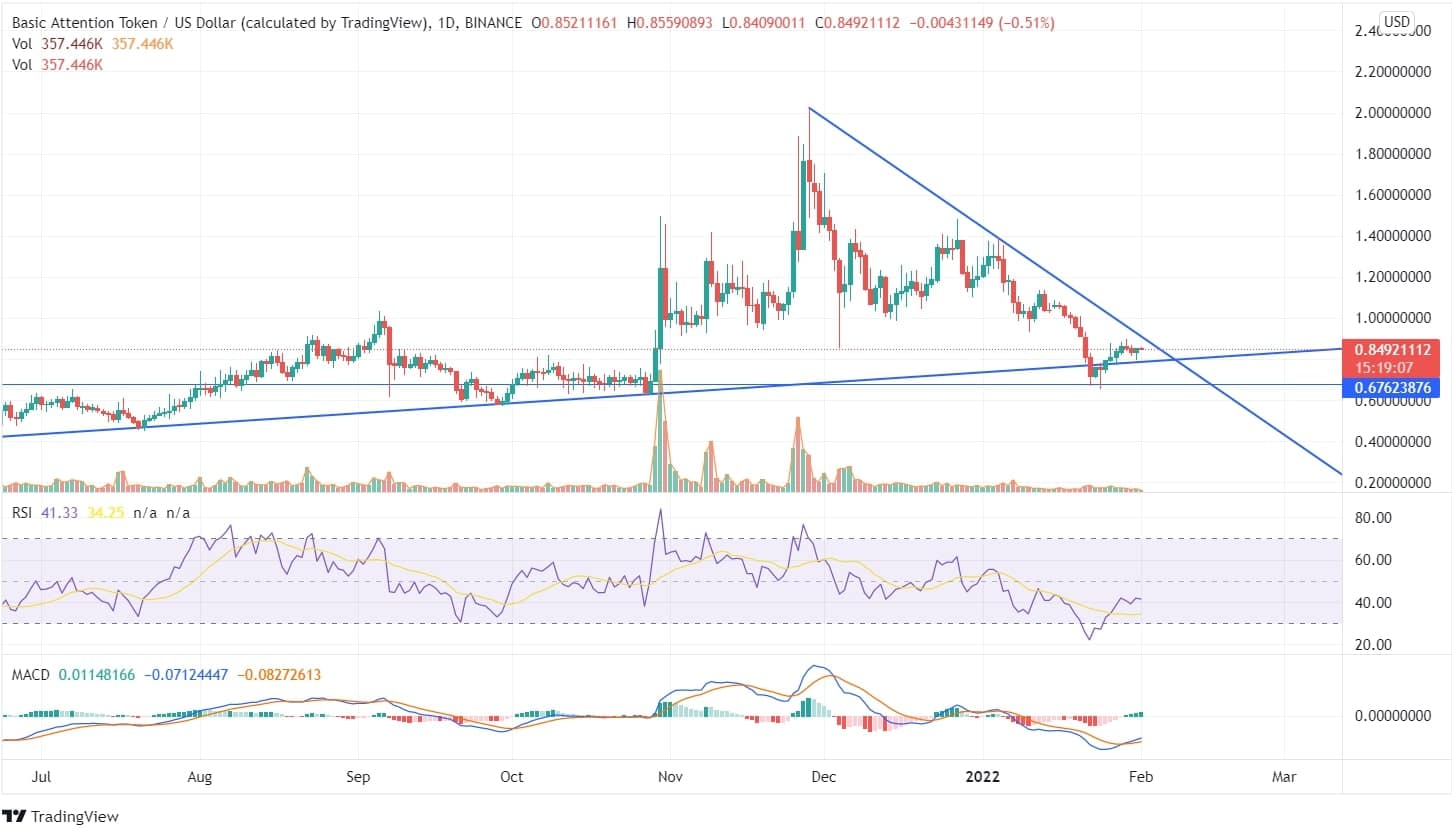 The MACD line is above the signal line with the green candles in the histogram chart on the daily chart. This can be a bullish opportunity. The RSI indicator shows 42 after turning around from the oversold zone. There hasn't been any favorable volume towards bears or bulls. If the point continues to rise, it may reach its first resistance of $1.13. However, if it falls from the downtrend line, it may reach the support zone of $0.57. Click here to know the detailed BAT coin price prediction.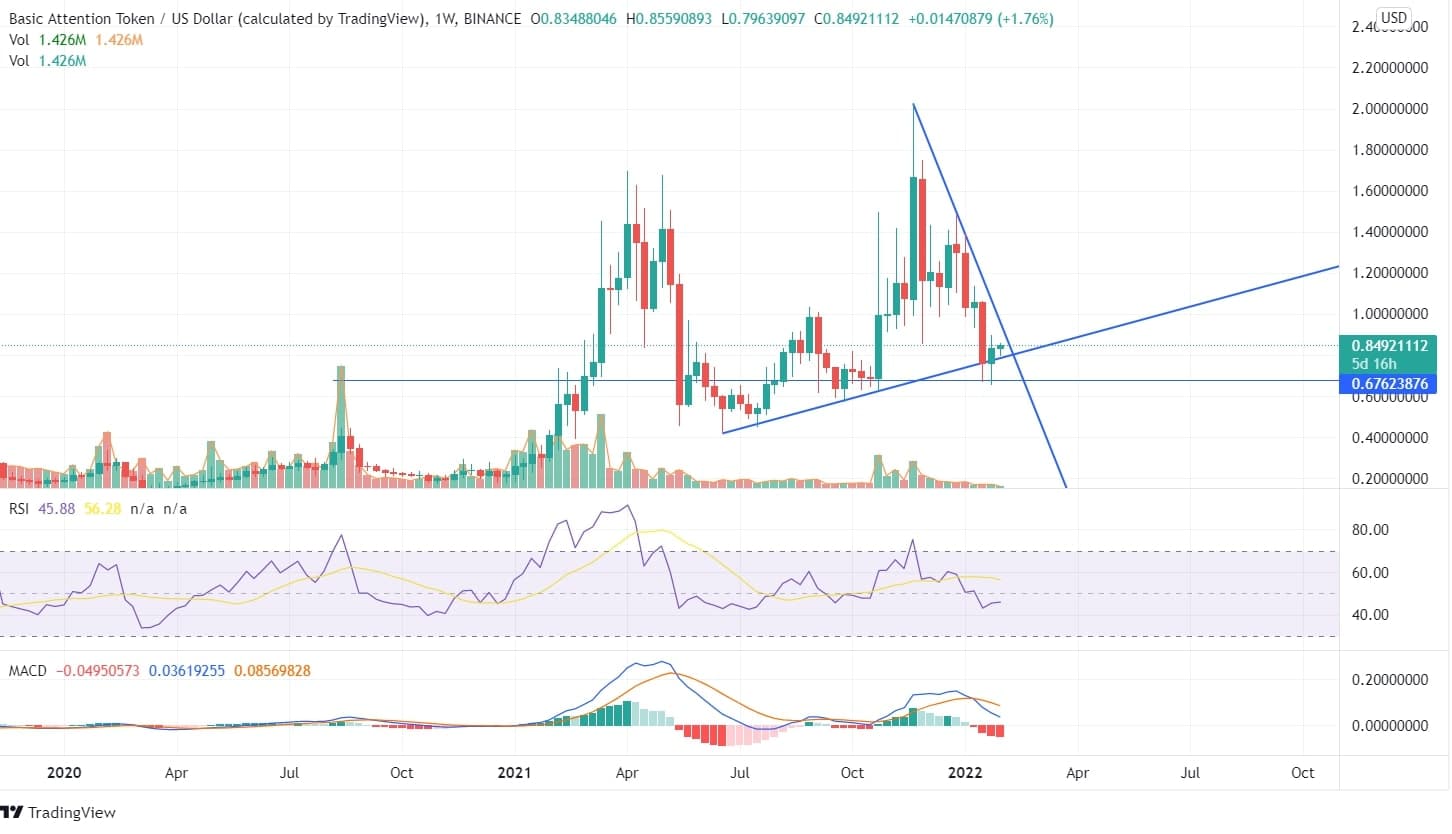 On the weekly chart, the price shows an upliftment from the support zone, and in the previous week's candle, there was an upward price movement. The uptrend line extending from 21st June is a sturdy base from where the coin has surged in the past. The coin got tested at the uptrend line but couldn't close below it, and a swing low was formed, which can be treated as a rejection for the bears to push the price downside.
The forming candle is taking the support of the uptrend line and is mounting up. A strong uptrend can be expected in the long run if the price suppresses the uptrend line and closes above it.
The bulls can expect a long-term holding if the price closes above the swing high of $0.89, and the bears can expect a downtrend momentum if the price closes below the swing low of $0.65.