VDollar Exchange Review 2023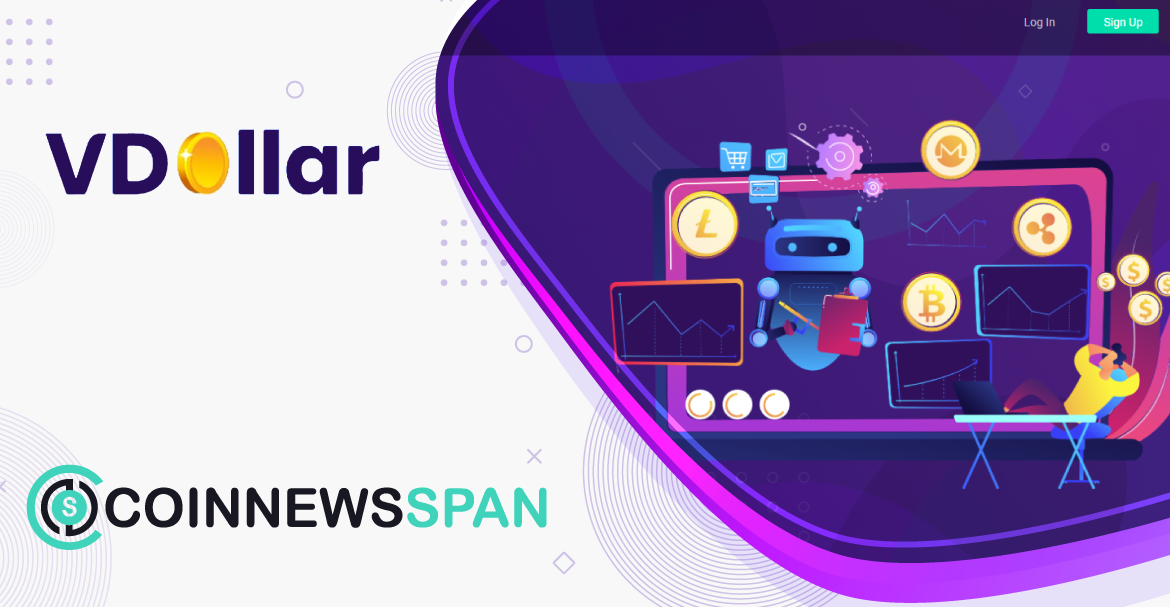 VDollar is a digital currency trading platform that provides fiat trading with major cryptocurrencies like Bitcoin, Ethereum, and Tether USD for beginners and professionals. Their objective is to develop a reliable, efficient, and secure platform, removing crypto trading barriers globally. VDollar main priority is customer satisfaction and support, where factors like fast support, transparency, and security are the elements. They provide features like margin trading, crypto exchanges, swaps, and trading mining on their platform.
What Is VDollar Exchange?
VDollar Exchange is a popular cryptocurrency exchange headquartered in the USA. It is registered in Colorado under MSB or Money Services Business. VDollar exchange is divided into three business sectors, the ultra-circular cryptocurrency wallet, the digital currency exchange, and a trading platform for mining crypto coins. VDollar trading platform is one of the most comprehensive international exchange platforms that offer Swap, Margin, OTC, and Exchange features. The traditional cryptocurrency wallet was upgraded to create the ultra-circular digital wallet that allows you to transfer, withdraw and deposit digital coins more efficiently and smoothly. 

VDollar Exchange Review – Platform Interface
In addition, VDollar has developed a new trading mining mechanism that puts 100 percent transaction fees into the USDT Reserve Pool (URP) as underlying assets. With each VDollar linked to URP, an IPO is issued at a ratio of 1:1, corresponding to the USDT Reserve Pool. This mechanism is used to guarantee that every VDollar anchor's robust underlying assets and the issuance Cap become 10 million whenever it is halved. All the cryptocurrency holders who have an on-chain VDollar address can own the USDT Reserve Pool. 
Main Features of VDollar Exchange
VDollar exchange is changing the ways of trading cryptocurrencies with its impressive features. Features ranging from URP to the new trading mining, VDollar has successfully gained a reputation in the cryptocurrency world. Here are a few features users can benefit from on the VDollar exchange platform.
USDT Reserve Pool  
VDollar cryptocurrency holders can own URP or USDT Reserve Pool. They can withdraw and redeem their assets from the URP whenever they want, keeping in mind the original transaction. All the transaction fees are included in the RUP as the holders own the digital assets. VDollar announces users' URP balance daily, and they can freely monitor their URP results on-chain. 
New Trading Mining
Generating transaction fees on the VDollar platform and then putting the entire fee into the USDT Reserve Pool is known as Trading Mining. VDollar crypto coins are issued depending on the USDT Reserve Pool or URP. All vDOLLAR coin holders can own URP with on-chain addresses. These addresses are transparent, verifiable, and publicized. All the users have to complete their KYC and have a positive balance in the VDollar trading platform.
Perpetual Motion Machine 
The issuance Cap on VDollar is 10 million. Each issuance is halved. In the 1st phase, for every USDT fee, 1 VDollar coin is mined. In the 2nd phase, for 2 USDT fees, 1 VDollar is mined. So, VDollars are halved in every phase. Moreover, if the transaction fee is below 1 USDT, users have to wait in line since the VDollar system releases 1 vDOLLAR coin only when the transaction fee touches 1 USDT.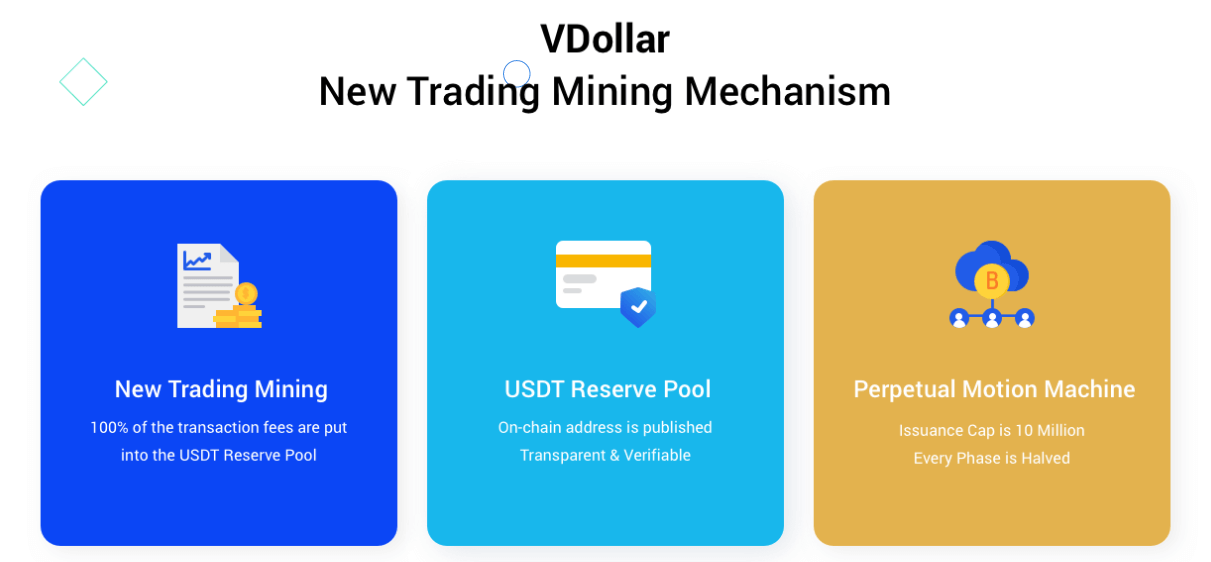 VDollar Exchange Reviews – Features
Super Representative Generation Mechanism 
Super representatives on the VDollar trading platform are elected through community voting. Super reps act as contributors to the community's governance. They receive 0.25 VDollar for every vDOLLAR coin mined by their subordinates, and the rest goes to the users. The seats for super representatives are limited to 32, and they have voting rights on certain businesses. Super reps are elected depending on the valid votes of their users. The top 32 are elected as Super Representatives. Eight Super Reps with the minimum mining are eliminated from the team before the next issuance phase opens, and eight new ones are added through voting. They must pay 2 percent of the transaction fees to the exchange while distributing vDOLLAR coins with their users. However, this is applicable only from the second phase.
Licensed/Regulated 
VDollar trading platform is licensed and regulated under ACRA in Singapore, MSB in the US from FinCEN under US Department of the Treasury.
Increase User Trust in VDollar Exchange
VDollar trading platform provides a safe, trustworthy, and professional exchange for cryptocurrency transactions and management to digital asset traders and investors of different experience levels and comes under the best crypto exchanges list. It is strictly against those who are into money-laundering, commercial bribery, smuggling, market's malicious manipulation, and other such illegal trading activities.
To avoid these activities, VDollar has formulated a stringent anti-terrorism and anti-money laundering program that provides adequate security control measures, maximizing vDOLLAR users' legitimate interests and rights. Essentially, users must note that VDollar maintains quite a high-security level and does not encourage any violations of the relevant US laws and regulations.
Is VDollar Exchange Licensed?
VDollar is licensed and regulated under the ACRA (Accounting and Corporate Regulatory Authority) in Singapore, the MSB (Money Services Business) in the United States from the FinCEN (Financial Crimes Enforcement Network) under the United States Department of Treasury.
VDollar Exchange Review: Pros and Cons
| | |
| --- | --- |
| Pros | Cons |
|       VDollar's trading platform is simple and straightforward to use. |       There are just a few cryptocurrencies available for trading. |
|       Allows for both high and low trade volumes. |       Customer service choices are limited. |
|       Offers margin and swap trading services. | |
|       The user's underlying asset is the transaction charge in its entirety. | |
Registration Process of VDollar Exchange
To start trading on the VDollar platform, follow the steps mentioned below:– 
Go to the VDollar official website and click Sign-up in the top right corner to register on the trading platform.

Fill up the form with your phone number, password, and an invitation code (if you have one). You can also register with your email ID instead of your phone number. 

Agree to VDollar's terms and conditions by ticking the small box and click Sign-up.  
Your VDollar account will be ready to use for trading in a few seconds. 
VDollar Exchange Reviews – Registration Process
VDollar Fees
Fees on the VDollar trading platform somewhat differ from the other cryptocurrency platforms due to the new trading mining mechanism. The platform charges the same transaction fee rates for all its clients. It provides greater mining efficiency to its high-volume traders. The transaction fees between the takers and makers are slightly different from its competitors.
For Margin trading or Exchange, the transaction fee for both takers and makers is 0.2%, and for Swaps, the maker's fee is 0.06%, while for takers, it is 0.04%. These rates are slightly lower than the global industry average. In addition, VDollar does not charge its users for deposits. So, users can deposit funds for free. The OTC or over-the-counter exchanges are also temporarily free. However, a certain withdrawal fee is charged for miners' expenditure, but they are not included in the transaction mining. Although to know the details of the VDollar exchange fee schedule check this link.
How Does Mining Work at VDollar Exchange?
To know how to mine crypto VDollars on its trading platform, follow the instructions given below:– 
| | |
| --- | --- |
| Issuance Method | On ERC-20 public chain |
| Phase I | 4,500,000 |
| Phase II | 2,250,000 |
| Phase III | 1,125,000 |
| Phase IV | 562,500 |
| Phase V | and so on |
| | |
| --- | --- |
| Inflation Mechanism | Each Phase Staring Value in USDT |
| Phase I | 1 |
| Phase II | 2 |
| Phase III | 4 |
| Phase IV | 8 |
| Phase V | and so on |
Note that all VDollar holders own URP, and they are pegged as underlying assets to the USDT. Users can freely withdraw and redeem their USDT Reserve Pool, depending on their original fee. In every issuance phase, the USDT, issued by every vDOLLAR coin, will grow.
How to Trade on VDollar Exchange?
To trade on the VDollar exchange, users must first complete the registration process. Following that, customers may fill their accounts using any of the payment options available, which include bank transfers, credit/debit cards, and payment portals like AllPay, WeChat, and others. Readers should be aware that VDollar uses USDT as its base currency.
VDollar Exchange App
VDollar is available on both Android and iOS smartphones using a mobile web browser. For a better trading experience, users can download the VDollar mobile app.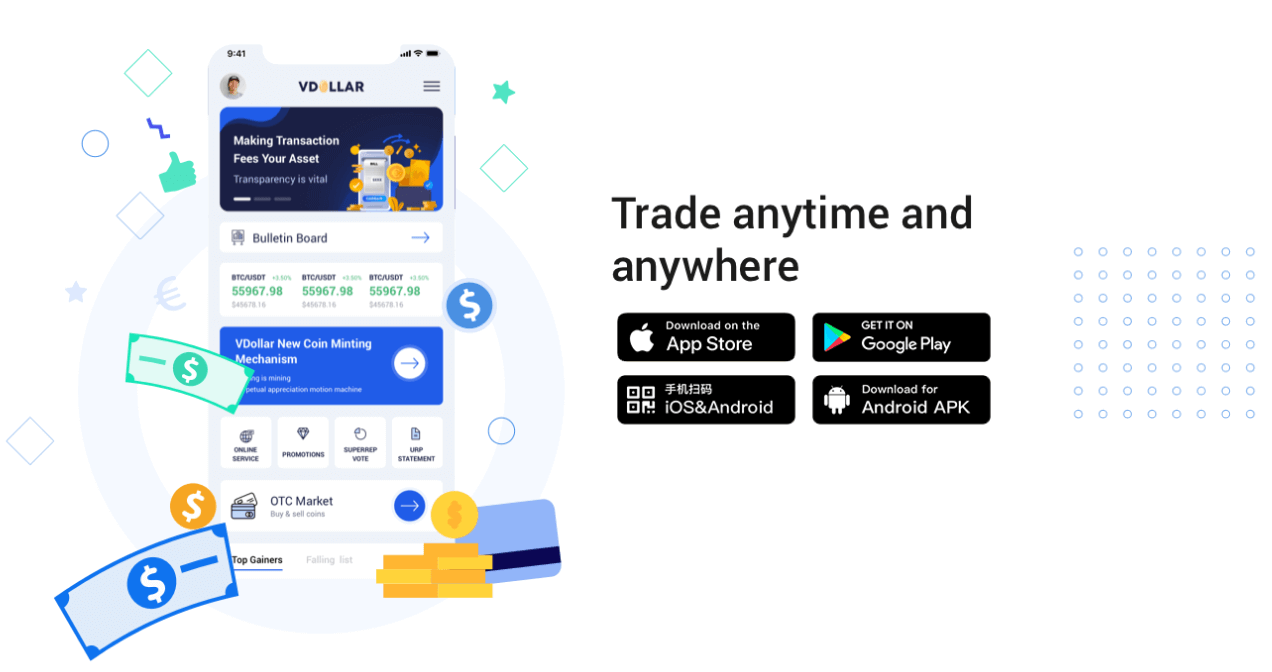 VDollar Exchange Reviews – VDollar App
VDollar Exchange Wallet
VDollar wallet is a cloud wallet that is simple to use and is ideal for newcomers. The wallet is intended to focus on the worldwide stock exchange in order to assist traders in making better investment selections. VDollar wallet allows cold storage of bitcoin due to various encryptions for enhanced security. It also includes a fingerprint/face unlocking function for easy access.
Supported Currencies & Cryptos by VDollar Exchange
VDollar supports 20+ cryptocurrency and the leading or favourites are the following:–
Ethereum (ETH)

Bitcoin (BTC)

Tether USD (USDT)
The platform supports many fiat currencies and they are EUR, USD, CNY, HKD, KRW, etc.
How Is VDollar Exchange Different From BNB?
There is no denying that the VDollar trading platform offers additional and advanced features like its competitors, such as BNB, another popular trading platform. But VDollar is slightly different from BNB in the following ways:–
| | | |
| --- | --- | --- |
| Platform token | VDollar | BNB |
| Issuance Cap | 10 million | 200million |
| 100% of the transaction fees support Platform token | Yes | No |
| Diminishing output | Yes | No |
| Transparent & Verifiable | Yes | No |
VDollar Exchange Customer Support
The VDollar customer support team is always at their toes to serve their customers and resolve their issues. The group generally responds quickly with practical solutions. You can reach out to their support team on different social media platforms.
Facebook account:

 https://www.facebook.com/VDollar-103237518352042

Twitter account :

https://twitter.com/VDollar10

Medium :

https://medium.com/@vdollarex

Instagram : 

https://www.instagram.com/VDollar_Global

Telegram:

https://t.me/VDollar_Family
VDollar Exchange Review: Conclusion
VDollar is an excellent trading platform for some advanced trading. The platform is liquid and trusted by many traders in the US cryptocurrency market. The VDollar trading platform offers a trailblazing designed user interface with responsive customer support for its traders.
FAQs
1. Is VDollar Exchange Legit and Safe to Use?
Yes, VDollar is legit and safe to use. It is regulated under Accounting and Corporate Regulatory Authority (ACRA) in Singapore and Money Services Business (MSB) in the US under the US Dept. of Treasury.
2. How Does the VDollar Exchange Work?
The VDollar exchange is a trustworthy alternative to Binance, and its currency is thought to outperform the BNB token. It is a decentralized platform with a proof-of-work system for mining. However, what distinguishes VDollar from its rivals is that it does not encourage power mining.