Trade99 is one of the leading forex brokers that provides its customers with different types of accounts and is a good trading platform. Trade99 is managed and owned by Nohelious International Marketing operations, which is based in the Dominican Republic. Further, this firm was established most recently in 2019 by the group of experts who are having long years of experience in the financial domain. Trade99's goal is to offer one-of-a-kind and exceptional trading experience to its customers. The platform offers various features and a great trading platform to go with it.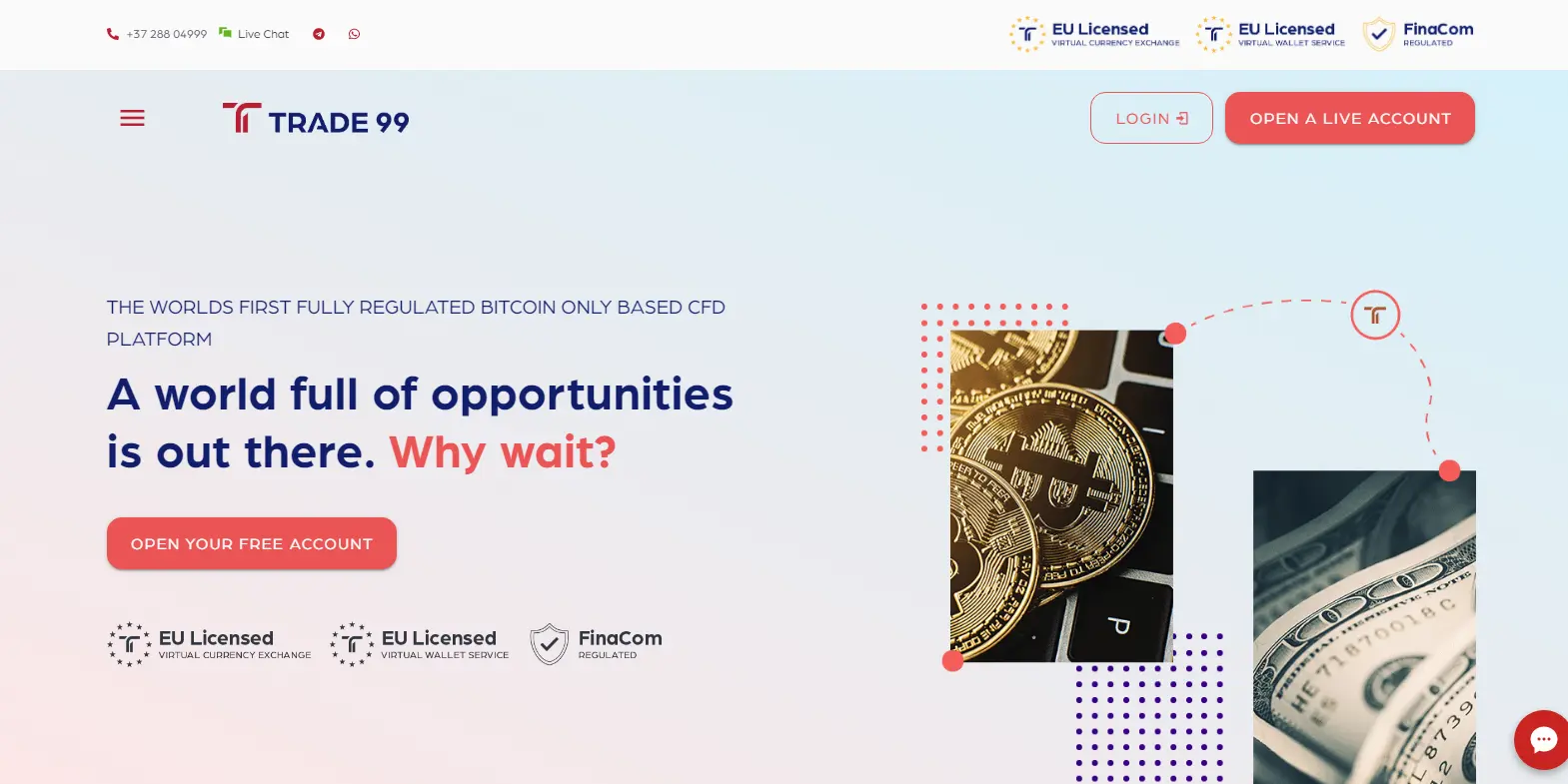 | | |
| --- | --- |
| Pros | Cons |
| Intuitive Trading platform | Higher Spreads |
| Advanced tools | Restricted payment options |
| Secured Transactions |   |
| Minimum Deposit requirement |   |
| Provision for Multiple accounts |   |
Features
Trade99 is not just a trading platform having advanced features, but it also has features that make sure each transaction is secure. Moreover, depositing funds with this broker is easy and when a trader signs up in Trade99, they can deposit and start trading with their funds.

One of the most advantageous features, when we talk about Trade99, is its minimum initial deposit requirement. This broker charges 250 dollars as a reasonable minimum deposit, according to industry norms.

Trade99 enables the traders to trade in over 190 tradable assets, which includes forex, indices, CFDs, commodities, and cryptocurrencies.

Trade99 likewise claims to offer 4 diverse account types and also MetaTrader5 trading platform for its traders.

Trade99 transactions are made through the secured layer to ensure that the information of the trader is protected. Moreover, depositing funds is simple, and once the account is created, the trader can start their trading process. The deposited funds promptly begin to show up in the trading balance.

Some of the account types offered by Trade99 are –
Supreme Account – with a Minimum funding: BTC equivalent of $300

Limitless Account – with a Minimum funding: BTC equivalent of $1,000

Absolute Account – with a Minimum funding: BTC equivalent of $5000

Infinite Account – Minimum funding: BTC equivalent of $10,000

Eclat Account – Minimum funding: BTC equivalent of $25,000
Additionally, Trade99 charges withdrawal fees, service fees, and deposit fees. The broker offers a trade bonus, which depends on the amount of withdrawal made by the trader. Moreover, Trade99 supports all types of major payment options such as –
Visa, Master debit or credit cards
Bitcoin
Bank wire transfer
Regulation
Trade99 was recently granted the 'A category' membership by the Financial Commission. Additionally, this membership has several advantages, and one of the most important is the protection of 20,000 Euros for every complaint filed. Moreover, the financial commission acts as a mediator for any disputes caused by third parties. Also Trade99 strictly complies with AML and KYC standards, which averts tax evasion by preventing the unlawful entities to start trading from their platform.
Account Funding
When a trader has successfully created a trading account, depositing funds becomes easy and secure. Funds will be seen on the trading account balance immediately after the transaction is complete. Moreover, all transactions are executed using secure socket layer technology, making sure that the trader's personal information is secured.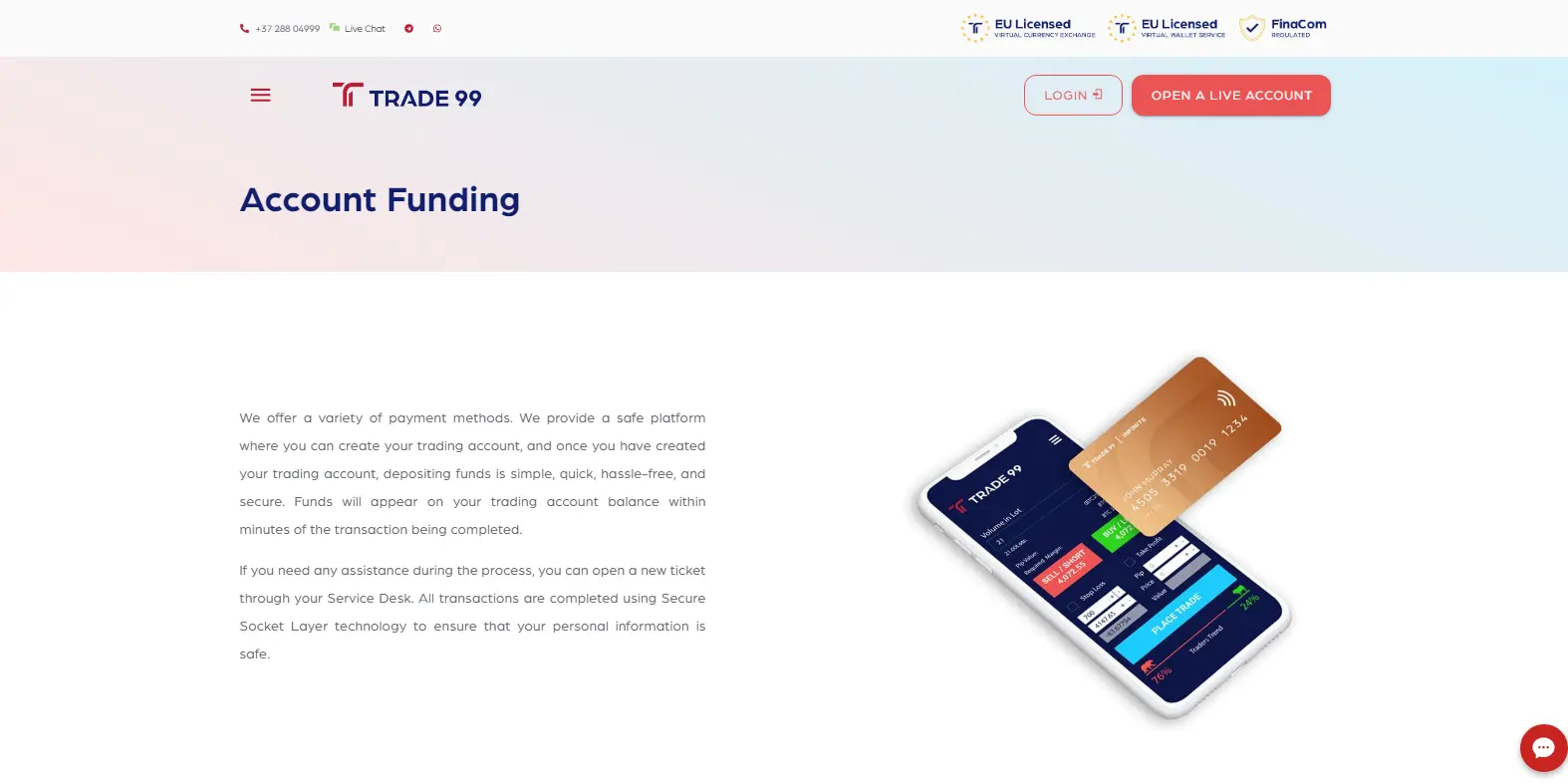 Type of payment methods
Credit card deposits
Bitcoin (BTC) deposit
Bank wire transfer deposit
Withdrawals
Online withdrawals are quick and secure. If the customer needs any help during the procedure, a ticket can be opened through a service desk. Trade99 accepts withdrawal requests of a minimum of 50 dollars per transaction.
Instruments
Trading instruments are described as the markets or assets that are purchased and sold by traders in the following profits. Trade99's few of the major trading instruments incorporate stocks, commodities, options, currencies, ETFs, Indexes, and several more.

One of the advantages of trading commodity leverage cryptocurrencies is that the trader can trade freely without owing any actual assets. By this, the trader can have the flexibility to trade against the price movements, without purchasing or selling the actual instrument.

Trade99 provides its clients the option of trading the leveraged cryptocurrencies in five main classifications –
Soft commodities
Indices
Energy commodities
precious metals
Cryptocurrency

Commission and fees
Trade99 offers good quality services, even though it offers high spreads to its customers, which is a significant disadvantage for beginners. Additionally, this broker charges different fees for deposits, withdrawal, and services. Depending on the amount being withdrawn, it offers a trade bonus to its customers.
Minimum deposit
Trade99 offers different kinds of accounts. Different accounts have a specified limit for minimum deposits. Needless to say, any trader can begin trading by depositing the amount of 300 dollars with the Supreme account.
Different Trade Instruments
Trade99 offers its customers more than 190 trading instruments. A trader can trade in numerous CFDs sets, which include indices, precious metals, cryptocurrencies, and soft and energy commodities.
Multiple Accounts
Trade99 offers five kinds of accounts. The account holders are given the advantages of educational materials like video content, webinars, e-books, articles, market analysis, trading charts, and several more. Also, the account managers from Trade99 helps in training the customers on different topics and also about the working of the account. By adding more funds, the trader can go from one fund to another. Types of account offered by Trade99 are –
Supreme Account
Limitless Account
Absolute Account
Infinite Account
Eclat Account
Supreme Account
Trade99's Supreme Account is the perfect option for beginner trader. Some of the services added in the Supreme account are –
Over 190 tradable assets
Daily market reviews and financial research
Trading alerts and event analysis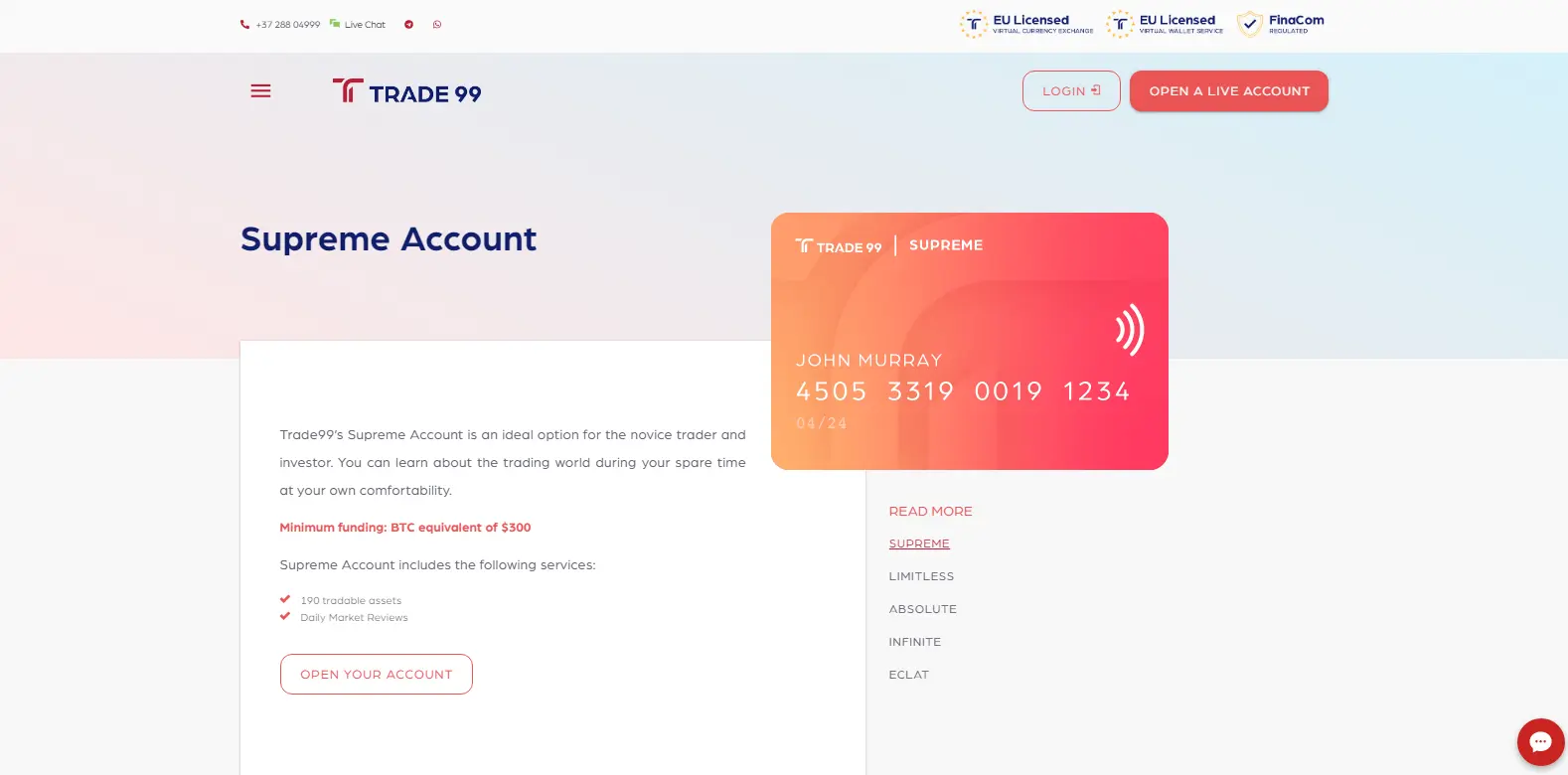 Limitless Account
Limitless Account of Trade99 is a perfect option for beginner traders and investors. They can know about the trading world during their spare time at their comfortability.
Limitless Account includes the following services:
190 tradable assets
Daily Market Reviews
Access to MT5 Platform
Access to Webinars once a month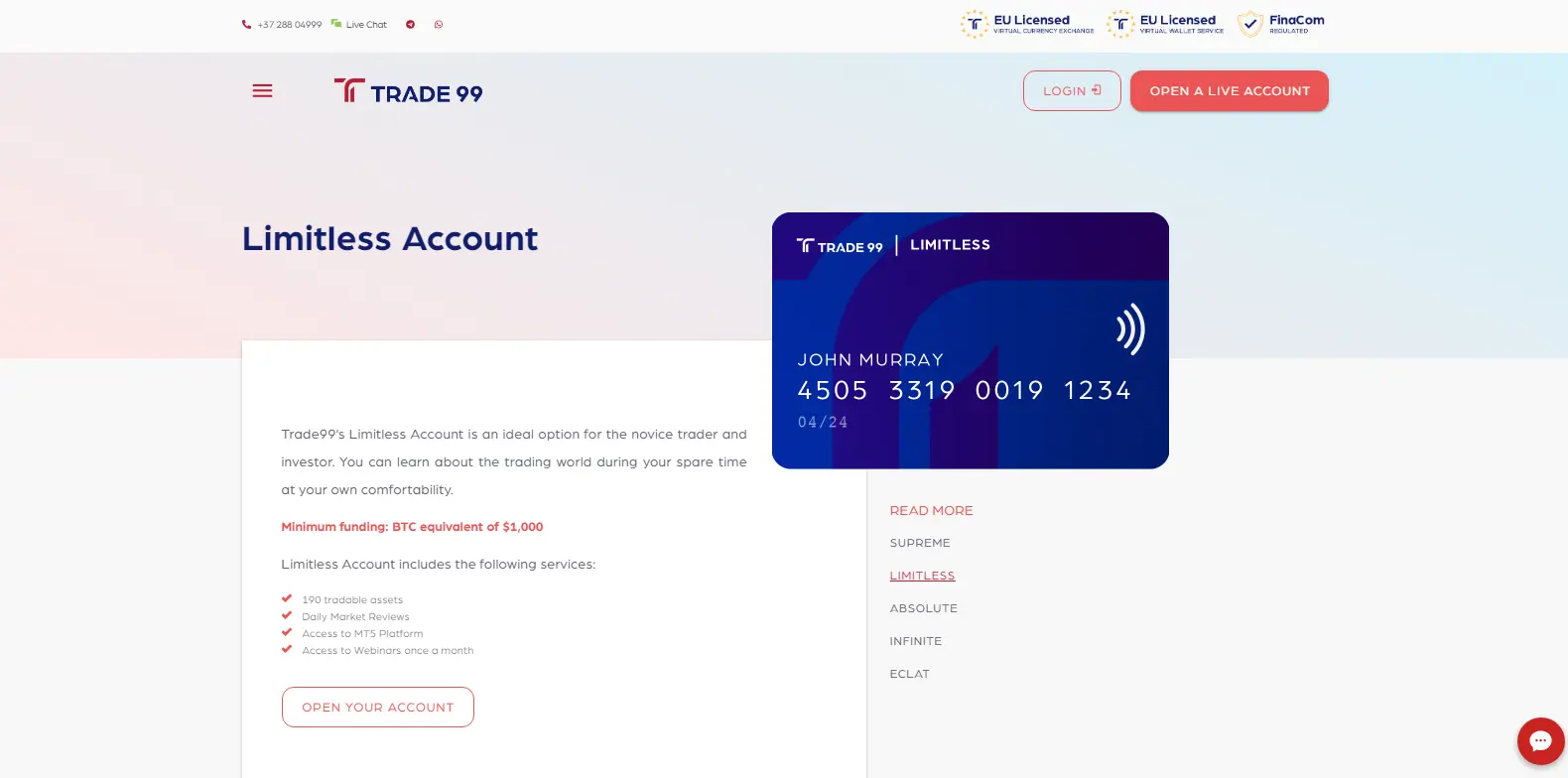 Absolute Account
The absolute account is one of the most popular accounts and is used by most active traders and investors on a daily basis. It offers specialized services along with the benefits of the Supreme Account which includes the following services:
190 tradable assets
Daily Market Reviews
Access to MT5 Platform
Access to Webinars once a month
Daily Recommendations
24h Live Support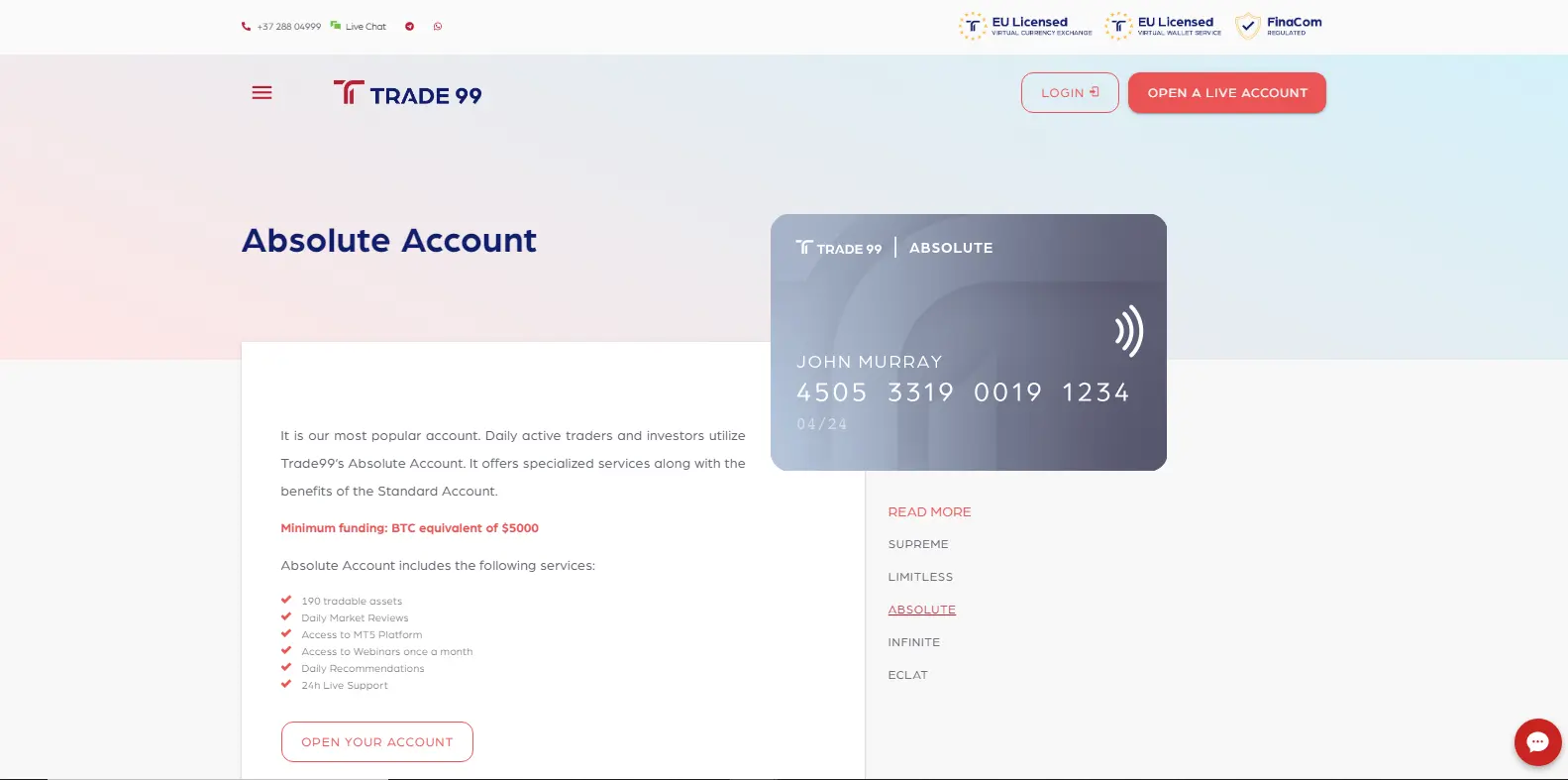 Infinite Account
Infinite Account of Trade99 is most suitable for high-volume traders and investors. In this account, the trader can use a private session with an expert who can respond to all the questions and expedited withdrawals. Infinite Account includes the following services:
190 tradable assets
Daily Market Reviews
Access to MT5 Platform
Access to Webinars once a month
Daily Recommendations
24h Live Support
VIP Trading Support
Exclusive Updates
Private Sessions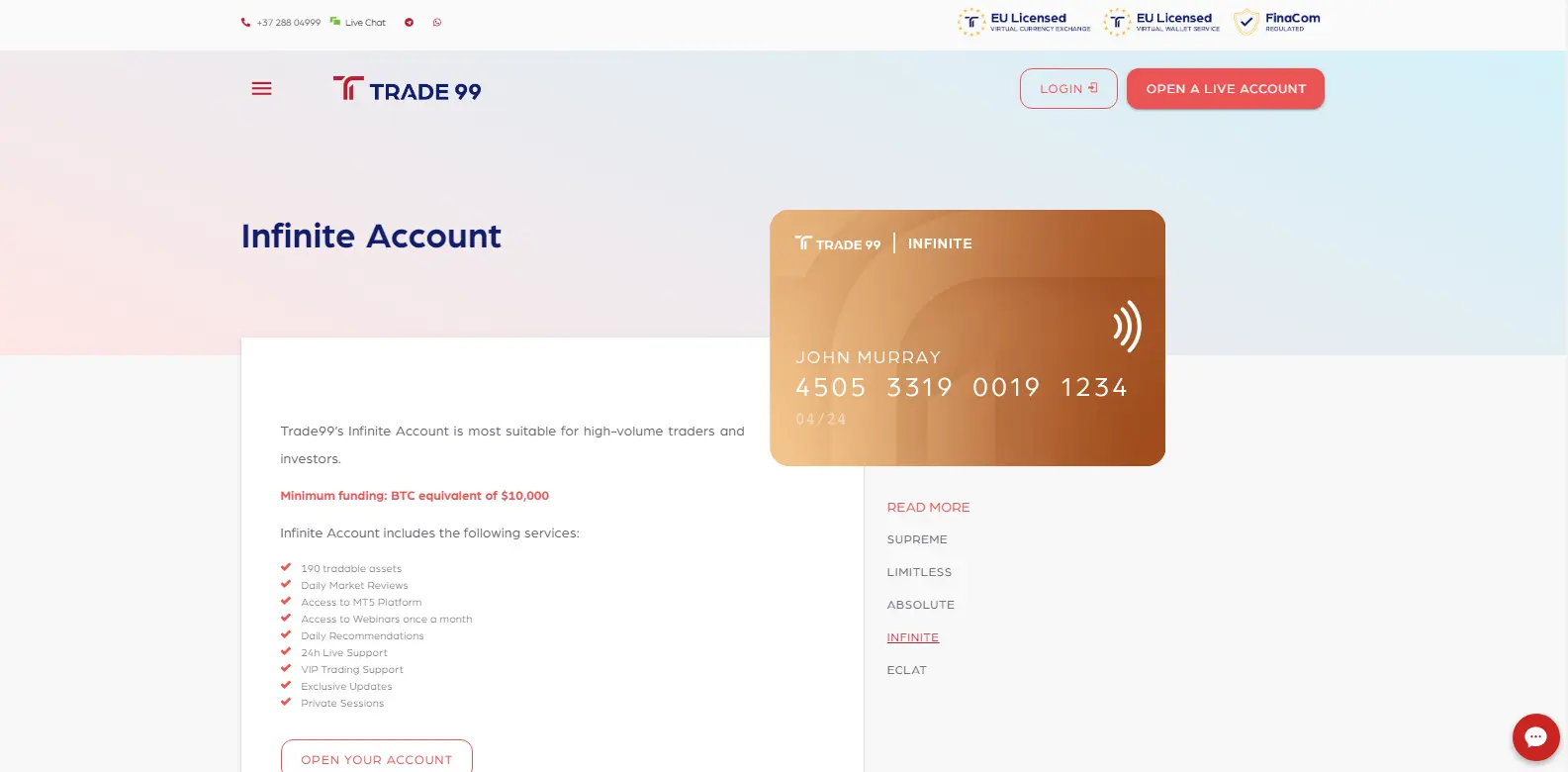 Eclat Account
Eclat Account is perfect for the most experienced and active traders and investors. Enjoy all the complete set of Trade99 services with our Eclat Account.Eclat Account includes the following services:
190 tradable assets
Daily Recommendations
Access to MT5 Platform
Access to Webinars once a month
Daily Market Reviews
24h Live Support
VIP Trading SupportLuxury Gifts
Exclusive Updates
Private Sessions
VIP Trading Support
Spreads up to 5% lower
VIP Events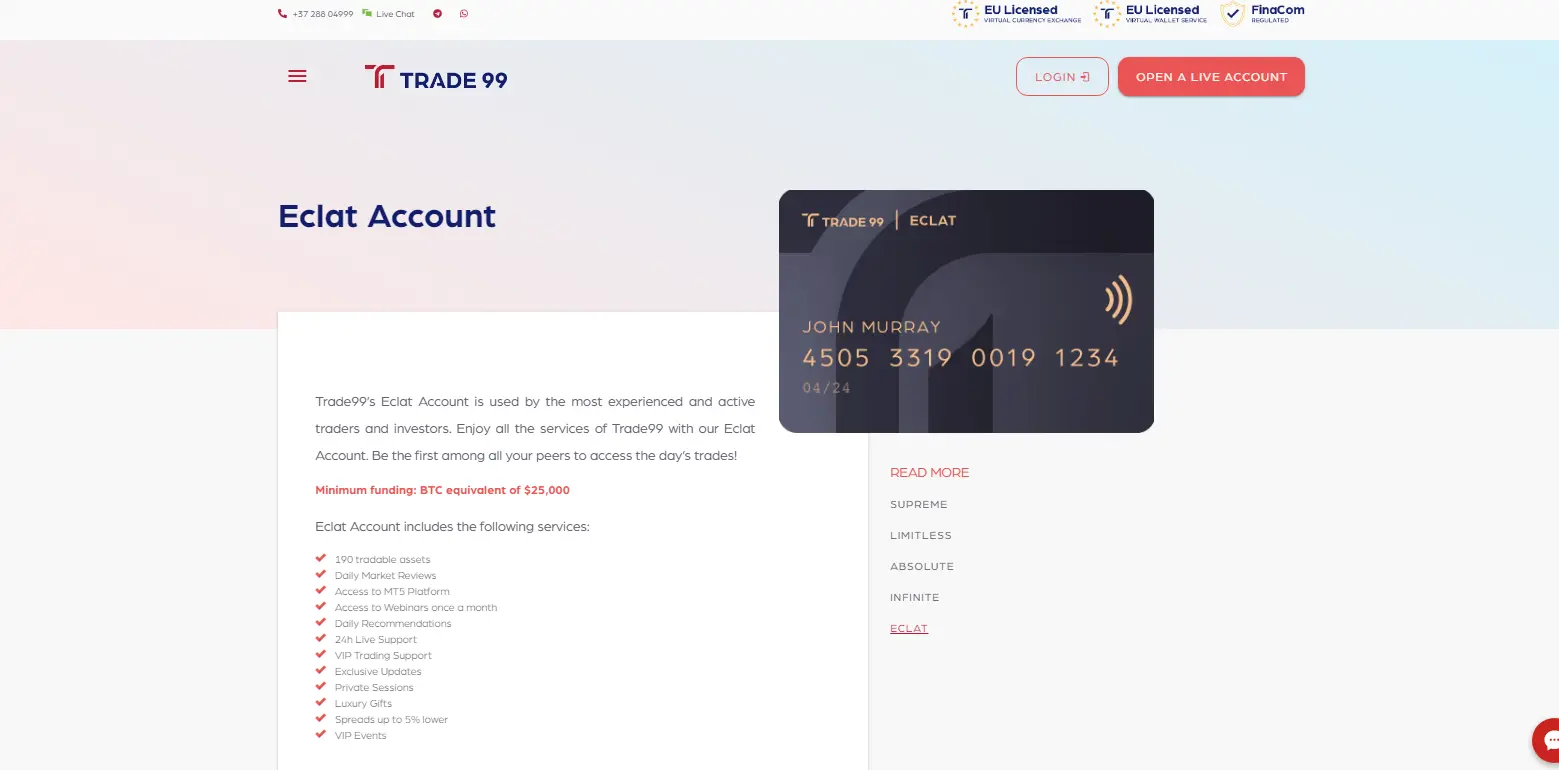 Active Trader Program
Trade99 offers an exclusive Active trader program for their loyal traders. Trade99 active trader program members get exclusive advantages and services that will help the trader to never miss a trade. Some of the benefits are –
Account Credit
Concierge Service (External)
A dedicated team of analysts
Direct access to the personal advisor through chat, phone, and email
Educational Classes
Priority access to customer service
Trading platform
WebTrader
Trade99's Web trading platform enables the trader to start trading on the markets, leveraged cryptocurrency, from any operating system and browser. With the Trade99 Web Platform, the only prerequisite is the Internet connection.

The traders can analyze quotes relating to financial instruments, execute trade operations, and access the history of their trades from any laptop or computer.

The web trading platform permits the traders to place pending orders, send trade orders in one click while helping in performing the complete market analysis using technical indicators and graphical items. Every one of these features would be accessed from any browser at any time.

Concerning the high volatility, the web trading platform offers maximum data protection while all transmitted information is being safely encrypted. Additionally, the web trading platform supports extra protection by using two-factor authentication.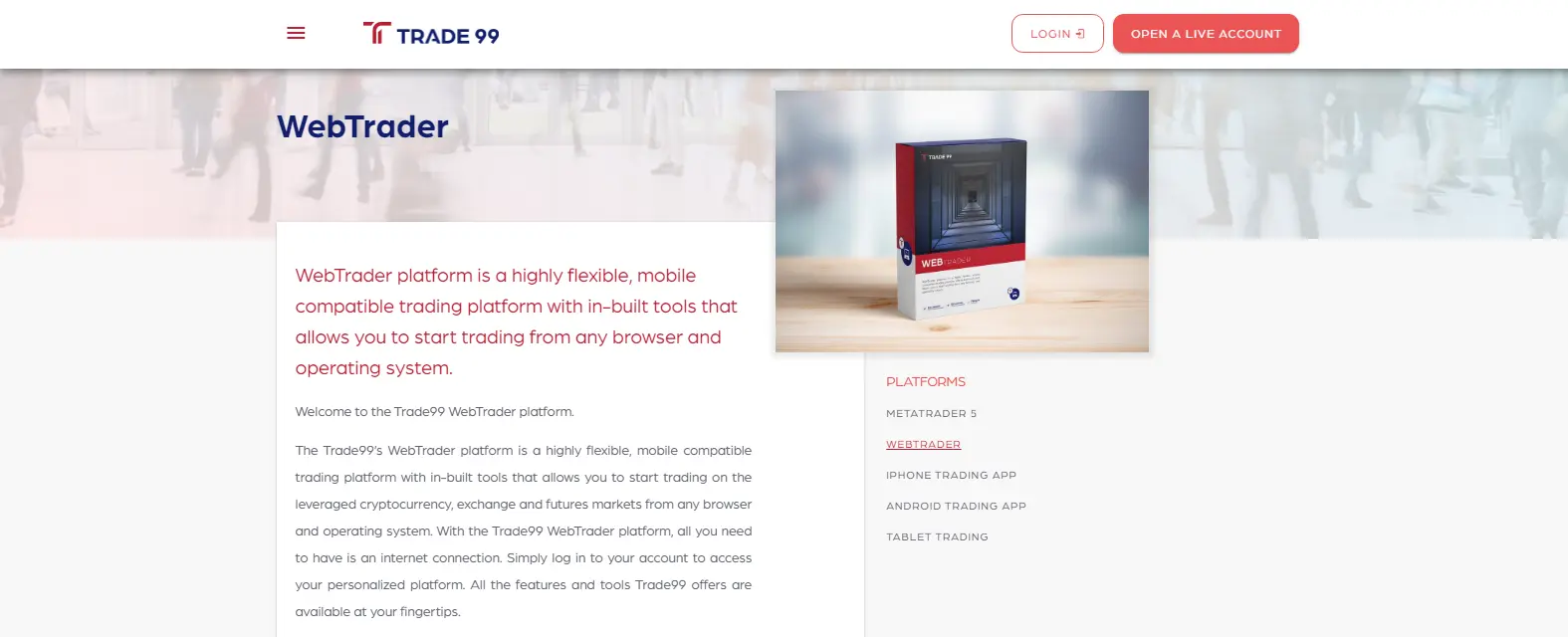 MetaTrader5
Trade99's MetaTrader5 trading platform offers advanced technical features for successful trading on different accessible markets, like, leveraged cryptocurrency, cryptocurrency-based futures market, and exchanges.

Metatrader5 gives a facility of trading 24 hours daily, regardless of where the trader is. MetaTrader5's capacities are practically limitless, including the market of trading robots, copy trading, the Freelance database of strategy developers, and several more.

Additionally, this platform offers superior tools for fundamental and technical analysis; and advanced financial trading functions. MetaTrader5 can likewise trade automatically by utilizing trading signals and trading robots.

The MetaTrader5 trading framework provides an advanced market depth feature, with a tick chart, time and sales data, a separate accounting of trades and orders; also it offers support for a wide range of trading orders and execution modes.

Also, two order accounting modes are given in the platform, such as the netting mode and Hedging mode. The netting mode is adopted on crypto exchange markets, while the hedging mode can be utilized for leveraged cryptocurrency trading.
By using the One-Click Trading function and the Market depth option, clients can purchase and sell Cryptocurrency sets, with only a single click. The Stop Loss and Take Profit options are intended to help the traders to secure profits and limit losses.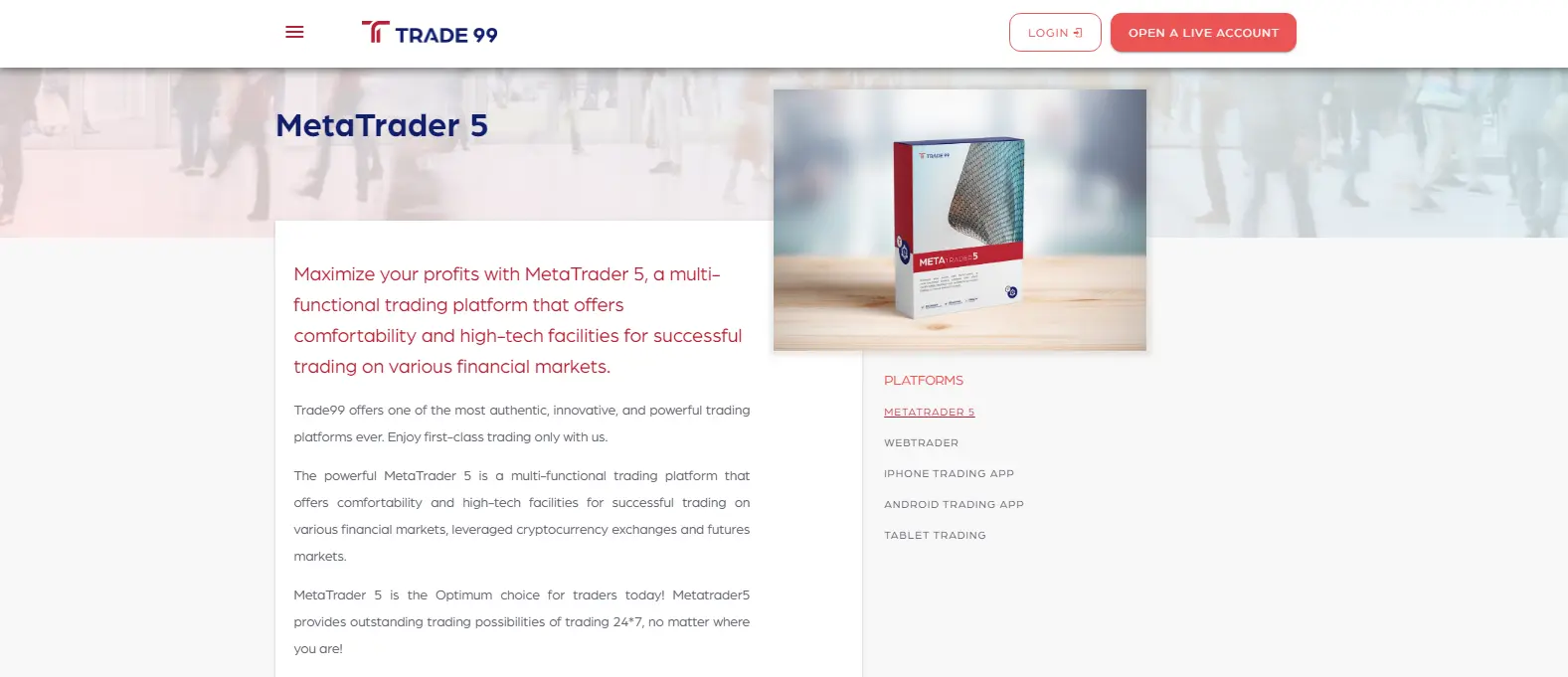 iPhone Trading App
Trade99 offers an iPhone trading app for its customers, where they can use this app, anywhere, anytime. With an interface similar to web trader, Trade99 is specially designed for handheld gadgets, wherein the trader does not miss out on a trade.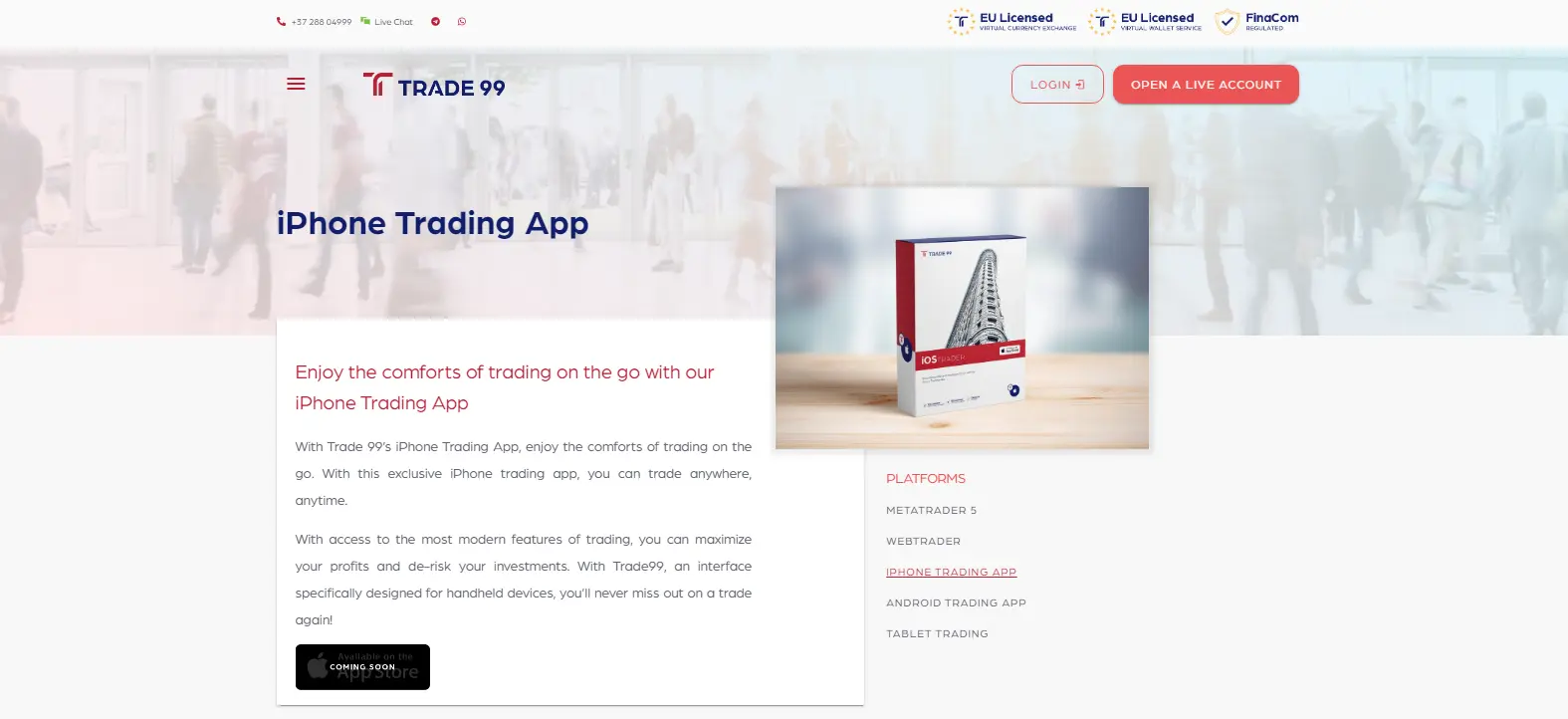 Android Trading App
This broker offers Android Trading App; where the trader needs not miss out on a trade. Exactly with the same features and tools as on web trader, Android Trading App can be used anywhere, anytime.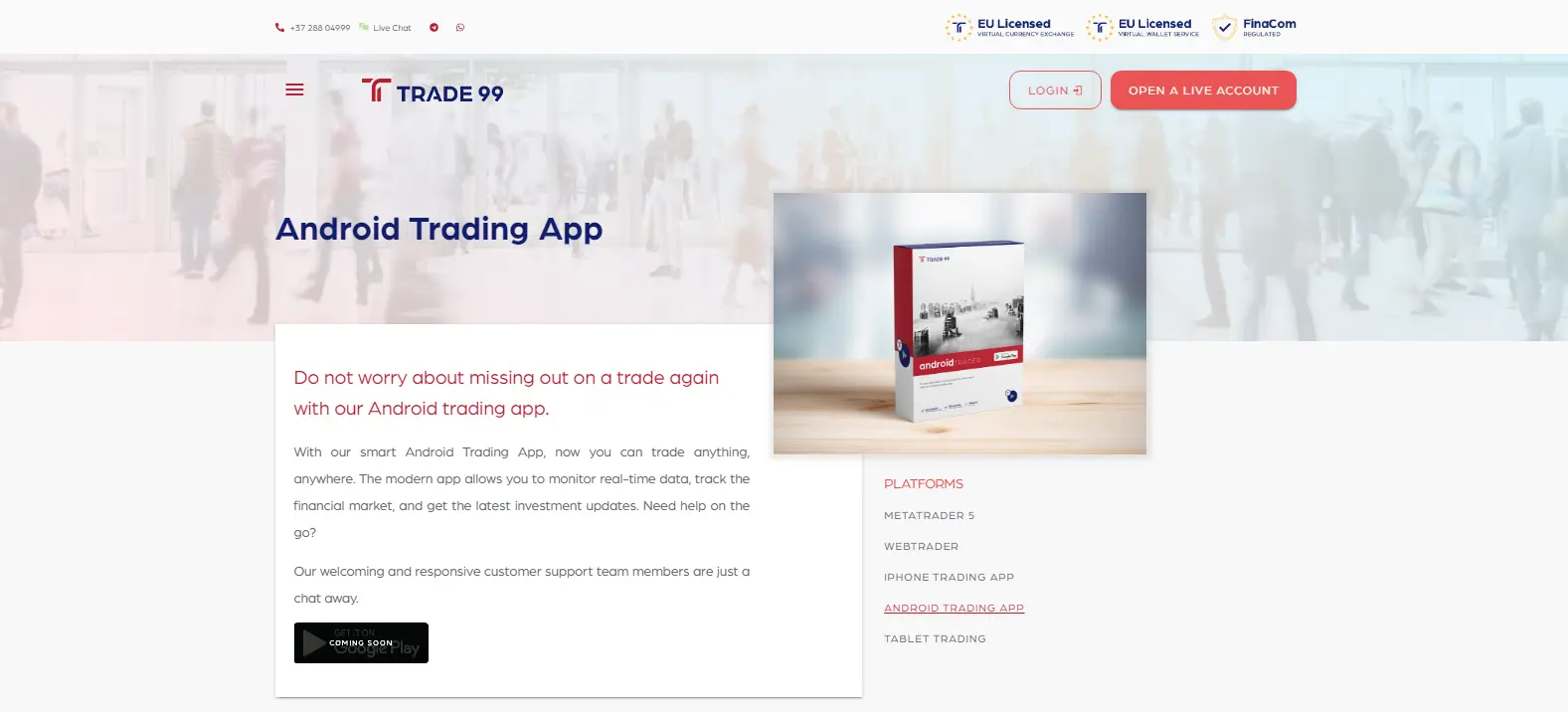 Tablet Trading
Trade99 offers Tablet trading for the benefit of the traders. Further, the trader can enjoy the best trading experience with ease by trading from their smartphone. Moreover, this platform is explicitly designed for all tablet devices.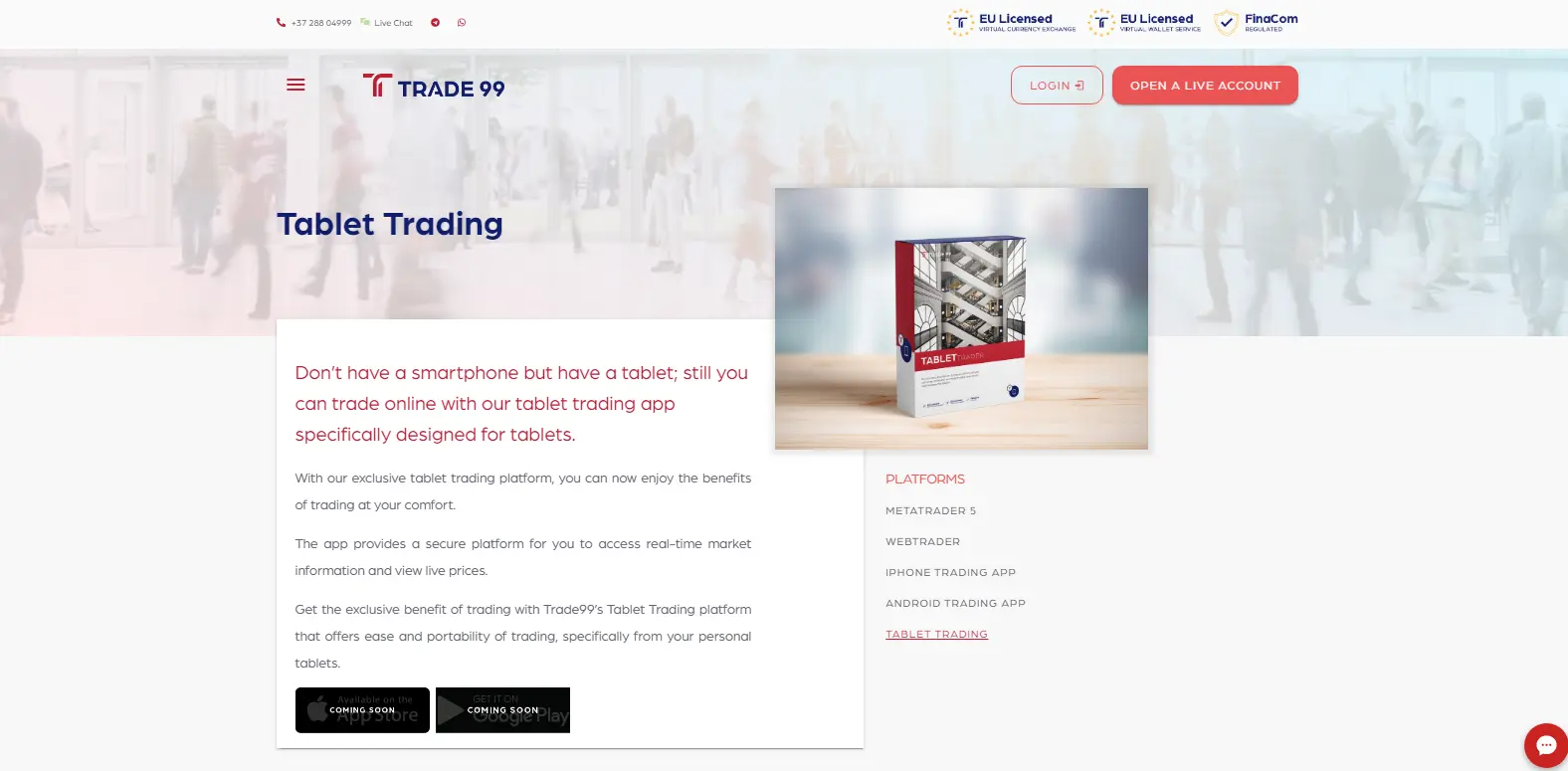 Education
Trade99 understands that education is an absolute necessity for all kinds of traders. Hence, Trade99 has a training segment that contains webinars, knowledgeable articles, which are necessary for proficient trading.
Also, the material teaches traders to trade with leverage. Trading with high leverage increases the trader's profit outcomes, yet, one should keep in mind that it likewise increases the risk of loss. Suffice to say, traders should be careful when trading with high leverage.
The educational material offered by Trade99 is suited for both novice and skilled traders. Furthermore, experienced traders can look at trading strategies or new methodologies to maximize their profits and how to take advantage of the latest trends by going through their educational materials.
For new traders, Trade99 offers beginner articles and more information about the trading platforms and they can also learn how to trade leverage on cryptocurrencies.
Over and above, traders can find articles on individual stocks; commodities, leverage cryptocurrency trades and indices so that traders can check the assets before they start trading.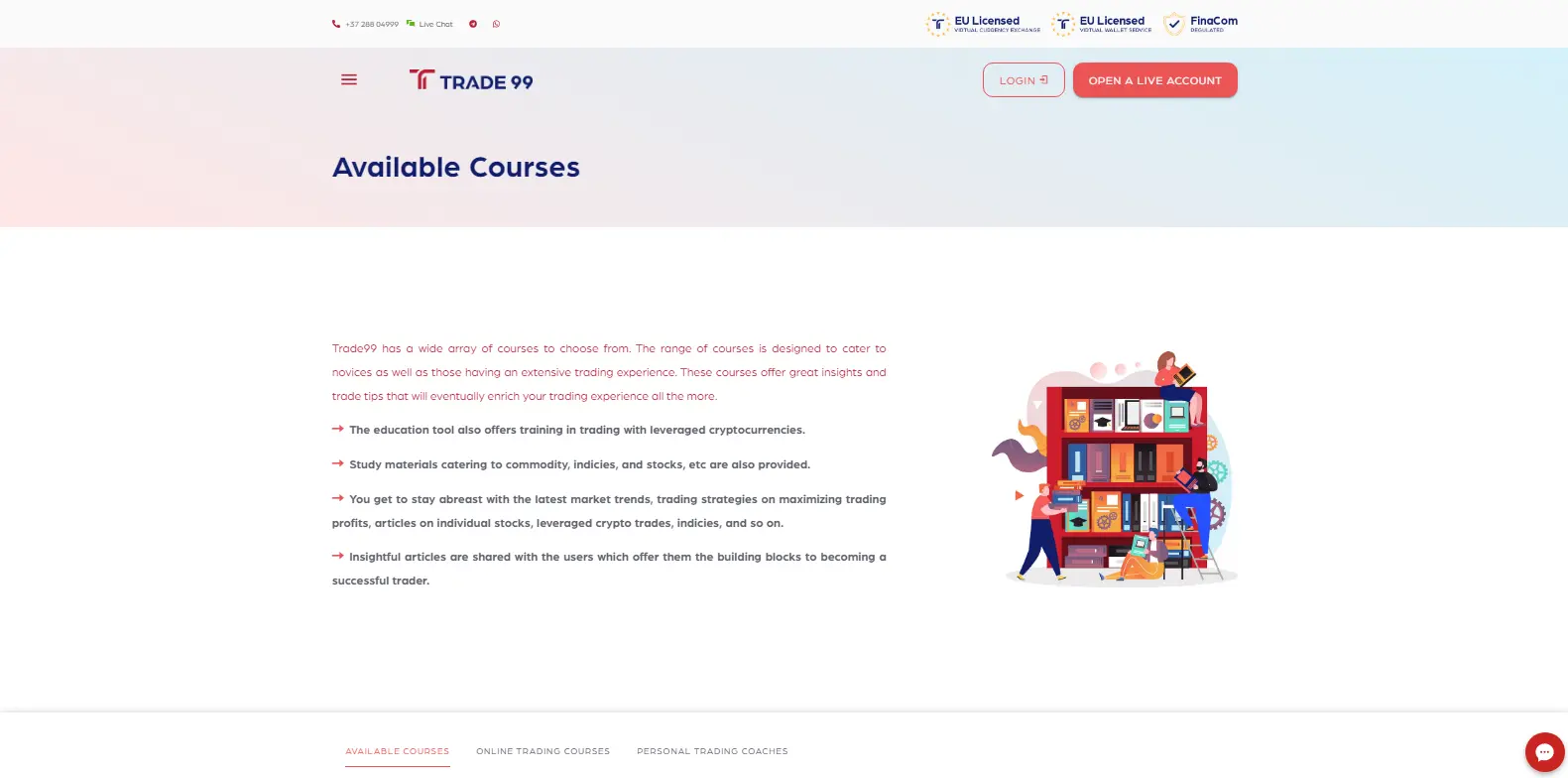 Customer service
Trade99 offers customer support for its traders. The client support can be reached through email, chat, phone and social media. There is a different section on the site where one can discover the FAQ segment, which offers answers to the trader's problems. Additionally, a segment of FAQs also guides the traders when they are facing issues. It likewise offers live chat for its clients.
Drawbacks
Trade99 has 190 various trading instruments. However, in a live account, the trading instrument offered by this broker is 8 currency sets to be accurate.
Concerning spreads and Commission, this trader has high spreads.
Aside from having no license, this broker has different unspecified fees.
Wrap up
Trade99 offers good client support to its customers and various trading assets like Indices, CFDs, commodities, and cryptocurrencies to its traders. Additionally, Trade99 offers great features, alongside a good trading platform. Trade99 trading platform is not only user-friendly but also has advanced analytical tools that are important to the customers to trade more productively. Even though this broker has few fine features, one has to do their own research before proceeding with any type of investment with this broker.
FAQs
1. Is Trade99 a legit or a scam?
Ans. Yes, the Trade99 trading platform is a completely legitimate broker and holds a license from the Dominican Republic.
2. Does Trade99 charger while trading?
Ans. Yes, It does charge for its various trading services, withdrawal, and deposit. But all chargers are very reasonable compare with the quality of the facilities it offers to their clients.
3. How many tradeable assets are available at Trade99?
Ans. It offers more than 190 tradable assets, including indices, precious metals, commodities, crypto coins, and more.