AnalystQ Review – Covered All The Features, Pros & Cons
AnalystQ is one of the leading online brokers that offer to trade in Forex or currency options, energy commodities, cryptocurrencies, soft commodities, and precious metals. AnalystQ platform offers a responsive and intuitive user interface, which is built for speed. It helps new traders to advanced traders to build their portfolios over commodities, currency, and cryptocurrency markets to help their financial dreams come to reality.
What is AnalystQ?
AnalystQ offers its services to its clients in more than 170 countries and is still moving forward. This broker offers new trading features in options and resources and helps the traders learn about trading and how to make use of the features. It also offers personal advisors where the trader can make use of this feature. The main objective of AnalystQ is to make sure that the traders make good and intelligent trading decisions to make profits for their trades executed. The trading expertise offered by the broker helps the traders access the markets very easily, not only for skilled professionals but also for beginners.

Features of AnalystQ
Let us discuss a few unique features of AnalystQ –
AnalystQ is one of the forex trading brokers for beginners, and AnalystQ operates it. This organization is incorporated in the commonwealth of Dominica, which describes it as an offshore broker. The company's website URL is www.analystq.com.
AnalystQ was a recently founded company in February 2020. This broker supports only the English language.
AnalystQ offers only Bitcoin as a deposit or as a withdrawal method for all its transactions. We know Bitcoin transactions are just like any other cryptocurrency transaction, which is permanent and anonymous. 
AnalystQ minimum deposit is 500 USDT(Tether), which is on the higher side for a new broker.
One of the disadvantages of this broker is, it does not offer a free demo account, unlike its rivals, who offer demo accounts for an unlimited time.
One of the most significant features of AnalystQ is it offers a wide range of 16,000 assets offered in 6 classes for its clients. 
Some of the types of assets offered by AnalystQ are cryptocurrencies, Energy Commodities, Currency Options, Soft Commodities, and Precious Metals.
Advantages of Using AnalystQ
AnalystQ offers several advantageous features for its traders. Some of them are discussed below-
One of the most advantageous features of AnalystQ is it offers a wide range of trading instruments like 16,000 assets, which are the highest number provided by any broker across the world.
Besides, this broker offers trading in energy commodities, in renewable and non-renewable categories, crypto-fiat currency pairs, cryptocurrencies, soft commodities, and precious metals. However, this broker does not offer any Forex pairs.
One of the most important features of AnalystQ is that it offers MetaTrader 5 software for its clients. Metatrader 5 platform is one of the most advanced trading software that is currently available in the market. Metatrader 5 offers a wide range of technical market indicators, advanced charting tools, a huge backtesting environment, and several trading robots called expert advisors.
AnalystQ trading strategy developers across the world run their trading strategy on its platform, helping the traders see real-time performance. AnalystQ analysts mathematically evaluate and rank all the trading strategies. The traders can choose any number of strategies from their brokerage account.
Pros and Cons of AnalystQ – 
Let us discuss few Pros and Cons of this broker – 
| | |
| --- | --- |
| Pros | Cons |
| Offers a wide range of trading Instruments | Offers Higher spreads |
| Easy to use and Intuitive Interface | Offers only Bitcoin as a transaction option |
| Offers 16,000 assets in 6 asset classes |   |
Why Trade with AnalystQ?
Starting from cryptocurrencies to commodities, futures to currency options, AnalystQ offers traders access to a wide range of asset classes by offering 16,000 assets than any other provider across the globe.
Also, this broker offers several educational courses, Alerts, webinars, one-to-one training opportunities to train the users, so that they can execute the trade profitably and make money.
One of the most noteworthy features of AnalystQ is it offers 24×7 exceptional customer support. It operates in 170 countries, where they are happy to help customers who have any issues or problems and help them sort out their issues.
How AnalystQ Works
Let us see the process of how AnalystQ works – 
The first step would be to fund the AnalystQ brokerage account. The trader can choose various options to fund their account – 
The second step would be to choose the strategies offered by the AnalystQ to assess the risk. The trader can also use any number of trading strategies when they are executing the trades. 
The final step would be to sit back and relax as the trades are placed automatically as per the trader's instructions at the required trade sizes.
Types of Account
AnalystQ offers 3 accounts for its traders. They are – 
Primary Account
Professional Account
AutomatiQ account
A) Primary account
By offering more than 16,000 assets in 6 different asset classes, trading systems, advanced online trading tools, and quality execution, different accounts offered by AnalystQ have an advantageous feature to offer for its traders. The trader can trade efficiently, comfortably, and apply their trading strategy to execute profitable trades.
The primary account is divided into 3 types – 
Standard Account
Education Account
Specialty Account
Let us discuss features offered by above-mentioned accounts – 
1.Standard Account
One of the most advantageous features offered by the standard account is the trader can trade various tradable assets. 
Offers regular and last-minute advanced trading tips to help the user to trade efficiently. 
The trader can have access to the MetaTrader 5 platform 
Offers access to high-class webinar libraries offering actionable content to enhance trader knowledge
Offers 24×7 live support, whenever the trader request for help
Minimum funding for a standard account is BTC equivalent of 500 USDT
2.Education Account
This account is very helpful for advanced traders who know their way around
Traders can trade several tradable assets
It offers regular and last-minute tips for the users to trade Smarter
The traders can access their online MetaTrader 5 platform
They can also access their webinar library, gain insights about the latest market trends, and update their knowledge in trading.
Offers 24×7 live support whenever the trader contacts the customer support for any issues
Minimum funding for the education account is BTC equivalent of 5,000 USDT
3. Specialty Account
The specialty account is built exclusively for active traders
It offers 24×7 live support for its customers
Offers several tradable assets
Also provides regular and last-minute expert tips for its traders
The traders can access AnalystQ online Metatrader 5 platform
The traders can also access AnalystQ webinar library to enhance their trading knowledge
Minimum funding required for the specialty account in BTC equivalent of 25,000 USDT

B) Professional Accounts
The trader has several options when it comes to trading. AnalystQ trading platform offers great user-interface, personalized coaching, intuitive tools, and offers several educational learning opportunities that help the traders to execute profitable trades.
Advantages of having a Professional Account
Some of the advantages of having a professional account are described below – 
Best prices are offered to clients
The traders can trade tightest spreads of up to 300:1 leverage
It also offers personalized sessions for its traders
Provides regular and last-minute expert insights on trading, to help the traders to execute profitable trades
It also offers several educational tools, resources, and webinars so that the trader can make use of this knowledge to place profitable trades.
It also provides trading signals through SMS and WhatsApp to the trader's phone so that the trader may not miss out on a profitable trading opportunity
By using this professional account, the traders can receive exclusive invitations to AnalystQ VIP events
C) AutomatiQ account
The trader can use the automated trading strategies in their brokerage account with the AutomatiQ account
The money deposited on the brokerage account stays with the trader at all times
The trader can turn the system on and off whenever they want
This AutomatiQ account is tailored exclusively for the traders and the traders can choose the right strategies before getting started
Trading Instruments
AnalystQ offers more than 16,000 trading instruments which are considered as the highest number offered by any broker around the world, this broker offers trading in several categories such as energy commodities, in both renewable and nonrenewable categories, crypto-fiat currency pairs, cryptocurrencies, soft commodities, and precious metals. However, this broker does not offer any Forex pairs.
AnalystQ offers an easy to use and intuitive commodity trading platform by providing several trading options along with the customer service and risk management tools. The education and the information feature offered by this platform help the traders to trade easily. Further, Energy commodities are made of renewables such as energy collected from wind, solar, geothermal, or biomass and non-renewable sources such as gas, oil, and coal. Besides, economic conditions, geopolitical relationships, and earth's changing weather patterns are considered for pricing of energy commodities that create fluctuations, which in turn create opportunities for expert traders.
Blockchain technology and cryptocurrencies are the recent buzz words that offer secure, anonymous, and supportive features for those who are using it. The tools and services offered by the AnalystQ platform in the cryptocurrency sector offer traders profits by providing high leverage trading opportunities and with several trading insights. Using the AnalystQ trading platform, the trader can trade cryptocurrency even though they don't need to know the trader, making it easy for the newcomers, which helps them stay out of the volatility. AnalystQ offers safer trading and an array of learning tools, helping the trader know their way around the cryptocurrency sector.
The forex market, known as the foreign exchange currency market (known as currency options), is a high-demand financial market because of its overflowing opportunity. Several people have made money by using these currency options. More traders are opting to choose currency options as their preferred form of trading. Moreover, this broker offers several services for currency options for traders such as-
Offers tight pricing from several pips across multiple selections of currencies
Maturity ranges from 24 hours to one year to fit the preferences of the trader
Offers dedicated and knowledgeable chat support to help the traders 24 hours a day
It offers 24 hours trading
The platform can be accessed from any device which includes tablet, Android, Apple products, and PC
Offers Real-time and professional analysis on several currency options over many currency pairs
The traders should note that trading in currencies comes in classic, VIP, and platinum categories. Moreover, platinum and VIP traders can access lower prices per trade.
Some of the available trading pairs that are offered by AnalystQ are – 
BTC/USDT
BTC/EUR
BTC/GBP
BTC/JPY
BTC/CHF
BTC/ETH
ETH/USDT
ETH/EUR
ETH/GBP
ETH/JPY
ETH/CHF
Precious metals
Several traders prefer precious metals for trading, as trading with precious metals tends to go up in value even though there are several economic fluctuations crisis or any volatility present in the market.
Besides, in a standard trading market, trading with precious metals offers a powerful opportunity for diversification, where the trader can make use of it and make a profit by trading with precious metals.
By using AnalystQ platform, the traders can trade CFDs on the below-given metals 24×7 –  

Gold
Silver
Platinum
Palladium

The trader should know that the spreads, bids, asks, margin requirements and market rates differ from country to country, which is based on regulation and legislation. Hence utmost care should be taken when you are planning to trade with precious metals. 
Soft commodities
Soft commodities are coffee, cocoa, sugar, cotton, and soybeans, where these products never go out of demand. These are called stable groups, and by trading these commodities can offer profit when traded intelligently. These products involve a significant amount of risks and should be traded with more care.
AnalystQ offers several options to the traders to make profits; even the assets lose value.
During downtrends, Soft futures can be shorted, which yields profit.
Software futures provide traders protection of their physical position, and no risk is involved with soft commodities.
AnalystQ Trading Software
AnalystQ offers a MetaTrader 5 trading platform, one of the most advanced and powerful software currently available in the market. It also offers several technical indicators, advanced charting packages, an exhaustive backtesting environment, and several expert advisors. It also offers several features such as additional order types, like buy stop limit, and sells stop limit. It also offers a built-in email service which precedes Metatrader 4.
Trading Platforms
AnalystQ offers the below-given trading platforms for its customers – 
1. Metatrader 5
AnalystQ Offers Metatrader 5, which is the latest platform not only for just trading but it also offers in-depth analysis and tools that give the trader an advantage over different types of financial markets starting from cryptocurrencies to futures.
Metatrader 5 is available on any browser or device, and the customers can immediately access MetaTrader Market by using MetaTrader 5, which comes with an array of free and paid features.
It also offers trading robots that run predefined algorithms, and it trades on behalf of the traders.
It provides real-time technical indicators from expert analysts 
It also offers copy trading, which means copying the trading strategy of successful traders and their trade positions to execute winning trades.
The traders can access freelance developers and strategists
They can also access virtual hosting for currency options
2. Web Trader
By using AnalystQ webtrader, it makes online trading very easy; also, the trader can enhance knowledge and confidence as a professional trader. In case if you are a new trader and want straight forward and simplified trading platform solutions with a learning curve, then you can use webtrader. Besides, web traders can be accessed through any device with a stable internet connection, and the trader can access every feature.  
These features are available as soon as they sign up on the platform – 
The trader can track and view the latest trending assets
They can also analyze the trends of several financial instruments
They can access historical trading data
Comparison of assets can be done through a multi-chart window
It provides risk management tools
The trader will have two-factor authentication for additional security 
3. iPhone Trading App
One of the most advantageous features offered by AnalystQ is it offers an iPhone trading app that helps the trader to trade on the go, anywhere and anytime so that the trader never misses an opportunity. The responsive design and intuitive layout of this trading app help the trader to trade in no time as per their convenience.
4 . Android Trading App
AnalystQ offers an Android trading app designed from scratch to help the traders trade quickly, easily, and efficiently. This app monitors real-time data, get instant push notifications, gets updates on the market trends, tracks the trades, and several more. If the trader has any problems, they can instantly contact the customer support team through the app, available 24×7.
5 . Tablet Trading app
AnalystQ offers a tablet trading app that lets the traders with their swipe of the finger, and they can view the positions in perfect detail. Live prices and real-time market data help the traders to have a grip on the market prices and the latest updates of market conditions, where the traders can make informed decisions and capitalize on them. In case if the trader has any problems, they can contact customer support anytime.

Leveraged Cryptocurrency Funding
The traders can start trading by using cryptocurrencies without using the real funds and with the option of leveraged cryptocurrency funding.
In case if you are a new trader or an experienced trader, they can use AnalystQ monetary leverage rather than their cash and place the trades accordingly. But there is a risk involved if the conditions are not favorable. Leverage cryptocurrency trading might be profitable; otherwise, it might lead to huge losses. 
Further, using leveraged crypto options, it offers stability against the volatility that is present in crypto markets. AnalystQ provides an opportunity to shorten the positions on the cryptocurrencies and helps the traders to purchase a currency at a very lower cost when they are sold at a current rate. 
Margin and Leveraged Loans
Margin Loans
Margin loans can be secured against the traders' values on the securities by making it a desired choice for many traders. Being offered an increase in the purchasing power by using margin loans, the trader can have liquidity in their funds on a fixed-term basis.  Besides, the traders will also enjoy low-interest rates, and there is no waiting time to get the funds when it is approved, which means the loan is deposited in the trader's account quickly. However, there are no closing costs, no setup fees, no annual fees, and no user fees when the trader takes a margin loan through AnalystQ.
Leveraged Loans
Traders can also make use of leveraged loans, which is a good choice for traders who are looking for capital to manage their debt to bring stability to corporate or personal balance sheets to purchase stock and several more. These loan types are very attractive to the traders who were denied loans across various factors. Besides leveraged loans are associated with increased interest rates, meaning the higher risk is involved. These involve commercial or trading banks to back up the law. Moreover, leveraged loans come with price flex, which means the loan terms can change anytime at the discretion of the bank.
Customer Support
AnalystQ offers dedicated and professional customer support for its traders. AnalystQ customer support operates in 170 countries, and the traders can make use of it if they have any issues or problems. They can be contacted through various sources. Some of the benefits are given below – 
Benefits
AnalystQ offers multilingual customer support
Customer support is available 24×7 through phone or online chat
AnalystQ also offers in-house analysts and personal managers to help the traders to have a successful portfolio.
Below given are the few ways that analysis cube offers customer support
24×7 Live support
Email Support
WhatsApp Support
Telegram Support
Phone Support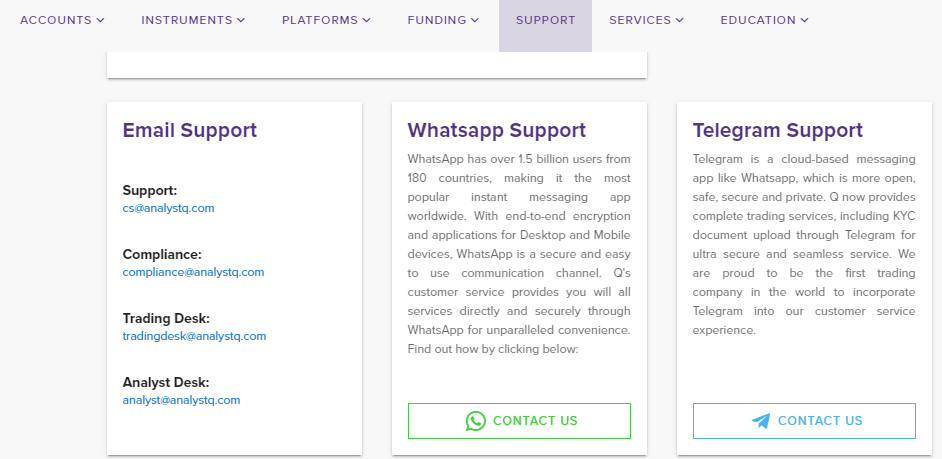 Services
Personal Relationship Managers

Trading without prior knowledge can be risky and complicated, and the trader should analyze and research the trading market before proceeding with trading. Let us discuss some of the services offered by AnalystQ – 
AnalystQ offers experts to help the traders in case there is any volatility in the market and maximize their profits without any hidden cost, which most of the traders are used to, with other brokers.
AnalystQ relationship managers are available through phone, chat, email, and at request; they are also available for in-person meetings too.
Trading in any market can be risky, confusing, and time-consuming; and to ease this process, AnalystQ offers sales traders to help the customers. The sales trader takes care of sales, crypto funding, explains market volatility and topics about trading for the customers. The sales traders have several years of analytical experience, and they help the traders to achieve good results by offering good advice about various products.
AnalystQ offers in-house analysts to help the traders maximize the chances of gaining profits without much stress. They also provide market insights, forecast market fluctuations, and several more. The in-house analysts are well experienced and help the traders to enhance their portfolio and also to increase their chances of making a profit.
AnalystQ offers several trading courses for its traders that are designed by expert trainers, with several years of study. By using these courses, the traders can build trading skills where they can use it to their advantage.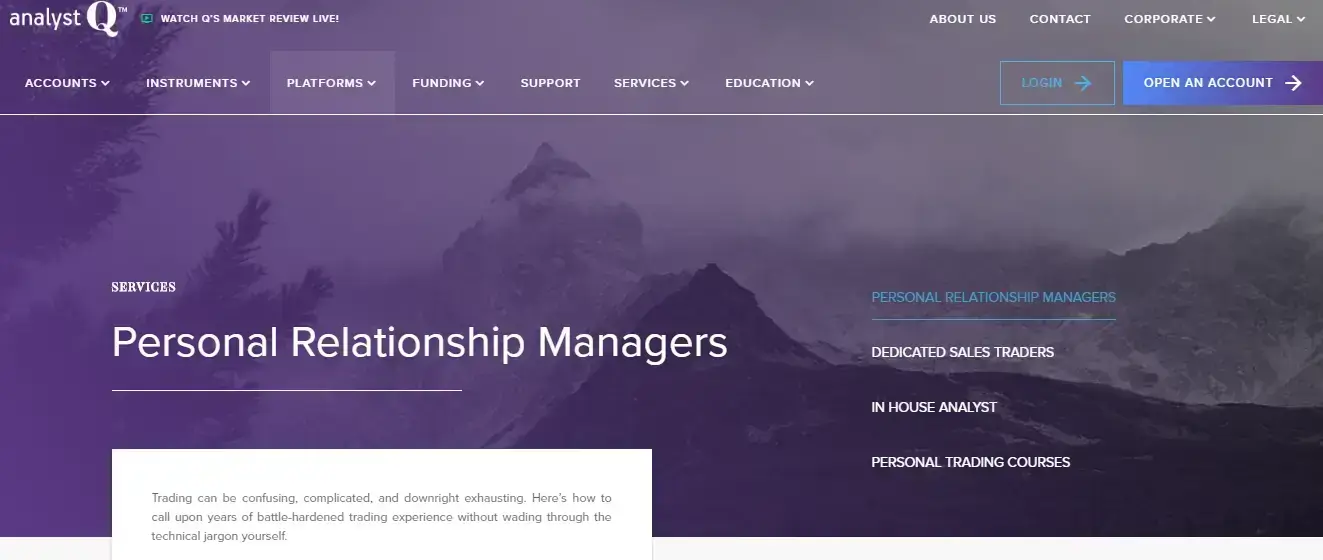 Education Offerings
Coming to education offerings, AnalystQ offers Q academy, where the traders need to login to study several educational resources that are offered by the platform.
AnalystQ offers a selection of education courses irrespective of the experience level the traders have, starting from a new trader, intermediate to advanced traders if they want to build the skills and knowledge in the world of trading.
Some of the topics include –
Leveraging cryptocurrency
Commodity trading
Market trends
Indices
Trading strategies
Stocks
In addition to offering educational courses, about the latest informative articles about the market trends and other details, they are sent to the trader's inbox directly so that they can stay ahead of the latest news in the trading market and act accordingly.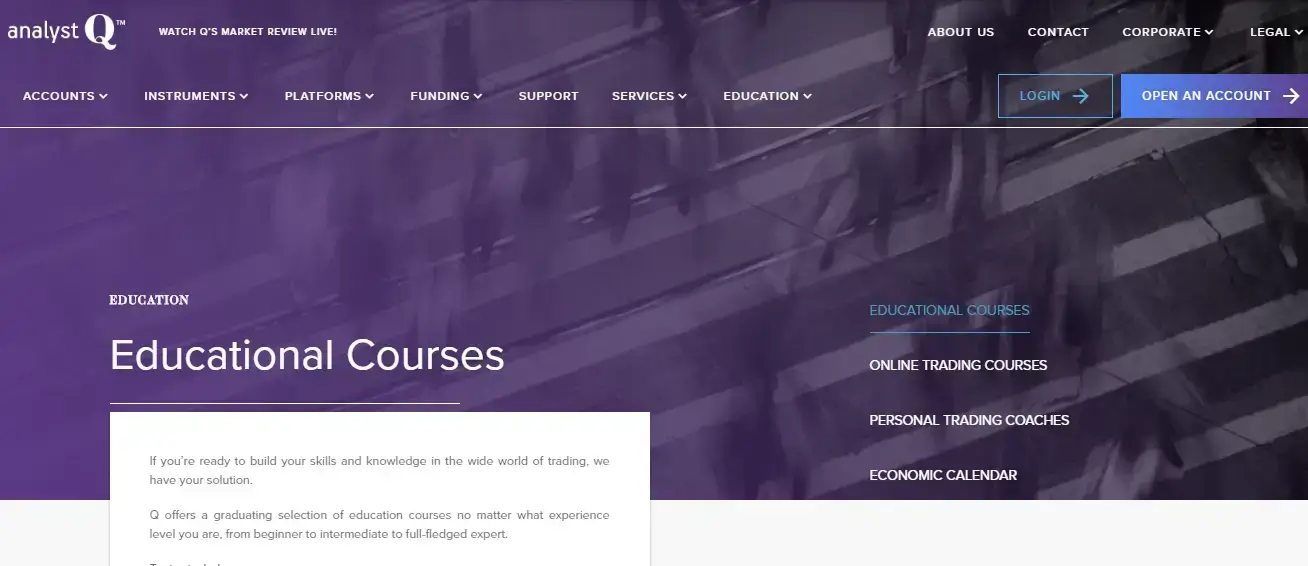 If you are a trader and do not have the time to study a full course schedule on trading on this platform, it offers information quickly through their online trading courses. The trader can learn at their own time with the flexible courses offered that will enhance their knowledge. By making use of this, the trader can move on to the next level. Some of the course options include –
It offers several trading strategies for major trading markets which include commodities, crypto, stock, currency options, and indices.
It also holds in-depth webinars offered by expert analysis and trading experts 
The trader can participate in virtual learning with one-click access on the go
One of the most advantageous features of AnalystQ is it offers personal trading courses, which means one on one mentoring.
The traders can get help from Q-certified trading coaches. They can also get market insights to enhance their trading portfolio to make informed decisions and make profitable trades.
By making use of personalized training courses, the trader has the advantage of having more market insights, and they can make use of it by increasing the chances of making profitable trades.
AnalystQ offers an economic calendar for its traders.
Trading Conditions of AnalystQ
Since AnalystQ is an offshore broker, they do not have to comply with strict regulations, and they can also offer high leverage. This broker offers a leverage of 1:300. The trader has to be very careful by using high leverage as it is prone to high risk. The trader should keep in mind that leveraged Investments can lead to huge profits, but they can also lead to heavy losses.
Deposit and Withdrawal Methods
This broker offers different accounts, and the minimum deposit amount varies for each account. The standard account requires the minimum deposit of BTC equivalent to 500 USD, and the other two accounts have a BTC equivalent of 5000 USD and 25,000 USD, respectively. The professional accounts have an extremely high minimum deposit of 75,000 USD to 150,000USD.
Further withdrawals can only be made in Bitcoin, which will be processed within 3 to 5 business days. Considering Bitcoin transactions are very fast and instant, we need to check out why this time frame for financial transactions is taking much time.
Inactivity Fees
AnalystQ charges inactivity fees if the cryptocurrency is deposited in a trading account, and it remains inactive or not used for not less than 2 months from the date of deposit. This inactivity fee will be around 0.0040 BTC per month.
Wrap Up
Choosing a good online trading broker is one of the most important tasks that any investor should take seriously before trading with any broker. The trader should do their market research and analyze the pros and cons of the broker before investing. One should check out about their reputation, regulation, and all the features they offer for traders so that the trader can maximize the trading experience. By choosing AnalystQ, the trader can choose around 16,000 trading instruments, the highest number offered by any broker worldwide. Yet, one should carefully investigate any broker before they proceed with investing their money.
FAQs
1. Is AnalystQ a Legit Broker?
AnalystQ is a Forex and cryptocurrency broker from Dominica founded in February 2020. This broker offers CFD trading on several assets, which include commodities, crypto, Individual shares, and market Indexes. It offers higher leverage rates, and the minimum deposit requirement for AnalystQ standard trading accounts is equivalent to 500 dollars in Bitcoin.
2. How many trading instruments does AnalystQ offer?
AnalystQ offers 16,000 trading instruments, which are the highest number offered by any broker around the world. This broker offers trading in energy commodities for both renewable and nonrenewable categories, Crypto-fiat currency pairs, cryptocurrencies, soft commodities, and precious metals. However, this broker does not offer Forex pairs for trading.
3. Does AnalystQ have a mobile app?
AnalystQ does not offer a mobile app, and it offers traders a web-based trading platform. The trading platform is very easy to use and navigate. Both new and experienced traders can use them. 
4. What is the minimum deposit required for AnalystQ?
AnalystQ offers several accounts, and the trader can choose any of the accounts as per their convenience. The standard account offered by this broker needs a minimum deposit of BTC equivalent of $500, and the other two accounts require 5,000 USDT and 25,000 USDT, respectively. This is quite high when compared to other brokers operating in the market currently.