VeChain News
VeChain (VET) Records 21% Growth Over the Last 30 Days
VeChain has exhibited great momentum at the beginning of the ongoing month. The currency breached 90-days during the same period and set a new at $0.00845. If we broaden the scale to analyze the 30-day movement, then at the beginning, the currency marked sluggish movement. The same improved towards the end of January. VET coin is speculated considerable return in the long run.
VeChain Price Analysis
On January 20, VET coin was trading at 0.005812, and it hovered at the same level for the next two days. Then, the price dropped to $0.00542 by a huge fall of 10.32% on January 23. From this low, VeChain price escalated to $0.00595 on January 28 and then, it corrected down to $0.00552 on January 31.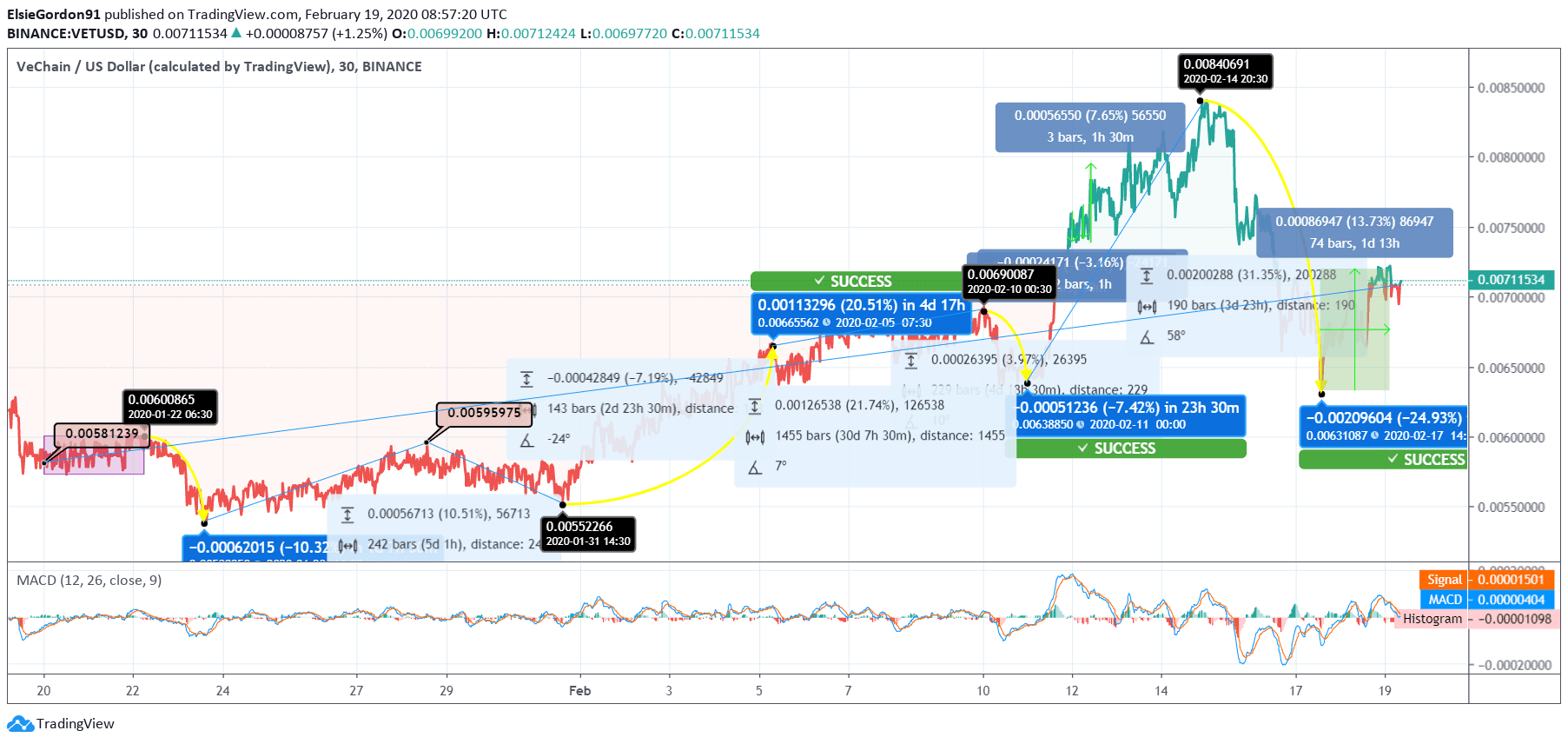 February began with a sharp upward move, and the VET price touched $0.00665 by a huge hike of 20.51% on February 05. The upsurge lowered the pace but yet continued till February 10, and the coin touched $0.00690. Then, the currency faced moderate fall and the price dropped to $0.00638 on the next day but from this low, VeChain price took a sudden hike ok 31.35% and reached $0.00840. At this high, VET coin couldn't manage and marked a steep fall of 24.93% and reached $0.00631. At the time of writing, the currency again improved and touched $0.00711.
As per the MACD indicator, the signal line has overlapped the MACD line, and the same indicates the coin may trade in a similar range without any sudden movements. The immediate resistance level to look for is $0.007271. The same might take place; however, the possibility of reversing the momentum is ripe. The coin could drop to the immediate support level at 0.006726 soon.
Resistance & Support Levels
R1: $0.007271, R2: $0.007509 and R3: $0.007816
S1: $0.006726, S2: $0.006419 and S3: $0.006181