Based in Seychelles, Kucoin, the leading cryptocurrency exchange, has announced the news about the launch of its highly anticipated cryptocurrency trading platform solution product named KuCloud. The revolutionary product offering by the KuCoin team has been designed to serve as a one-stop solution for all the requirements of the cryptocurrency investors across the world.
According to the latest announcement, KuCloud will provide access to two products named XCoin and XMEX to cater to the requirements of the investors in a seamless environment. The newly launched platform will bestow the clients with the core functionalities of KuCoin Spot solution and KuMEX Futures platform along with exposure to top-grade architecture, risk-management tools, high market depth and better liquidity, complete customer care support, etc.
Johnny Lyu, co-founder of KuCoin stated,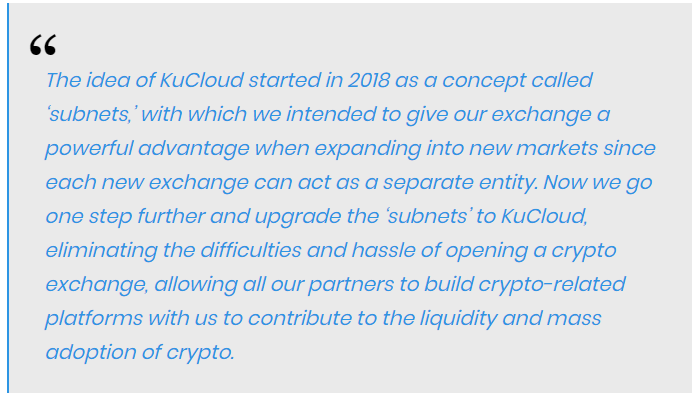 By offering the aid of white-label solutions, KuCloud will render its partners with a golden opportunity to set up their own crypto exchanges in their local market within 72 hours. The platform will provide all the connected exchanges with lucrative features, including spot trading, margin trading, staking, fiat gateway to up to 150x leverage futures trading. To satisfy the needs of the investors, KuCloud allows the designing of exchanges in a customized manner.
With a view to attracting more and more customers, KuCloud is benefitting customers with an early fetcher privilege of zero-cost to launch a crypto exchange. The crucial step has been undertaken to increase savings by reduction in costs related to R&D input as well as savings in time. This will eventually help in strengthening the overall crypto exchange community in the long run.