Erol User, Chairman & Co-founder of BlockchainArmy, spoke at SporosPlatform, where he explained to the gathered elites how blockchain technology could be integrated with the Circular Economy.
Circular Economy is a concept for sustainable development wherein raw materials, processes, and products are connected in a closed-loop by recycling the products. If the usage of products produces toxic by-products, then these are eliminated, and the remaining by-products are separated through different processes so that they can be reused by the manufacturer to produce new products. The circular economy entails the usage of fewer raw materials, optimizing processes to reduce wastage.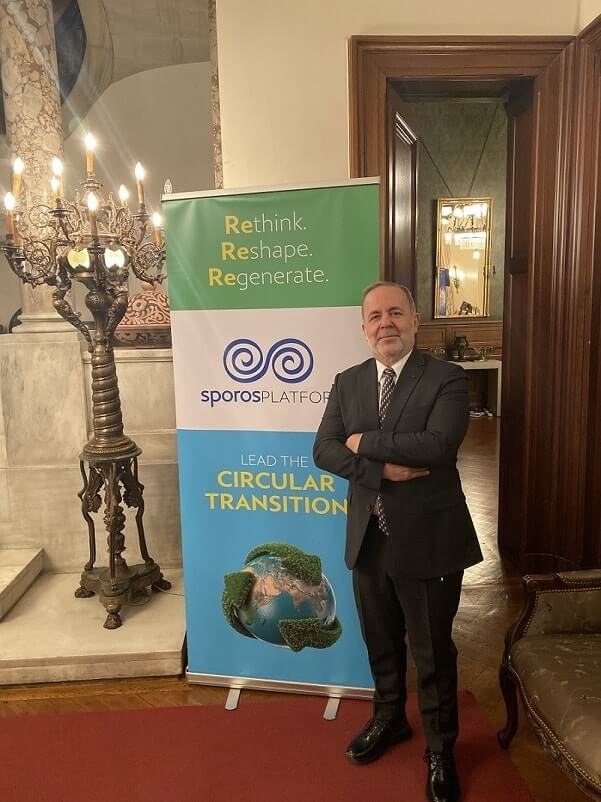 Blockchain can help authenticate the circular economy in the following ways:
Authenticating the Life-cycle of a Product:
Records entered on the blockchain cannot be erased or changed. Thus, an accurate and authentic record of the life-cycle of each product can be maintained. In manufacturing, chemical, pharmaceutical, and other sectors, quality processes are in place to link each manufactured product, each liter of chemical, and each tablet produced to the stock of raw material used to produce it. If such processes can be extended to include purchasers, then an unbroken link of the life-cycle can be formed.
All companies also record the amount of raw material used for producing a certain quantity of products. They can keep track of the amount of wastage per product and either recycle the waste products themselves or handing it over to another agency for recycling.
If technology is used to link the number of by-products produced after recycling to the company from which the waste product was sourced, we get a full record of the lifecycle of the product.
Blockchain will make all the records mentioned above immutable.
For example, fishing industry firm Provenance tracks the tuna right from the breeding grounds to the store.
Incentivizing Circular Economy:
Blockchain can be used to reward consumers who give their things for recycling. It will encourage people not to discard waste in dustbins but to store it separately, and when it is insufficient quantity, sell it for recycling. In the technology era, there is a lot of plastic waste. A system can be made for rewarding cryptocurrency to individuals or firms who give their waste to recycling agencies. These transactions can be recorded on a blockchain maintained by the recycling agency. This blockchain can be accessed by the firms who have a record for the amount of waste discarded, to prevent fraud.
For example, Plastic Bank gives tokens in exchange for plastic waste, which can be exchanged for goods at several stores that have entered into a partnership with it.
Limits of Blockchain:
The efficacy of data stored on a blockchain is dependent on its accuracy. If the data itself is incorrect, the whole purpose of employing an immutable technology will be rendered useless. It also faces problems of scalability with a large number of transactions as transactions take some time before being recorded on the blockchain, and each blockchain has to be specifically designed to communicate with other blockchains. Companies are addressing these concerns.
Maersk and IBM's TradeLens, a global supply chain built on blockchain, can handle 10 million supply chain events per week.
Time Ripe for Experimentation With Blockchain:
Thus, Blockchain can contribute to the Circular Economy by authenticating the life cycle of a product as well as incentivizing its safe storage and disposal. As record-keeping processes still need to be fine-tuned to reflect accurate data on the blockchain, the technology is still not commercially integrated with the Circular Economy. Several pilots are being carried out by different agencies. If they are successful mass adoption of blockchain in the Circular Economy will follow.

Organizations in this sector should explore proofs-of-concept and pilots for integrating blockchain with the Circular Economy.

Blockchain consulting company BlockchainArmy, with its years of experience, can be immensely helpful to any industry in the Circular Economy which wants to integrate its processes with blockchain technology.


Warning: sprintf(): Too few arguments in /home/lawyerm9/public_html/coinnewsspan.com/wp-content/themes/deus/functions/images.php on line 269